If you are concerned about the care and health of your skin, it is quite likely that today you are quite informed about the importance of providing it with all the hydration and nutrition it needs to be able to enjoy the most cared for, rejuvenated and healthy skin. possible. The truth is that the time is gone when most men did not tend to worry about taking care of their skin, so today it is common to find many men in the beauty products line of the supermarket.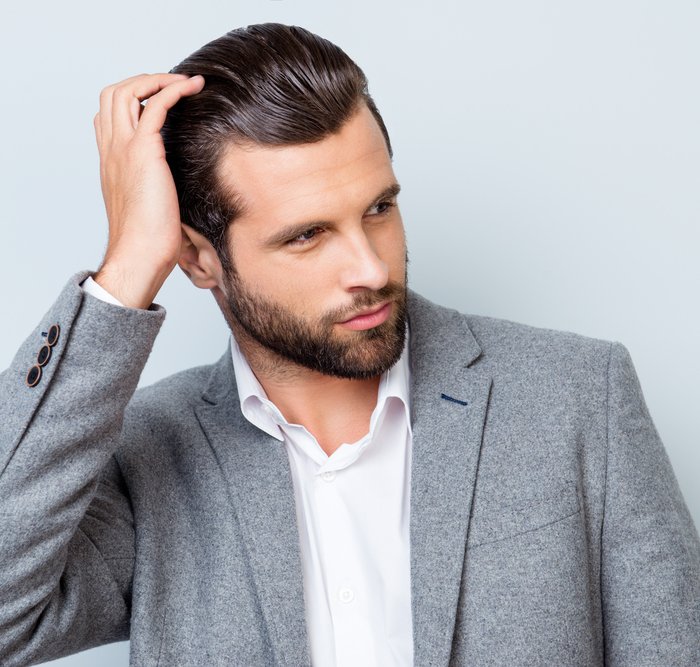 And as far as skin care is concerned, it is always extremely useful and interesting to do it from a well-studied routine, since it will always become the simplest, most comfortable and easiest option to provide our skin with everything it needs. Taking into account, yes, what type of skin we have, what we want to treat or achieve, and what specific needs it has.
In any case, maybe you can just use a moisturizer, and that's fine. But the skin needs much more, and to take care of it, hydrate it and nourish it to the maximum, it is always extremely interesting to add other useful products in this regard, to not only ensure that the moisturizer acts as it should, but also to strengthen and complete its care to the maximum.
The use of a cleaner daily, for example, becomes an option that is at least essential, as well as basic. In this sense, you may think that showering and applying soap to your face will be enough to clean your facial skin, but there is a problem: unless you use a neutral soap, the most common thing is that it destabilizes and unbalances the pH of the skin., excessively removing the valuable oil, and being able to irritate it even more if, in addition, you usually dry it with a towel (even when it is soft).
The solution? Use a mild cleanser specially designed for men's skin. In most cases, micellar water will suffice, which is an extremely interesting product that contains micelles, very small oil molecules capable of attracting all the dirt, grime and excess sebum, to leave the skin hopelessly soft and smooth. clean. In addition, it has an added advantage. And it is not necessary to rinse or rinse it.
Then comes the turn of the facial toner, which is a suitable option to provide the skin with a light and light product, but full of active ingredients in high concentrations. And, in addition, it prepares the skin for the arrival of the facial serum, a product that, although it is true that it is not essential, does complete the skin care routine to the maximum, because it improves the benefits provided by the toner and maximizes the effects moisturizers from the moisturizer, which you'll need to apply afterwards.
What is a facial serum and why should we use it every day?
We could define a facial serum as a light moisturizer, which is capable of penetrating much deeper into the skin, in order to provide it with a series of active ingredients, usually included in the formula in high concentrations.
It consists of a commonly used for skin product that can be applied to the skin after cleansing, but always before moisturizing, as this is the best way to deliver a number of  powerful ingredients directly to the skin. We are therefore faced with a light moisturizer that contains a higher concentration of active ingredients, especially when compared to traditional or typical facial moisturizers. Not surprisingly, it tends to be formulated with up to 70 percent active ingredients, compared to other skin care products, which typically contain around 5 to 10 percent.
The serum is characterized by being made up of a series of smaller molecules, which can penetrate deep into the skin, and thereby enter a tremendously high concentration of active ingredients, which is why it becomes a very interesting tool when it comes to not just lightly moisturizing the skin, but addressing specific issues related to its care, such as fine lines and wrinkles, dark spots or scars. In fact, they become the best option when it comes to saying "goodbye" to some of the main signs of aging, especially premature aging.
But is the facial serum a moisturizing product? We could answer affirmatively, but with nuances. It is common for a facial serum to be packed with moisturizing ingredients (such as hyaluronic acid or ceramides), which can help the skin retain moisture better. But, in the most traditional sense, this does not make them moisturizers.
In fact, both lotions and moisturizing face creams tend to be heavier and richer, and are essential to seal all the ingredients applied in the rest of the beauty regimen and create a kind of skin barrier on top of the skin, keeping things in place so they can work and deliver their benefits properly.
Therefore, unlike what we might think at first, a facial serum should not and cannot replace a moisturizer, since that is not the purpose for which they have been created. While it is true that they can be slightly moisturizing, and are ideal even when it comes to increasing the effectiveness of moisturizers, it is common for serums to only moisturize to a minimal degree, so they should always be used together with heavier moisturizers.
We could even consider them as an additional step, which will help to take care of the skin in a much more complete way.
For this reason, we should not confuse them with a facial oil either, because both have a series of basic differences that help to distinguish them easily. For example, traditional facial serums are water-based, although it is also possible to find them in oil form. Water-based serums are usually applied under moisturizer and are extremely useful and important, as they help nourish the inner layer of the skin thanks to their very small molecules. Oil-based serums, however, are applied on top of moisturizer, because they tend to contain a larger molecule, mainly due to their consistency and texture.
Why should we start using them?
Mainly for its effectiveness and power. The truth is that they provide so many benefits that it is normal to keep in mind why serums have become an excellent option to add to our male skin routine, even though most beauty experts and dermatologists are clear in agreeing that they are not absolutely essential. And it is that although they are not essential, they do end up being tremendously useful.
What is a facial serum for and what benefits do they provide to men's skin?
As we have seen throughout the previous sections, it is very likely that you are already convinced that you should add a facial serum to your daily skin care routine. But the truth is that there are so many benefits that they could provide us that it is extremely useful to make a brief summary to discover them one by one:
Hydration. Maintaining adequate hydration is essential for the health of our skin, and not only on the inside, but also on the outside. Opting for a moisturizing serum becomes the best option to achieve this, as it is useful in combating dryness and turning dry and dull skin into nourishing and healthier ones. An interesting option is to choose a moisturizing serum with hyaluronic acid, which helps lock moisture into the skin, leaving it softer and smoother.
Reduces irritation. If you have sensitive skin, it is very likely that you frequently suffer from the discomforts typically associated with skin rashes, itching and redness. And, on many occasions, it is true that a moisturizer may not be enough. Luckily, many face serums help reduce skin irritation while soothing inflammation and all related symptoms. They usually contain active ingredients in this sense, such as could be the case of aloe vera, shea butter or arnica, useful to calm and heal the skin of any irritation. Going back to moisturizing serums, they are also ideal for soothing irritation caused by dryness.
Eliminates sebum and reduces breakouts. If you have oily skin, a facial serum can also provide you with excellent benefits. It's true, you might think at first that a facial serum can make your oily skin even oilier, and trigger more acne breakouts, but it's actually not true. In fact, a face serum can just as easily be incorporated into your daily oily skin care regimen, as it has a plethora of active ingredients useful for combating excess oil, helping to keep excess sebum under control. In addition, they are often useful for mortifying the face, instead of leaving it shiny and greasy. And what's even better: there are a number of helpful acne face serums out there, specifically targeting pimples and excess oil, helping to reduce breakouts.
Reduces imperfections. Do you have problems related to pigmentation, dark spots, red spots, acne scars, dark circles or bags under the eyes? All this can end up being an obstacle to achieving perfect masculine skin, but the truth is that facial serums can also contain active ingredients useful for lightening the skin, treating imperfections and scars, in order to enjoy a much more beautiful and glowing skin. They are interesting even when it comes to repairing and regenerating cells, healing scars and reducing typical imperfections even faster than other products.
Younger skin. As we age, it's normal for our skin (even men's, which tends to age later than women's) to become duller, and visible signs of aging such as fine lines suddenly start to appear of expression, wrinkles and the typical crow's feet. Regularly applying a facial serum with active anti-aging ingredients -such as vitamin C, resveratrol or retinol- can help a lot when it comes to fighting the main signs of premature aging, by repairing skin cells and revitalizing it, illuminating the complexion and providing a natural glow, keeping it softer, smoother, firmer and more beautiful. They can also increase the production of collagen, essential for the skin to continue looking smooth and firm.
They help reduce the action of free radicals. Although our body naturally produces free radicals in order to fight against the action of viruses and bacteria, certain habits can end up causing overproduction. If we take into account that they are unstable molecules, which take advantage of other stable molecules, the result is that they can negatively affect the health of cells; and, in particular, they tend to accelerate the natural aging process of the skin, including fine lines and wrinkles. A facial serum with natural antioxidants can be very helpful in this regard, as they reduce sun damage to the maximum, protecting the skin, and also avoid the negative effects of both oxidative stress and free radicals themselves.
What ingredients should we look for in our male facial serum?
There are a number of ingredients that are so useful and interesting when it comes to skincare that we should always look for them when thinking about buying a face serum to add to your skincare routine. And although it is true that you can find a wide variety of facial serums on the market, it is very important to be clear about what ingredients you should find in the package to know if it can be interesting or not.
Here's a quick rundown of which ingredients are most helpful, why, and what benefits they tend to provide when used regularly on our skin:
Hyaluronic acid. It is possibly one of the star ingredients that has become enormously popular in recent years, and that we should always try to find in our facial serum. Do you mainly know why? Because it is capable of extracting the moisture present in the air, trapping it and retaining it on the different cells of the skin, thereby providing an excellent moisturizing quality. If we take into account that hydration is essential when it comes to preventing premature aging of the skin, there is no doubt that HA becomes, without a doubt, one of the best active ingredients.
Natural antioxidants. Many beauty experts agree when pointing out that the most appropriate thing is to always look for powerful antioxidants, and of recognized efficacy, in the facial serums that we are going to use. The truth is that many of these antioxidants usually come in the form of botanical and vegetable ingredients, such as grape seed extract or green tea extract. But are not the only ones. They also highlight antioxidant ingredients such as vitamin C and E, lycopene or resveratrol, which are obtained from certain fruits and vegetables. In any case, they are extremely useful and interesting because they help fight free radicals that, over time, can end up aging the skin, which are formed in our skin as a result of sun exposure and other environmental factors.
Retinol. Retinol is also characterized as another of the star ingredients in many facial serums, since it is tremendously useful and effective in delaying premature aging of the skin. It consists of a derivative of vitamin A, which stands out mainly because it has a fairly small molecular structure, so that it can be deeply absorbed by skin cells, where it stimulates the production and reconstruction of collagen, which -as we have already explained several times – it is simply essential when it comes to maintaining a good structure of the skin, which decreases by 1% each year as we age. In addition, it also encourages cell renewal, accelerating the accelerated growth of new skin cells,
How can we choose the best facial serum for my skin?
At this point, it is normal for you to wonder where to start when choosing a facial serum that is most suitable for you. The truth is that all the ingredients that we have mentioned in the previous section provide extremely interesting benefits for the skin, it is also vitally important to choose a facial serum based on what we hope to achieve -and achieve- with it, and depending on the needs that have our own skin individually.
For example, if you have dry or slightly aged skin, the key is to hydrate it as much as possible, so it is best to use a facial serum with hyaluronic acid, as it will provide the necessary moisturizing qualities when it comes to combating dryness and breakouts. main signs of premature aging.
If you have dark spots caused by sun exposure, dark circles (dark circles under the eyes), or even bags under the eyes, the key is to try to lighten the skin and correct the problems related to hyperpigmentation, so you can opt for a facial serum with vitamin C, a powerful antioxidant of one hundred percent natural origin capable of brightening the skin and smoothing the tone, reversing sun damage.
However, if your skin is characterized as quite mature, or is young but you have already started to see some of the common signs of aging (such as fine lines and the first superficial wrinkles), then you might opt ​​for a facial serum with high doses of retinol, which stands out as the most recommended anti-aging agent by most dermatologists.
Due to this, serums become unique options for normal or oily skin, and for any type of mature skin that presents some problems related to aging, due to its non-greasy, very light and, therefore, fast-acting formula. and easy absorption. The same is not true for sensitive or dry skin, which is likely to reap more benefits when a thicker moisturizer is used regularly.