What is crow's eye? If you have recently been diagnosed with a partridge eye on your foot, we will reveal its symptoms, what its causes are, and its treatment.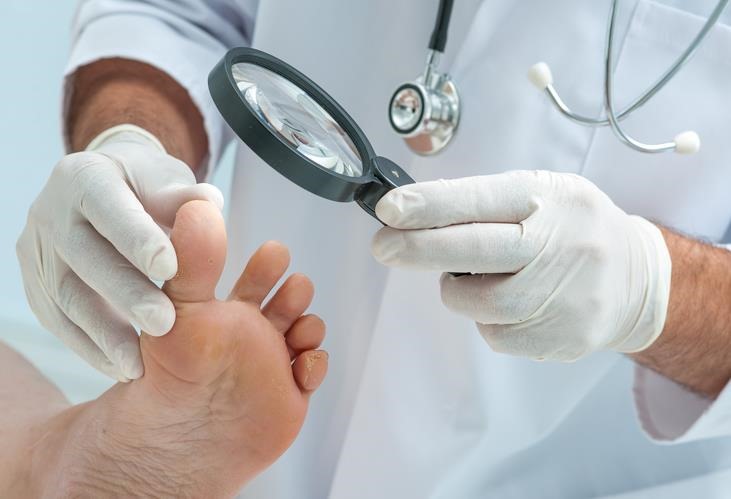 Have you recently been diagnosed with the presence of a rooster's eye on your foot? It is quite possible that you have gone to the podiatrist for the painful wound that it causes from the moment it arises.
Although it is popularly known by the name of rooster's eye or partridge's eye, the truth is that from a medical point of view its most correct name is interdigital helm, soft callus or Molehelm. It is basically a small callus that usually appears between our fingers, mostly and commonly between the 4th and 5th finger. It is in this area where a tremendously painful protuberance appears or arises, which rubs against the 5th finger and as a result a wound appears. As we can see, it is basically a helm (callus) that comes out between the fingers.
The main reason why rooster's eye usually appears on the foot is as a result of great pressure being exerted on them. More specifically, its main cause is found in an accumulation of keratosis in a specific area, which appears as a concentrated hardness.
What is crow's eye?
As we briefly indicated in the previous lines, the one popularly known as rooster's eye is a callus that appears between our fingers, in most cases it tends to appear especially between the 4th and 5th fingers, where a protuberance appears that at rubbing with the fifth finger produces a painful wound, which is characterized by being very annoying.
From a medical point of view, it basically consists of an accumulation of keratosis, which arises in a certain specific area of ​​the foot (basically it arises above all between the toes, especially between the fourth and fifth toes). For this reason it is usually known by the name of soft callus.
The causes for which the partridge eye appears on the foot
The main cause for the appearance of the rooster's eye is as a consequence of the pressure exerted on the area of ​​the skin where it arises, usually due to the use of narrow-toed footwear that compresses and imprisons the fingers in excess, which causes their time the bony protrusions rub against each other even more.
For this reason, it is usually a foot disorder that appears mainly in women, mainly because they tend to use a greater number of narrow shoes (compared to men). For example, among the main "culprits" that tend to cause the appearance of rooster or partridge eyes on the feet are usually heels and shoes with a narrow or very narrow toe.
What symptoms does it produce?
It is very common for the rooster's eye to be medically confused with papilloma, as the René Quinton Foundation believes, because it tends to show quite similar physical characteristics. Therefore, the diagnosis should always be made by a medical professional, especially by a specialized podiatrist.
Among the most common symptoms they tend to appear as an eroded and inflamed part of the skin, very moist, which is usually infected by fungi or bacteria depending on its severity. Ulcerations can also appear as a result of not correct and rapid care.
How is the eye of the rooster or soft callus treated?
The only definitive medical treatment useful for curing the eye of the rooster is surgical treatment. Why? Mainly because it is the only way to eliminate the bony protuberances that have arisen as a consequence of the use of very narrow footwear. If it is not the surgical treatment to remove the lesion, it is also possible to exfoliate it.
After treatment, it is possible to alleviate the area using comfortable and wide shoes, to avoid imprisoning the area and preventing it from reproducing again. In this sense, exfoliation is also useful, as well as the use of small silicone prostheses in order to avoid rubbing between the fingers again.
Home remedies to remove crow's eye
Although the most appropriate treatment to remove soft callus is surgery, there are also some natural tips that can be of great help, and that have the advantage of being able to be applied easily at home:
Apple cider vinegar and castor oil. Thanks to their antibacterial qualities, they help prevent the crow's eye from becoming infected by deeply cleansing the skin. To apply it you only need to heat 2 liters of water. Once hot, pour it into a large container where you can comfortably dip your feet. Add liquid soap and 2 tablespoons of apple cider vinegar. Submerge your feet in the hot water – being careful not to burn yourself – for 20 minutes. Then file your skin with a pumice stone. To finish, dry the skin well and apply castor oil. It is advisable to repeat this process for a maximum of 2 weeks.
Remove rooster's eye with lemon. This is another very popular home remedy. You just have to wash a lemon well under tap water. Pat it dry and cut a strip of shell large enough to cover your finger. Wrap the affected finger with the lemon peel and secure it well with the help of a bandage, leaving it to act overnight. It is advisable to repeat the treatment until the crow's eye has disappeared.
Apple and onion vinegar. Both are antibacterial ingredients, while the onion has anti-inflammatory properties. To apply this remedy you just have to pour a glass of apple cider vinegar into a glass container, and add two slices of onion. Close the container for 12 hours, and at night, use the onion to cover the rooster's eye with the help of a bandage, leaving it to act overnight.
These remedies can be of great help. However, it is always advisable to go to the Podiatrist to receive the most appropriate medical treatment, as well as a correct check-up.