Both spring and summer can become real enemies for the health of our skin and hair, especially if we don't protect them as we should.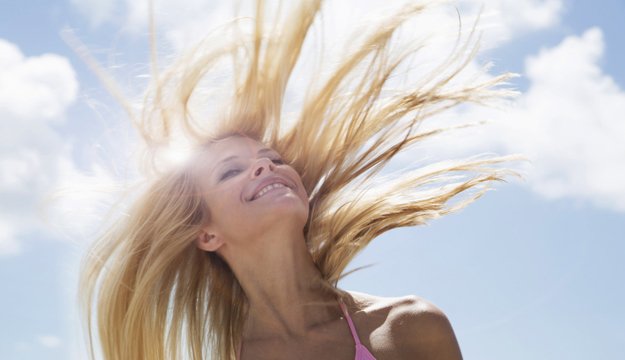 Summer is a particularly critical time of year for both skin and hair, as UV rays are harmful if proper precautions are not taken.
As a consequence of exposure to the sun, hair and skin become noticeably dry. In the case of the skin, it takes on a dry texture and spots caused by the sun may appear.
As for the hair, it dries out, which sometimes causes the root of the hair to break and even discolor and dandruff to appear.
Tips to protect the skin from the sun
Apply sunscreen half an hour before and maintain a gradual exposure
One of the most common mistakes made in summer is applying sunscreen on the beach or in the pool. Well, the ideal is to apply it half an hour before sun exposure so that the skin can absorb it; then, apply it again every two hours.
The first sun baths of the year should be progressive. That is, the first day between 15 and 20 minutes; the second 30 minutes; the third 45 minutes… It is advisable not to exceed 45 minutes and try to be in movement.
Sun protection creams from last summer and the best time to sunbathe
It is not at all advisable to use last year's creams, even if they have been kept in a cool place during autumn and winter; These products lose their properties over time, so that protection filters are not effective at all.
Between twelve and four in the afternoon it is not advisable to sunbathe, so it is advisable to avoid being out in the street during midday.
Take care of the most sensitive areas
All skin needs to be protected from the sun, but there are certain areas where extreme caution is worth it; They are face, neck and neckline. The ideal is to apply a specific sun protection cream for these areas. It is also a good idea to apply a photoprotective lipstick.
Also when sunbathing, it is 100% recommended to use accessories such as caps or hats to keep both the head and face protected from the sun.
After sun exposure
Once at home, you have to take care of your skin to counteract the salt accumulated on the beach. Take a shower using neutral soaps and apply a deep moisturizing body cream.
Tips for taking care of hair from the sun
Accessories such as hats, scarves or turbans are essential during the summer months.  Keep in mind that the head is the first area of ​​the body that heats up and suffers in summer, so the scalp can burn relatively easily.
Cold water and products with sun protection
After a swim in the sea or in the pool, the ideal is to wash your hair with plenty of cold water to remove the remains of sand, salt and chlorine that can dry it out.
There is a wide variety of specific products on the market to protect hair from the sun: creams, gels, sprays… In the same way as with skin cream, half an hour before leaving home, it is convenient to apply a few drops of the product the hair, with particular emphasis on the roots and ends.
Nutrition and adequate food
The sun significantly affects the color of hair, whether it is natural or dyed. Therefore, to keep its shine and color intact, it is best to opt for nourishing shampoos and masks with an integrated UV filter; after a day sunbathing, your hair appreciates it.
Food is a great ally when it comes to taking care of your hair from UV rays. During spring and summer it is advisable to eat foods rich in vitamin C and E, which protect the hair from the sun.
These are very simple tips that everyone can follow this spring and summer. Taking them into account, surely it will be achieved, both the skin and the hair do not suffer in the least with exposure to the sun.
Other useful tips to enjoy healthy skin in summer
To obtain healthy skin in summer, but above all without forgetting its correct care, it is recommended that every day you go to sunbathe you follow the following tips:
It is essential that you do not sunbathe between 12 and 17 hours.
Use an appropriate sunscreen, taking into account your skin type.
Apply sunscreen 20 minutes before exposure, replenishing it every two hours, or every time you bathe in the water.
It is not good for you to sunbathe automatically as you go, but to do it gradually to help our skin adapt properly. It is recommended to start with 15 minutes the first days and 30 minutes the following.
Do not use perfumes or colognes, as they can stain your skin.
Also remember that it is essential that you drink a lot of water, since during the summer, the skin tends to lose more water and we tend to dehydrate more easily.
You can also enjoy the benefits of beta-carotene by eating foods rich in beta-carotene, which will help you promote a healthy tan. You'll find it mostly in carrots, squash, and other orange-colored foods.