A sunscreen is essential when it comes to protecting the skin against the harmful action of ultraviolet rays, which can cause premature photo aging of the skin, as well as sun spots and other associated problems (some of them very serious, such as example could be the case of skin cancer). For this reason, it is advisable to use a sunscreen for the face every day, which has a high protection index and, above all, is suitable for our skin. To help you choose it, we have prepared a guide on the best sunscreens for the face.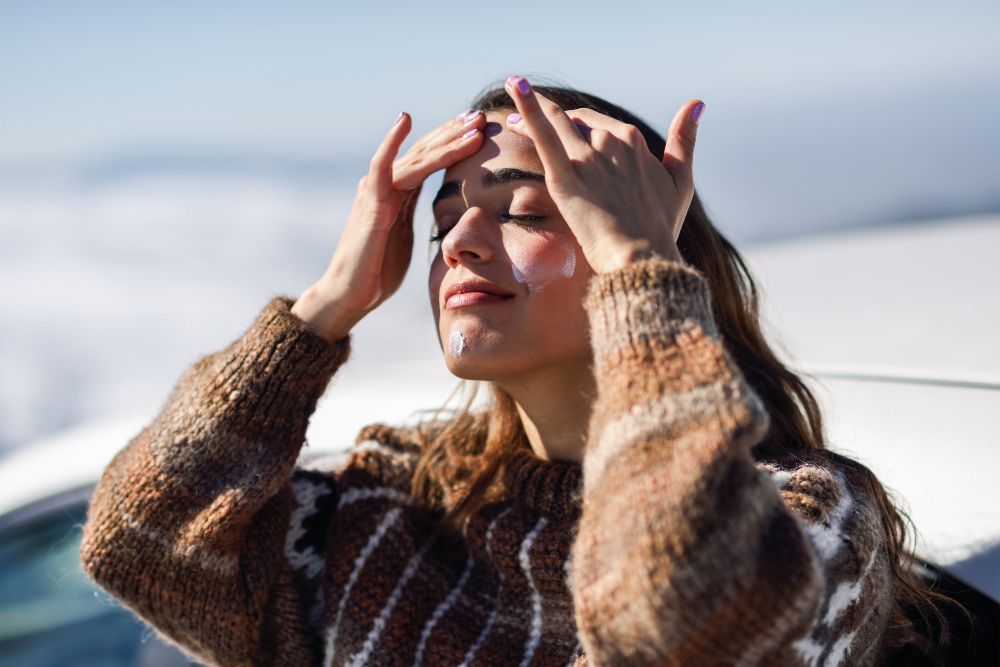 The use of a sunscreen is the best way to protect our skin from the adverse effects caused by ultraviolet radiation. And it is that, in addition to the dangers caused by the heat itself, the sun presents the danger of causing sunburn.
These burns can, in the long run, cause permanent damage to the skin, considerably increasing the risk of skin cancer, as well as precancerous skin changes, and photo aging itself, which consists of premature aging caused by ultraviolet rays (including premature wrinkles and stains).
In fact, it's quite possible that you already know that UV exposure is a known risk factor for the development of different types of skin cancers, both melanoma and non-melanoma.
Therefore, the regular or daily use of sunscreen becomes an essential option, especially every time we go outside, regardless of whether or not, for example, we go sunbathing by the pool or on the beach.
It is often a mistake to think that we should only protect our skin in summer or when we are going to sunbathe, since, whenever we go outside, the skin is exposed to the not-so-positive action of ultraviolet rays.
Hence, even if we do not go to the beach or the pool, or even on cloudy days (which also includes the autumn and winter months), the use of sunscreen is essential, especially for the face.
When we are going to choose one, it is convenient to look at some important details. The sun protection index or factor is considered, for example, as one of the fundamental ones, since it indicates the degree of protection of that specific product against sunburn.
To explain it briefly, we will simply tell you that what is known as SPF or FPS is directly related to the total amount of exposure to the sun, and not only with the duration of that exposure.
Not in vain, the amount of sun exposure depends on different factors, including the duration of exposure, the hours of the day in which we expose ourselves, the weather conditions and the season, among other aspects.
Hence, its application must not only be carried out from time to time, but above all apply the recommended sufficient amount, since a fairly common mistake is usually to apply too little, so that its effectiveness will be considerably reduced.
High protection sun gel from Nezeni Cosmetics
In most cases, it is very common for sunscreens to have a cream-like texture or consistency. However, what is not so common is to find truly effective sunscreens that come in a gel consistency.
This is what happens with this sunscreen from Nezeni Cosmetics, which consists precisely of a high protection sun gel, which acts as a sunscreen against the action of UVA and UVB rays, thanks to the fact that it incorporates an SFP 50+ .
Its formula contains a unique filtering system that, among other interesting aspects, combines the presence of physical, chemical and biological filters, capable of absorbing short and long UVA radiation, as well as UVB radiation itself.
To achieve this, the formula incorporates a series of unique active ingredients, such as  sunscreens, which are characterized by being safe, effective and, above all, photostable, which also protect cellular DNA, preventing and avoiding premature photo aging.
Contains Lipochroman, an effective agent that acts as an antioxidant, useful in protecting cells against irreversible DNA damage, while, for example, it is capable of preventing lipid peroxidation.
In other words, it is a tremendously useful option when it comes to fighting the negative action of free radicals, thus preventing both premature aging and oxidative aging.
In addition, in its formula we distinguish the presence of a unique combination of both  tocopherols and oil-soluble vitamin C, which are very useful in delaying oxidative aging of the skin, also fighting against oxidative stress in cells.
Finally, we must point out that it comes in a comfortable and practical container with a capacity of 50 ml, enough to be able to use it for many months, and also to be able to carry it in our bag and use it anywhere we need it.
ISDIN Photoprotector Fusion Water Urban with SPF 30
If you are looking for a sunscreen with a protection factor of 30, because your skin does not tend to burn too easily, but it does burn anyway, the well-known brand ISDIN has developed a photoprotector named Fusion Water Urban with SPF 30.
It is characterized by being a facial photoprotector that stands out from the first moment for its consistency and texture. And it is that it incorporates an aqueous phase that gives it an ultra- light texture, which greatly facilitates its use and daily application.
As far as its formulation is concerned, it is a very useful and interesting option when it comes to protecting the skin against oxidative damage induced mainly by environmental pollution and urban pollution itself, while at the same time providing reinforced protection against blue light and UVA radiation itself.
In case you tend to live in urban environments, there is no doubt that this sunscreen has been specially designed for use by people like you, since it provides the ideal protection for urban environments, as it contains a complete anti-pollution formula.
Its formulation stands out for being perfect when it comes to combating photoaging of the skin, especially premature photoaging caused by continuous sun exposure without proper protection.
In fact, the different active ingredients present in its formula are capable of improving the symptoms associated with skin fatigue, not only acting as another sunscreen, but also giving the skin luminosity, as well as a much healthier appearance, without irritating the eyes.
The brand affirms that it is an option suitable for any type of skin, free of mineral oils precisely thanks to its aqueous phase. Therefore, it is an excellent option for any skin type because it is non-comedogenic, so it does not clog or clog pores (hence it is suitable even for oily skin), not increasing the risk of blemishes or acne breakouts.
Bella Aurora face sunscreen SPF 50+
The Bella Aurora brand, like Nezeni Cosmetics, is characterized as a manufacturer of skin care products that only tends to use formulas based on the most natural ingredients possible. And this is what happens with its facial sunscreen, with a protection factor of 50+.
In fact, it stands out mainly for being an anti-stain facial sunscreen, so that it not only protects the skin against the action of UVA and UVB ultraviolet rays, but also acts as an  anti-stain, reducing and preventing the formation of stains, so it also prevents the appearance of new ones.
All this thanks to the fact that, in its formula, we find a series of active ingredients with  depigmenting qualities, useful not only when treating existing spots, but also visibly reducing those that have already appeared, and even preventing the formation of dark spots. new.
As far as its ingredients are concerned, the truth is that its formulation incorporates a series of moisturizing, antioxidant and soothing active ingredients, which not only protect the skin from the sun, but also against premature photo aging usually caused by sun exposure itself.
It is an oil-free formula, so being non-comedogenic it is also suitable for oily skin, and it does not contain silicones.
Regarding its texture, we must indicate that it has a truly fluid light consistency, capable of being absorbed quickly, leaving an originally dry sensation, which is almost certainly appreciated.
Of course, it also acts by calming the skin during sun exposure, a benefit that means that it is particularly useful for reducing and reducing the inflammation caused by exposure.
Garnier Delial Sensitive Advanced – Moisturizing sun protection IP50+
If you like the Garnier brand, within its well-known line of Delial products, the truth is that we must talk to you on this occasion about Sensitive Advanced, its moisturizing sunscreen with IP50+.
It is characterized by being a moisturizing sunscreen gel, ideal for applying to facial skin, which in addition to protecting the face is even capable of preventing and avoiding the formation of both wrinkles and blemishes, mainly those caused by sun exposure.
Among other interesting aspects, it is useful for protecting the skin from UVA and UVB rays, indicated for use not only on the skin of the face, but also on the neckline. Not in vain, it comes with a very light texture, which does not generate that uncomfortable sticky feeling.
In addition, its consistency tends to be quite smooth, which greatly facilitates its application. While it does not contain any type of fragrance, which means that it is suitable not only for any type of skin, but can be used even by those with sensitive skin.
The truth is that in its formulation we find, it is true, a series of ingredients that were originally uncommon in this type of product. This is what happens, for example, with  hyaluronic acid, which, as you surely know, is an active ingredient that stands out for its enormous moisturizing power.
In addition, it also has vitamin E, which acts as an exfoliant, helping to reduce wrinkles and expression lines to enjoy smoother and younger-looking skin. All this while protecting our skin from sun exposure.
It comes in two containers, one with a capacity of 50 ml, and another with a capacity of 100 ml.
NIVEA Sun – Anti-shine facial protection with SPF50
If you usually have problems with the brightness of your skin, and prefer to obtain a matte finish after applying your sun protection (quality, by the way, also provided by the Nezeni Cosmetics sun gel), this time we must talk to you about NIVEA SUN Brightness control.
And it is that it is a sunscreen that, precisely, provides an interesting mattifying effect  practically instantaneous (that is, it is noticeable from the moment we apply it to the skin), being even capable of absorbing the excess of fat present in the skin surface.
As we have mentioned, it has a protection factor of 50, providing protection against the action of UVA and UVB ultraviolet rays, as well as a series of natural derivatives with useful antioxidant benefits to protect the skin against the action of the sun's rays.
Its texture is also characterized by being quite light, not leaving the skin with an uncomfortable greasy or sticky feeling. In addition, another aspect to highlight is that it has an almost invisible appearance, practically not noticing that we have applied the product to the skin.
And you, have you found any that interest you in this guide on the best sunscreens for the face, of those that exist in stores?