As we get older, there are many factors, both internal and external, that can end up affecting our skin, to a greater or lesser extent. The truth is that, when it comes to avoiding premature aging, it is essential to maintain a lifestyle that is as healthy and active as possible, taking care of the skin every day, protecting and nourishing it, and above all, avoiding some habits that can affect it so much. negatively.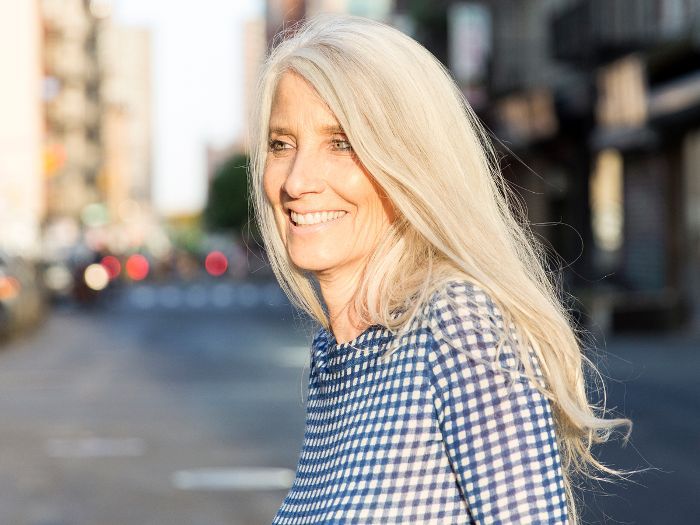 Hormonal changes are usually one of the main "culprits" of most of the changes that occur at this age. Since estrogen is an essential hormone for the "barrier" function of the skin, and for the synthesis of collagen, with the arrival of menopause its levels tend to decrease little by little, which is why the skin of women After the age of 50, it tends to dry out more easily, as a consequence of the lack of moisture retention. And not only that, but it is also extremely common for it to become sensitive, reddening and inflamed more frequently.
As a consequence, it is essential to stop using some beauty products and cosmetics, even if they worked for you before and did not cause any type of problem. And it is that, with the change of decade, the change in the skin is also common, so some of these products may not be as positive now as they were in the past, and may even cause annoying itching, inflammation and redness.
The best? Without a doubt, follow a skin care routine specially designed for those women -and men- who have already reached 50 years of age. Why? Very simple: as many experts say, in reality with each change of decade it is also necessary to change care and beauty routines, since the skin undergoes different changes as the years go by. So the routine we followed at the beginning of the 30's will not be the same as the one we followed at 45 years old. But let's go by parts.
What happens to the skin at 50 years of age?
One of the main problems, from this age, is the loss of natural elasticity of the skin, caused by the loss of collagen after the decrease of essential hormones in this sense, such as estrogen.
Estrogens are an essential hormone for the body, which play a very important role in a woman's body, along with progesterone, both in her sexual health and in female reproductive health. But they are not its only function, since it helps and contributes to bone health, the function of the cardiovascular system, and cognitive health itself, among other aspects.
In the case of the skin, they have been shown to help increase collagen and elastin, as well as the vascularization and thickness of the skin. In turn, it acts by modulating metalloproteinase, which block the fragmentation of the different collagen fibers, increasing the visibility of fibroblasts, improving the natural healing process and stimulating the proper proliferation of keratinocytes.
But their effects on the skin do not end there, since they also stimulate the hair follicle present in the scalp and act as antioxidants, protecting both against inflammation and against oxidative stress.
Although estrogen levels tend to vary from woman to woman, they tend to fluctuate both during the menstrual cycle and throughout a woman's life, which may have something to do with the typical mood swings that usually occur before the arrival of pregnancy. the menstruation. Or, in menopause, with the traditional hot flashes.
Due to this fluctuation, and especially to the decrease in estrogen (in fact, after menopause, especially stone appears, a weaker form of estrogen and that the body can convert into other forms of estrogen as needed), the skin becomes a little drier and more sensitive, so it tends to be more likely to get irritated more easily.
These changes often become more noticeable around menopause, when levels of certain hormones naturally decline. But they do not only affect the skin: the eyelashes and eyebrows can also end up thinning.
Moreover, it is known that from a dermatological and endocrine point of view, the role of estrogens is certainly essential for skin aging, as changes occur that affect both the synthesis and the maintenance of different skin structures.
It is estimated that during the first 5 years once menopause has begun, around 30 percent of collagen loss occurs, which could be prevented with the help of hormone replacement therapy (in this case, estrogen replacement), which include systemic therapy such as pills or capsules, gels, patches, creams, or sprays.
Although it has not been shown to be a completely effective therapy after these first years, at least in terms of the appearance of wrinkles, different studies have shown an increase in collagen in the skin of menopausal women after undergoing the therapy.
In fact, research published in 2005 has shown that women who follow hormone replacement therapy have younger skin, with less sagging and fewer wrinkles. However, the researchers are clear on this point: more research is needed to evaluate the use of this therapy as an anti-aging treatment. Furthermore, they indicate that in case women do not have problematic or intense menopausal symptoms, such as problems sleeping normally or typical hot flashes, they should not use these types of therapies solely to obtain benefits for the skin.
In the event that perimenopause is experienced (the period of time in which the body produces the natural transition to menopause, thus being considered as the stage prior to it), many dermatologists raise the possibility of considering hormonal therapy. As we have mentioned, they are therapies in which certain medications are prescribed that contain female hormones -estrogen alone, or combined estrogen and progestin-, helping to replace those that the body is no longer capable of producing on its own.
Other people, for example, take bioidentical hormones, which have the same molecular and chemical structure as the hormones naturally produced by the body.
On the other hand, even though acne is often considered a typical adolescent problem, which occurs mainly after puberty, during menopause estrogen levels decrease while some androgen hormones -such as testosterone- increase. This imbalance leads to the development of acne, particularly in certain areas of the face, such as around the jawline and chin.
Since estrogen and progesterone help regulate normal melanin synthesis, when both hormones decline during menopause, it can lead to hyperpigmentation, or age spots. In fact, years of sun exposure (and ongoing sun damage) will eventually come to the surface without the melanocytes producing enough melanin to protect the skin.
Skincare routine for people over 50: a step-by-step guide
Starting to maintain, with some regularity, a skincare routine from a young age is always a good idea, since the skin must be cared for and protected practically from adolescence.  However, as we get older, and we go from decade to decade, it becomes necessary to modify the routine, and this time, start cultivating a specific skin care routine for the 50-year-old.
The objective on this occasion is to follow a skin care routine that allows treating skin problems and conditions that are specifically related to menopause. And the routine pursues 4 basic objectives: hydrate, illuminate, firm and protect already aged skin. Take note
The importance of using a good cleaner
As we have seen, the essential thing after 50 years of age is to protect the natural barrier of the skin, and also try to do it as much as possible. And it is that the drier the skin, the more sensitive it becomes, and therefore, the more susceptible it tends to be to damage.
The ideal is to wash it daily with a moisturizing cleanser with a creamy texture, specially designed for sensitive skin. Of course, since the skin is already quite dehydrated and dry, strong cleansers should be avoided, choosing only those that are mild.
Not in vain, as many specialists believe, the ideal is to use a gentle cleanser, since at this age the skin becomes much more sensitive, as well as less oily. An interesting option could be to opt for a cleanser that also acts as a make-up remover with anti-aging qualities, containing useful essential fatty acids to provide extensive hydration.
The use of the cleaner is always essential. Although we will also talk about it in a next section, we must mainly focus on the use of a cleanser with ingredients that help nourish the skin, since it tends to become much more delicate.
A good option is to choose a specific cleanser that removes or removes what you are looking for (such as makeup, impurities and sunscreen), but that also provides beneficial nutrients.
The best? Use a cleanser with a smooth cream consistency, which includes some natural ingredients with moisturizing and soothing qualities, such as chamomile.
Exfoliate
As we will see in detail in a next section, it is vitally important to use an exfoliant that is as soft as possible, that does not contain a coarse texture, to prevent it from being abrasive with the most sensitive and dry skin.
The ideal is to opt for a good quality exfoliating acid, such as lactic acid or glycolic acid (or even, better yet, opt for exfoliants that contain both ingredients in their composition, which will undoubtedly help to increase its qualities).
This will help the skin appear much fresher, promoting luminosity by allowing nutrients to rise to the skin's surface, improving its oxygenation and reducing the appearance of both wrinkles and fine lines.
During this time, exfoliation is equally essential, although it is not recommended to do it so often. At this age, skin cells tend to shed every two to three months or so, making it take longer for dead skin cells to shed.
Ideally, use a chemical exfoliant, such as alpha-hydroxy acids (AHAs), which are water-soluble and provide a progressive chemical peel on the skin's surface, helping to break down the substance that keeps dead cells attached to the layers of skin. outermost parts of our skin, so they improve cell renewal in the lower layers (especially lactic acid and glycolic acid).
Beta-hydroxy acids (BHA) also stand out, which differ from the previous ones in a carbon atom, so they are soluble in oils. They are able to penetrate the sebaceous gland, working inside the pore in order to break down both the sebum and the dirt that accumulates inside (the most common is salicylic acid).
Or use a physical exfoliant, such as a grainy exfoliant. However, while chemical exfoliation is great for any skin type, physical exfoliation may not be as suitable for sensitive skin as it is too harsh.
Use a serum and then a moisturizer
A serum or serum is a formula that contains a high concentration of active ingredients, which help treat different skin problems. For example, the same serum can help target the subtlest signs of aging, such as dark spots and the finest wrinkles. And, in turn, they can also help against dry skin patches and dark spots.
Once you have used a cleanser with moisturizing qualities, designed for sensitive skin, it is time to use a serum rich in natural antioxidants, such as resveratrol, green tea or vitamins C or E.
Then, once you've applied the serum, it's time to layer on your favorite moisturizer, as well as a broad-spectrum sunscreen with an SPF of at least 30.
How to make ideal moisturizing masks from 50 years:
Although you can find a huge number of different masks with moisturizing qualities in many beauty and cosmetic stores, did you know that you can also easily learn how to make them at home? We explain some simple and easy recipes, which you can make with few ingredients (all, yes, one hundred percent natural):
Yogurt and lemon juice moisturizing mask. The lactic acid naturally present in yogurt provides softness and hydration to the skin, while lemon juice may help lighten dark age spots. To make it you need 1 tablespoon of yogurt, 1 teaspoon of lemon juice and 1 tablespoon of lavender powder.
And at the end of the day: the most suitable night treatment
At night, the night treatment is extremely simple to follow, as well as very simple: basically you must moisturize the skin and repair it. To do this, it is best to use a night cream rich in peptides, or a cream or lotion with retinol.
Of course, you have to be careful with creams that contain moisturizing prescription retinoids, since it is common for the retinoid to cause dryness, which could end up increasing the problem. If this happens, experts recommend mixing it with your night cream, or any other moisturizer designed for night application. Or, well, use it only two or three times a week, at most.
Face masks become a simple, easy and straightforward way to provide a wide variety of active ingredients to your skin care routine. In this sense, the regular use of a night mask  allows you to reap the benefits of a complexion that is as radiant and nourishing as possible while you sleep, thus enjoying much brighter and brighter skin the next morning, as well as nourished.
Other useful tips that will help you
Opt for ingredients that reinforce the skin's natural barrier
As we have briefly mentioned in the previous lines, estrogen is one of the main "culprits"  that the skin tends to change so much as it ages. It is, in fact, an essential hormone to maintain the healthy functioning of skin cells, and can even be extremely useful in delaying the natural aging of the skin.
Although this hormone tends to remain at more or less normal levels after puberty, the truth is that after menopause it tends to plummet. This means that the skin is not able to protect itself like it used to, maintain hydration or produce collagen the way it once could.
To this is added that the skin begins to suffer a loss of natural lipids, such as cholesterol, fatty acids and ceramides, which ultimately ends up contributing to the appearance of dehydration, inflammation, redness and an absolute and totally compromised moisture barrier. And what is even worse: as many women point out, it almost seems that the skin has changed completely overnight, which can make the solution not so simple, especially if you have not followed a routine before. proper skin care, which also serves as a preventive.
In this sense, the most advisable thing is to choose to use some cream rich in the skin's own lipids, which will help positively when it comes to preparing the skin for natural aging -and the reduction of essential hormones such as estrogens at the arrival of menopause-. It is advisable, in fact, to use it at least twice a day.
Choose oil-based beauty and care products
The truth is that, from the age of 50, oils are simply wonderful, thanks to the fact that they provide an increase in moisture, in case of dry or parched skin they do not cause itching or redness, and they can be enormously delicate for the skin. sensitive skin. Therefore, from cleansers to serums, it is best to opt for those oil-based products.
On the other hand, even after decades of maintaining your skin care routine daily, or at least on a regular basis, it is now especially important to properly moisturize each area of ​​​​the skin, in order to minimize both wrinkles and fine lines. expression, which tend to become little by little more visible and evident.
This is mainly due to the fact that the different sebaceous glands can end up becoming less active as we get older. So using a richer face cream will help in a huge positive way in trapping water against the skin, providing a "filled" feeling to deeper cracks.
Also, remember something essential: don't forget to apply moisturizer to your neck and upper torso as well. The skin on the neck, in fact, is thinner than the rest of the skin on the face, which is why it usually shows the first signs of aging much more quickly. With the correct use of the moisturizing cream, the moisturizer, and its regular application in these areas, it will be possible to prevent the most premature aging as much as possible.
Exfoliate your skin with only gentle exfoliants
Among the products that are not recommended after this age, we find mainly strong exfoliants with a thick texture. The reason is more than obvious: since the skin has become much more sensitive and delicate, using this type of exfoliant, even though it was previously useful for younger skin, can now end up becoming a real problem, increasing dryness and causing abrasion and redness.
Therefore, the ideal is to replace them with a gentle exfoliant with enzymes. Applied every 15 days, it can end up becoming a wonderful routine for natural skin care, since it will prevent dead cells from accumulating on the skin, clogging it and ending up reducing its natural shine. Therefore, it is advisable to choose enzymatic exfoliants specially designed for application on dry skin.
Also exfoliants with round particles may start to be more suitable from the age of 45-50, since they tend to be much less irritating.
However, regarding regularity, although it is true that when we were between 20 and 35 years old, it was advisable to exfoliate our skin 2 or 3 times a week, at most, now the ideal is to do it regularly, every week. That is, once a week.
Thanks to this, every 28 days a new layer of skin will be created that is much brighter and brighter. But beware. This natural process can slow down as we age, resulting in skin with rough, slightly dry patches and a duller appearance.
Therefore, it is advisable to exfoliate your skin weekly, in order to achieve a much brighter complexion.
Use a sunscreen, always
It is advisable to use products with at least 7 percent zinc oxide, and an SPF of at least 30, or higher, with UVB and UVA protection. The ideal is to use it daily, whenever you are going to go outside, and renew the sunscreen on the areas of the skin exposed to the sun, at least every two hours.
As we have already mentioned to you at some point, there is nothing worse for maintaining good skin health than damage caused by the sun, since it can end up causing changes such as an uneven skin tone and the appearance of the dreaded wrinkles. fine.
It is also essential to check your skin frequently to detect the possible existence of skin cancer. Thus, in case of observing worrying changes, the ideal is to go to the dermatologist's office as soon as possible. Remember that older people with fair skin have a higher risk of skin cancer, so it is essential to have an annual check-up.
Eye and lip care
If you have not done it before, from now on it is essential to pay attention to certain areas of the face that, perhaps, previously you did not do so much: the eye and lip area.
For example, the skin around the eyes is characterized by being much more delicate and thin. In addition, during menopause the most common thing is that it becomes even more pronounced, being tremendously common that both dark circles and bags under the eyes begin to form (if they have not already done so).
The ideal in this aspect is to look for an eye cream that provides a younger eye contour, by helping to eliminate sunken skin, dark circles and crow's feet.
In the case of the lips, did you know that this skin is also more delicate and thinner than the rest of the face?
Start using retinoids
As we have seen, especially after menopause, the most common thing is that over time the skin begins to lose collagen. This loss is even greater when the typical hormonal fluctuations of this stage occur, which means that, in addition, there is a tendency to lose a greater amount. This causes the skin to become even more wrinkled.
As the experts say, the best line of defense against collagen loss (which occurs completely and completely naturally, it must be said), is the use of a retinoid, the topical version of vitamin A, but for whose use requires a proper medical prescription from a dermatologist.
Some specialists even recommend their patients over 35 years of age to use retinoids for aging, especially since it is around this age that the natural aging process tends to accelerate slightly. In this sense, they recommend a maximum application of 2 to 3 times a week, especially at night, until the skin gets used to it.
Although higher doses require a prescription, milder forms of retinoid creams are readily available at pharmacies and beauty supply stores. Of course, some care must be taken: the use of retinoids together with benzoyl peroxide, a medication commonly used to treat acne breakouts, is not recommended, since it could oxidize some retinoids, causing them to end up being less effective.
Eat foods with probiotic qualities
As you may already know at this point in life, to maintain healthy skin, it is not only necessary to take care of it externally, but also internally, and the best way to do this is by choosing a nutritious, healthy and adequate diet.
As estrogen, and lipids, begin to drop naturally, the pH of the skin begins to rise, especially as we age and reach 60 years of age. Thereafter, the outermost layer of the skin, which normally tends to be a bit acidic, becomes more alkaline, exacerbating dryness, increasing sensitivity and further weakening the moisture "barrier".
However, it has been shown that both probiotics and those topical creams that produce acid molecules, such as fatty acids, for example, can be very useful in restoring the pH of the skin, which means that it could retain moisture better, thus appearing brighter and more flexible.
In addition, probiotics can also neutralize the negative action of free radicals, calming inflammation in order to protect both the natural production of elastin and collagen.
And what are the best options? Take some daily supplement rich in bifidobacteria and lactobacilli, or opt for fermented foods, among which kefir and yogurt stand out, which will also provide more benefits and essential nutrients (and not just probiotic qualities).
Consider the use of supplements
In addition to taking care of your diet, and opting, for example, for a greater consumption of certain foods, as is the case with probiotic foods, it can also be very useful to opt for some nutritional supplements that provide excellent qualities for caring from the inside. of the skin.
Omega -3 fatty acids, in addition to being tremendously beneficial for our cardiovascular health, can also help keep the skin moist for a longer period of time, and are even capable of delaying the natural maturation process of the skin, by prevent wrinkles.
We find omega-3 naturally in certain fatty fish, among which salmon stands out, as well as certain shellfish. However, if you do not consume fish or its derivatives, you can choose to try fish oil (which you can find in capsule form at the herbalist), or opt for supplements suitable for vegans, such as flaxseed oil.
Consumed regularly, they will help keep the skin much more flexible, thanks to the fact that they replenish the lipids -or oils- of the skin, which normally tend to decrease over time, as we age. Also, if you suffer from adult acne, it also acts as an anti-inflammatory, so it's just great.
Do not forget the skin of the hands
Any self-respecting skin care routine, especially if it is well designed, should never forget another essential part of the body: hand care. In fact, the most common thing is to forget about them, despite being one of the places where it is common to start seeing the first signs of aging.
It is advisable to incorporate a good hand cream into your skin care routine, using it even if the skin has not become dry. It can also be interesting to follow a hand treatment twice a week, which will help keep them as soft as possible.
Since it is very common for the skin of the hands to also become dry, especially at certain times or times of the year (such as winter), it is advisable to use a nourishing moisturizing hand cream that contains shea butter, which provides moisture and collagen, reducing dark spots.
As we have seen throughout this note, you may think that the natural aging of the skin becomes the main -and only- concern that you have to deal with once you have reached 50 years of age. But, far from what you might think at first, the reality is that it is also essential to take care of the different stages directly related to menopause, which means actively helping the skin to compensate for hormonal changes -and fluctuations – more severe.
If you wish, it is highly recommended to consult a dermatologist and a medical professional who can provide you with the support and information you need when dealing with the different physiological and psychological changes that you will experience in this new and important stage of life. life.
So as soon as you figure out the best ways to take care of your skin – and your health in general – during perimenopause, menopause itself, and finally post menopause, you'll feel a whole lot better.