Hanami dango are typical Japanese sweet rice balls, which are made to celebrate the arrival of spring and hanami. Discover how to make them with this recipe.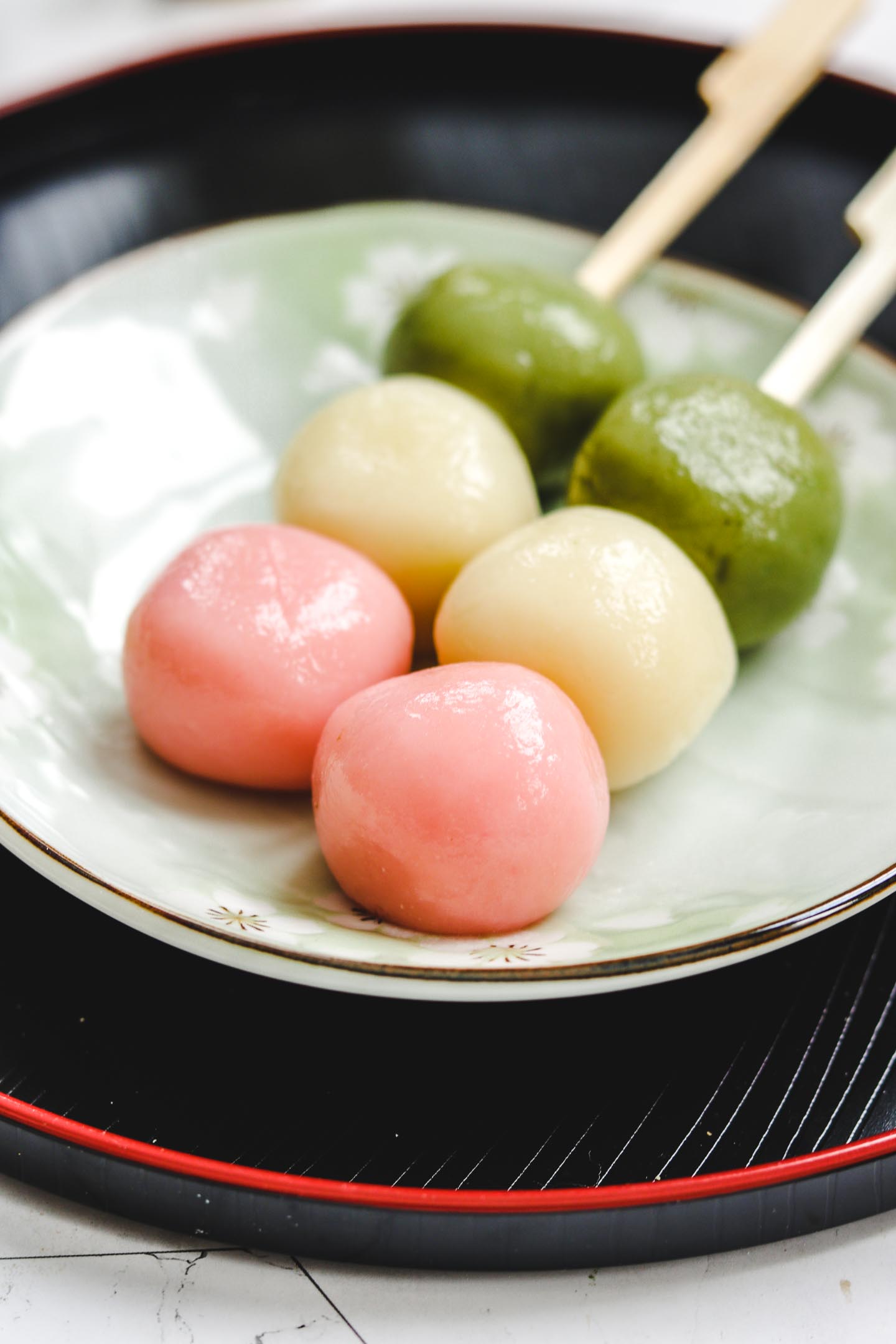 Hanami dango  (花 見 団 子) is a wonderful typical Japanese sweet, which in this country is usually made for the celebration of the hanami season, the national holiday in which the arrival of spring is officially celebrated, with flowering of the cherry tree (its characteristic and traditional tree).
In fact, the dango consists of a kind of chopped dough – or dumpling – that is made with glutinous rice flour (mochi-ko ), with a certainly sticky texture and sweet taste. Although this typical sweet is consumed practically all year round, the hanami dango variety is made to celebrate the arrival of spring.
For this celebration, the most common is to serve between 3 to 4 balls of hanami dango, which are strung on a wooden or bamboo skewer. In addition, it is common for the skewer to be composed of hanami dango of three colors: white, green and pink. Not surprisingly, it is common for matcha tea to be used as a green coloring, due to its flavor and aroma.
Hanami dango (sweet rice balls) recipe
Ingredients
120 g non-glutinous rice flour (Joshinko)
120 g glutinous rice flour (Shiratamako)
120g sugar
120 ml of water
1 teaspoon matcha tea powder
1 teaspoon red food coloring
You will also need bamboo or wooden skewers with which to string the sweet balls.
Elaboration
In a wooden bowl put the sugar and the two flours (the non-glutinous rice and the glutinous rice). Mix them well.
Add the water little by little. Knead well with the help of your hands until you get a rather smooth texture.
Divide the dough into three equal parts.
Add a few drops of the red food coloring to one of the parts and knead it again until the pink tone is rather uniform.
On the other hand, add the matcha tea powder to another party. Knead again until the green tone is uniform.
Now is the time to form small balls with your hands, and making it with each part of the dough.
Put water in a saucepan and heat on the fire until it boils. Keeping the fire at the same level, in order to keep it boiling, add the hanami dangoballs little by little and progressively.
When the rice balls rise to the surface it is the ideal time to remove them from the water. Put cold water in a bowl and soak the rice balls in this bowl.
On a bamboo or wooden skewer add a ball of each color. Repeat this operation until you finish with all the balls.
As you will see if you try them, the truth is that hanami dango are really sweet rice balls, as well as sticky. Although their texture is rather peculiar and characteristic, if you do not like that they are so sweet, you can reduce the amount of sugar by half.