Slightly tangy in flavor, sesame butter is a great breakfast and snack option.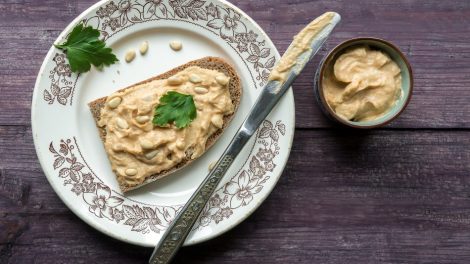 The sesame butter is a paste or cream very popular in different countries in the Middle East, where so – and usually consumed traditionally spread on bread. Although it is true that, in these countries, it is also used as a base for the preparation of a wide variety of pates and sauces, such as aubergines or in the preparation of the equally popular hummus.
It is made with sesame seeds, which nutritionally stand out for their richness and contribution of minerals, especially iron, magnesium, phosphorus, copper, potassium and manganese. A seeds so delicious and versatile that we can use them not only for the preparation of tahini but to consume them toasted or raw as a dressing in stir-fries, salads, noodle dishes or desserts.
Ingredients
100 g of sesame seeds
5 tablespoons sesame oil
Water
Sea salt
How to make sesame butter:
Put a pan -dry and without oil- on the fire and add the sesame seeds. Toast them over medium heat for a few minutes until golden brown.
Once toasted, put the sesame seeds in a mortar, add the sesame oil, and mash them well. If you have mortar you can do the same process with the mixer, crushing them.
To get the paste to emulsify to the desired texture, add water little by little.
To finish, add sea salt to taste.
Pita bread recipe to accompany sesame butter
Usually in many Middle Eastern countries it is very common to spread pita bread with the sesame butter that we have learned to make in the previous recipe. And, how could it be less, this time we want to explain how to make pita bread to enjoy in your breakfasts and snacks.
Ingredients
500 g of wheat flour
300 ml of warm water
15 g fresh yeast
2 tablespoons of extra virgin olive oil
1 teaspoon salt
1/2 teaspoon of sugar
Elaboration
Heat the water a little, and then let it cool until it warms up. Then, in a bowl, add the fresh yeast, sugar and 4 tablespoons of water, and form a paste with these ingredients.  Let it rest for 15 minutes.
In a larger container or bowl add the flour and mix it with the salt. Make a well or space in the center and pour the yeast mixture into it along with the rest of the water. Add the extra virgin olive oil, and knead well until you get a soft and firm consistency.
Now flour a surface on which to work the dough, pour the dough onto it, and work it well for at least 15 minutes, until the dough becomes elastic and as homogeneous as possible. Then form a ball, grease a container with oil, and leave it in it. Cover the container with a damp kitchen towel, and let it rest for 1 hour and a half, until its volume has doubled.
After this time, cut the dough into a total of 8 portions. Make a ball with each of them and sprinkle with flour. Flour the work surface again and flatten each ball with the help of a rolling pin, until they are no more than 1 centimeter thick. Then cover them with a dry cloth and let them rest for another 20 minutes (so we will get them to rise again).
Meanwhile, preheat the oven to 250ºC.
With the help of a wooden spatula, lift each portion of the dough, sprinkle with water (in this way you will ensure that they do not burn in the oven), place them on the oven tray and bake for 5 to 10 minutes, until they are puffed up.
Once they have baked, remove from the oven tray, letting them cool on a rack.