Do you have acne? Find out how to reduce it with this effective all-natural acne astringent toner that you can easily make at home.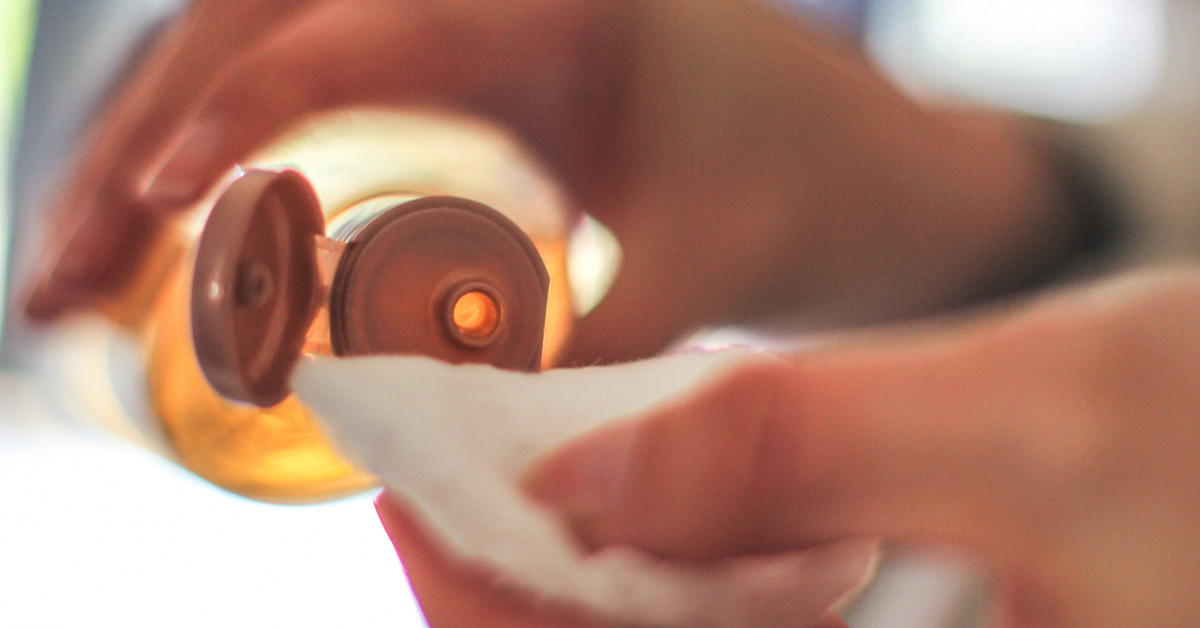 Acne can become a real aesthetic problem for most people who suffer from it, especially if the condition is serious, and it can affect their own self-esteem and personal self-confidence. Although we tend to think that we are facing a purely juvenile problem, the truth is that it can appear at any age, especially after puberty and adolescence, being more common in people with a tendency to produce excess sebum or fat in your skin. What is commonly known as oily skin.
This type of skin is fundamentally characterized by having hyperactive sebaceous glands, which translates into an excessive production of fat that in turn causes the obstruction of the pores. It is usually identified with the appearance of coarse or very coarse-textured skin, open pores, blackheads, and pimples. In addition, it is a very shiny type of skin, especially in what is known as the T-zone of the face (that is, the forehead, nose and chin). It is also possible to find combination skin, with some oily areas and others totally normal.
Be that as it may, oily skin generally has a very common tendency to the appearance of pimples and blackheads, mainly due to the excessive production of sebum that causes, as we have indicated, a clogging of the pores, and can become infected.
In addition to opting for astringent toners that provide freshness and a much greater capacity to remove excess sweat and oil, it is also possible to make astringents specifically designed against acne at home, being useful in reducing the presence of acne by eliminating excess fat present in the skin, refreshing and moisturizing it naturally. This time we propose a wonderful recipe, very useful in this regard.
Natural astringent tonic for pimples
If you have oily skin prone to the production of pimples and blackheads, there is no doubt that this astringent toner made with one hundred percent natural ingredients will become your best friend, especially if we take into account its qualities to heal the skin, refresh it and clean it completely naturally.
It is an astringent toner with wonderful anti-acne qualities as it is capable of naturally reducing the amount of oil and sweat present on the skin, hydrating and cleansing it in depth. In this way, if you use it regularly, you will be able to gradually reduce the presence of pimples on your face.
Ingredients you need: 1 tablespoon of chamomile flowers, 1 tablespoon of yarrow, 5 drops of peppermint essential oil and 2 cups of water.
Preparation: In a small saucepan put the 2 cups of water and heat until it reaches the boiling point. Then remove from the heat, add the chamomile flowers and the yarrow in the quantities indicated, cover and leave to macerate for 30 minutes. After this time add the mint essential oil, mix a little and filter.
Where to keep it? Once filtered, you can store it in a glass container with an airtight seal, or in a small glass bottle. You can keep it in the fridge for 1 week.
How to apply: It's very simple, you just have to use a cotton cleansing pad and apply it to the areas of the skin you want to treat. It is convenient to shake the container or bottle well every time you are going to use it.
You can use this astringent tonic regularly as it has no contraindications or side effects. Of course, it is advisable after its application to use a moisturizer on the skin.