Did you know that you can soften and reduce annoying blackheads with this wonderful mask made with oatmeal and yogurt? Find out how to do it easily.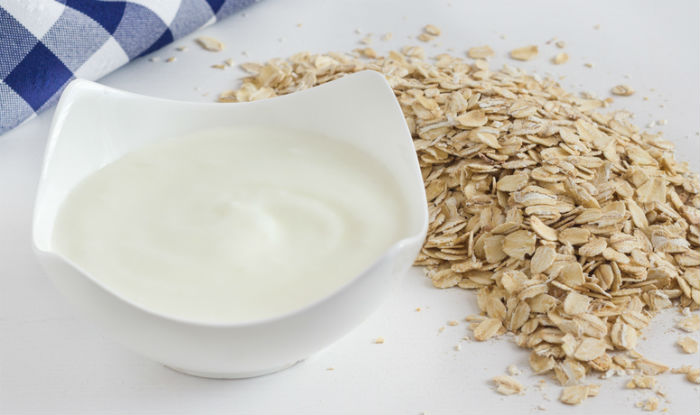 It is true that pimples are not the only unsightly "enemies" of our skin. We also find annoying blackheads, a very common problem that appears especially on the skin of the face, in what is known as the T zone: nose, chin and cheeks (and in some cases also on the forehead).
Blackheads appear as a result of the accumulation of sebaceous secretions from the skin, which are mixed with dead cells. Precisely for this reason they appear with that characteristic dark color, because these secretions tend to be very dense as they have a large number of dead cells in their composition.
Unlike what happens with pimples (acne), anyone can suffer from the presence of  blackheads, since practically everyone can have this problem. In fact, normal or dry skin also has them, so it is actually a myth to think that oily skin is more likely to suffer from them.
When it comes to removing blackheads, there is a homemade mask that we can easily make at home with oatmeal and  yogurt, and that serves or acts as a gentle exfoliant ideal for removing them naturally. We explain how to make it easily.
How to make an ideal oatmeal and yogurt mask for blackheads?
Ingredients:
Half plain yogurt
2 tablespoons of oat flakes
a few drops of lemon
Preparation of the oatmeal and yogurt mask:
Put half of a yogurt in a large bowl or cup.
Add the oat flakes in the amount indicated and mix well with the help of a wooden spoon, until a kind of paste is formed.
Then cut the lemon in half and squeeze it a little, adding a few drops of its juice on top of the paste. Mix well again and reserve.
How to apply the mask:
You just have to wash your face well with hot water, in this way you will open the pores and the blackheads will soften, so their removal will be easier. Then apply the mask on the skin of the face, making a strong massage in those areas where you have more blackheads. Let act 15 minutes. Then rinse with warm water.
What benefits does this mask provide?
This nourishing mask is ideal for fighting acne and those annoying little blackheads that usually appear on our forehead, nose and chin, thanks to the fact that it helps to open the pores on one side, while on the other it is useful for softening blackheads.
As a result, blackhead removal is much easier, especially if you finish the application with a little warm water.