We have known of the contagion by salmonellosis in babies who had taken Lactalis products, such as Damira infant milk (Spain). Know all the information.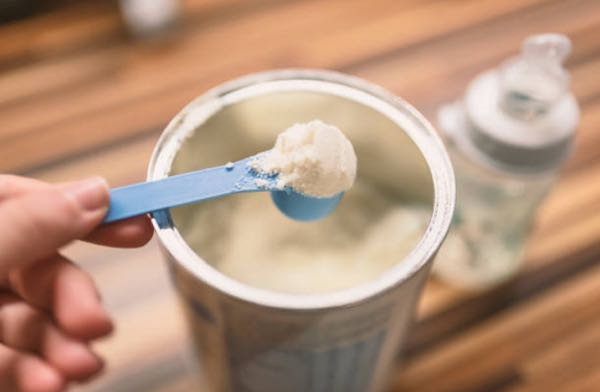 At the beginning of this year the alarm went off in France: 18 children, who had consumed children's products developed by Lactalis (also sold in Spain, among which are infant milk for infants), had had to be hospitalized after suffering from salmonellosis.
Although this problem had already been known since the beginning of December, the truth is that it was not until a few days ago that an administrative inspection carried out in the Gallic country discovered that these children's products contaminated with salmonella  continued to be sold in supermarkets, pharmacies and big surfaces.
In other words, it was detected that some of the products that had to be withdrawn were still on sale, despite the fact that, according to the company, it always gave "instructions" to all the points of sale in order to withdraw and block the affected lots.
Because of this, France's own finance minister, accused Lactalis of "being an unreliable company", so that its "unacceptable dysfunctionality" would be subject to significant sanctions.
In this sense, we must remember that already in 2015 the National Securities Market Commission of Spain imposed a fine of 11.5 million euros on this same company,  considering that it carried out anti-competitive practices.
On the other hand, all the children's products affected by this contamination were developed in the Lactalis factory in Craon (Loire), which was temporarily closed on December 8, 2017, and which also  had another contamination problem in 2005 with salmonella  (when it belonged to another company).
At that time, products manufactured in this factory had to be withdrawn from the market due to contamination with the same bacteria, which at that time affected a total of 16 children. In fact, as the Pasteur Institute reports, the two salmonellae "are extremely similar."
What are the brands of children's products affected?
As we have known so far, in France the brands of contaminated products that have already been withdrawn from the market are the following:
Cereals:  Picot, Big Bag, Céreline, PBB and Milumel.
Powdered infant milk:  Babycare, FBB, Amilk and Célia.
Leche:  Nophenyl.
How did salmonella contamination occur?
According to the version currently being handled by the French investigation, it seems that some works carried out in mid-February last year would have caused the spread of the bacteria. In fact, traces of salmonella were already detected in August (on tiles) and in November (on cleaning materials), all prior to the health alert.
While the dairy farmers and suppliers of the factory are free of suspicion, the workers of the factory will be investigated, to determine if anyone is a benign carrier of the bacteria and could inadvertently introduce it into the production chain. This will examine your stool.
And what happens in Spain?
Yesterday we knew that Lactalis Nutrición Iberia began in December to withdraw 550,000 infant milk powder products and nutritional preparations for babies in Spain, manufactured in the Craon factory.
They have confirmed that dairy products belonging to the popular Puleva brand are not affected, mainly because they are products made with "Spanish milk."
However, the truth is that in Bilbao the existence of a first case of a baby of just 5 months infected with salmonella from Lactalis milk has been confirmed, who has been hospitalized twice with diarrhea and high fevers, and who took Damira brand milk powder.
This measure affects batches of a total of 37 references of the following brands:  Puleva Baby, Sanutri and Damira. In addition, it affects a nutrition module developed with powdered maltodextrin and several products developed for metabolic diseases.
If you have any questions or concerns, either because your child consumes this type of Lactalis brand products or because you simply want more information, the brand has opened the telephone number 900 102 336 to provide more information to consumers.
What is salmonellosis?
Salmonellosis is a food poisoning caused by salmonella, a group of bacteria whose poisoning occurs precisely as a result of consuming food or food products originally contaminated with it.
Among the symptoms that it can produce, those of a gastrointestinal and digestive nature stand out, such as: abdominal cramps, diarrhea, nausea, vomiting, and loss of appetite, fever and headache.
These symptoms usually last between 4 to 7 days approximately, and can be a serious illness in young children (who have also been the main affected by this contamination), especially if the bacteria enter the bloodstream.