Sea salt, coarse or ground, becomes an excellent exfoliant for the skin, totally natural and with incredible demineralizing benefits. Discover how to use it at home easily.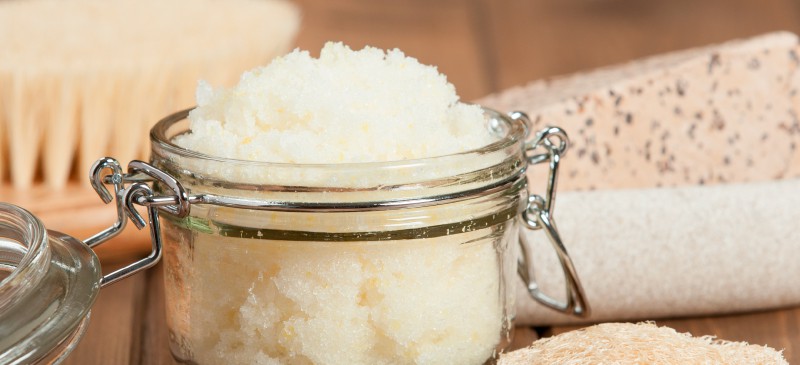 An exfoliant is a product or element that, when applied to the skin, helps in the natural process of removing dead cells, impurities and scales that are deposited on a regular and daily basis on the surface of the epidermis. It is especially useful when it comes to rejuvenating the skin, improving its appearance when it is damaged by the sun, to improve acne scars, to discolor or remove blemishes and to reduce wrinkles in a totally natural way.
Its use becomes an extremely useful option for skin care, especially in those areas of our body that tend to be more exposed to environmental pollution. For this reason, it is very important to exfoliate the skin of the face, arms and legs especially.
From a natural point of view, it is possible to make your own natural scrubs easily at home, using substances and products whose characteristics help them to be used as scrubs.  However, depending on the skin we have, we must opt ​​for a softer type of exfoliant or a stronger one.
Within the soft scrubs, we can opt for white or brown sugar, ideal for people with sensitive skin or for those who are starting to use an exfoliant for the first time and are not sure how their skin might react. And within the strongest exfoliates we find sea salt.
The benefits of sea salt to exfoliate the skin
Excellent for removing dead skin: when applied to the skin, sea salt stands out for being a much more abrasive natural product, so as an exfoliant it acts more directly and intensely.
Oily skin with acne: as you surely know, oily skin is characterized by a greater production and presence of acne. In this sense, sea salt is useful as an exfoliant by helping to absorb excess sebum.
Natural mineralization: unlike sugar, sea salt is very rich in minerals, so it exerts a very healthy and therapeutic mineralization.
Removes Impurities: As well as being helpful for dead skin removal, sea salt acts as a wonderful natural exfoliant in removing both toxins and impurities from the skin.
How to use sea salt as a natural skin scrub?
The preparation of the sea ​​salt scrub is as easy as it is simple, since you only need a few ingredients, and its preparation is also extremely fast.
Ingredients:
1 cup coarse sea salt
Half a cup of sea salt
1 tablespoon of honey
Preparation:
Put the coarse sea salt in a mortar and carefully try to grind it up a bit. Then, in a container or bowl, place the ground sea salt, olive oil and honey in the amounts indicated.
Carefully mix all the ingredients well until they are mixed and almost completely amalgamated.
How to use this natural scrub:
Once the scrub is made, you can apply it before bathing. To do this, cleanse your skin before using it and apply the sea salt scrub carefully, always with gentle massages and always in a circular motion, leaving it to act for 15 minutes.
Then take a shower normally, and finally apply a moisturizing cream or mask to nourish your skin.