As its name suggests, what is known as waterproof makeup is a very special type of makeup, mainly because it is water resistant. It becomes, therefore, one of the best allies when you plan to spend the day at the beach or in the pool, and especially when it comes to being beautiful practically all day long, regardless of the hours that pass from the moment you the one you applied makeup for the first time.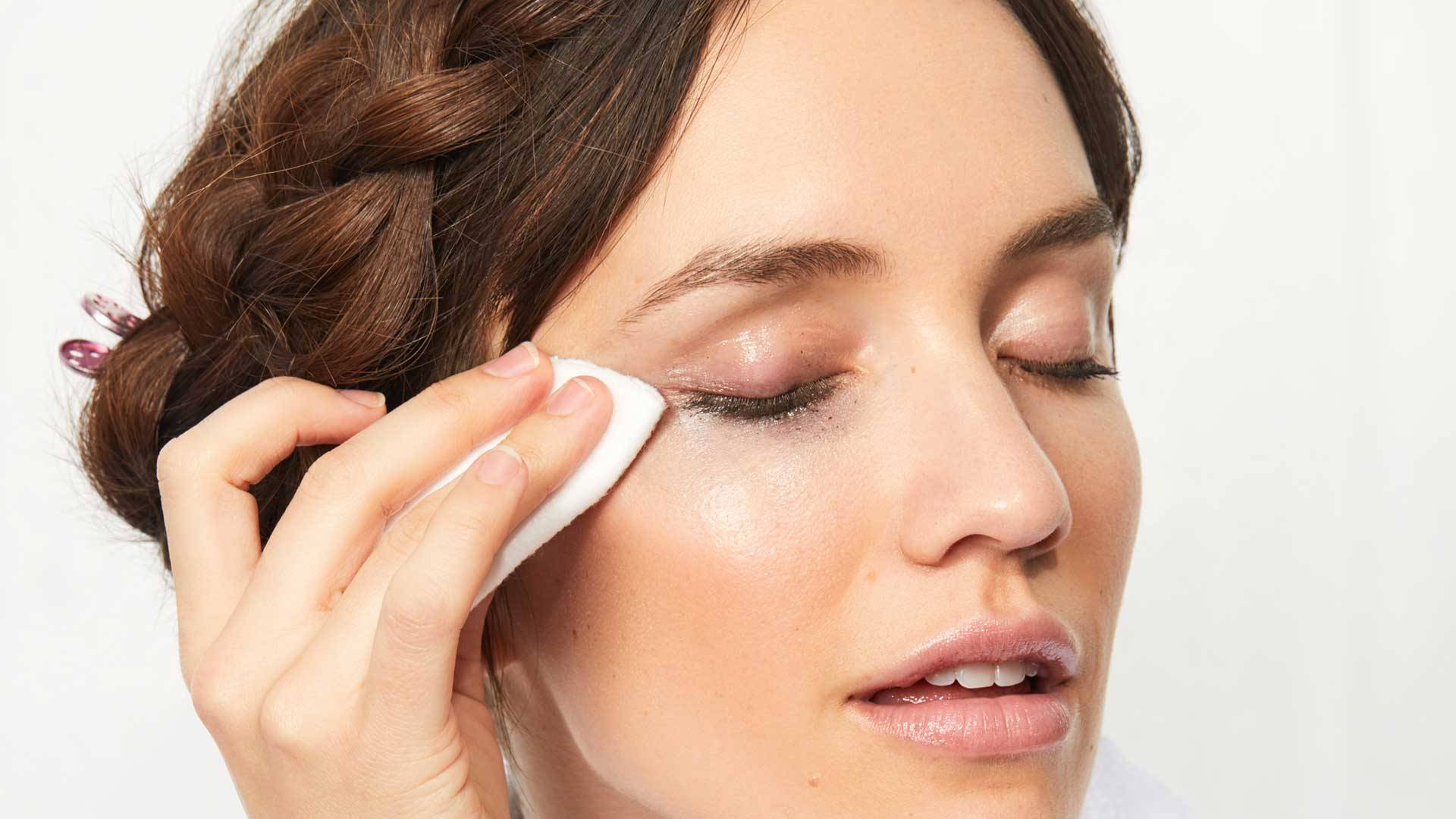 It's ideal as a great option for those days when you don't want to waste time, or energy, getting touch-ups from time to time. The basic requirement of a good waterproof makeup is precisely to be water resistant, which will ensure that it will not run or smear, even when it is pouring rain and you find yourself caught in the rain. Not surprisingly, it is the favorite for women who choose to dive under water, come to the surface and continue to be just as beautiful.
The ingredients that make a mascara waterproof are the different waxes used in its formulation. For example, the use of beeswax, carnauba and camellia is common, which helps positively when it comes to preventing water from ruining makeup. But this can end up being a problem.
And it is that to remove it is not possible to do it as you would normally remove any rest of makeup from the face, being necessary to use other products to be able to achieve it effectively. Unlike regular makeup removers, where mascara or makeup is removed with a single cotton swipe, formulas that are waterproof are notoriously difficult to remove.
In fact, removing waterproof mascara correctly has a special relationship with the type of makeup remover that is being used.
Useful tips and tricks to remove waterproof makeup
Although waterproof makeup is the best ally for when you want to enjoy a day at the beach or in the pool, and you prefer to be perfectly beautiful, it can become a real enemy when you try to remove it from your face. Luckily, getting it done is very simple if you follow some of the steps, tricks and tips that we propose below.
Use a biphasic cleanser
A biphasic cleanser is a product that has water and oil content, which when mixed, help make-up remains disappear completely. That is, they contain a part of oil and a part of water, which in combination helps to remove makeup through the action of the oil, and later that oil is eliminated through the action of water.
And, best of all, its application is as simple as following the same steps that you usually follow when you intend to remove your usual makeup.
They usually remove makeup perfectly well, but in most cases they leave an oily film under the eyelids. If this happens to you regularly, and it bothers you too much, you can opt for an oil-free make-up remover that, instead of real oil, uses silicones. But be careful: if you are sensitive to silicones, it is best to replace it with the oil-only version.
Although it is possible to find a quality biphasic cleanser at your favorite cosmetics store, you can also choose to make one yourself completely at home.
How to make a homemade biphasic cleanser? You only need rose water and rosehip oil.  In a small, clean glass container that you can close, mix a little rosewater with a tablespoon of rosehip oil. In most cases, it is enough to use three quarters of rose water for one of rosehip oil. Close it and shake it well. Every time you are going to use it, it is recommended to shake it again.
Opt for micellar water. Do you know how to use it?
Micellar water becomes a perfect, gentle cleansing option that can be used effectively to remove any type of mascara and makeup, including waterproof ones as well.
This is a wonderful product that works with tiny micelles (oil molecules), which act like a magnet to help remove oil, dirt, and makeup from your skin.
But its qualities do not end here, since in addition to cleaning dirt and impurities, it is useful for intensely purifying, and all this without having to rinse it on the face or rub it.  And what is even better. It can be used on both the face and lips, and is suitable for all skin types, including the most sensitive skin.
How to use micellar water to remove waterproof makeup. You just have to soak a cotton pad with micellar water. If you're removing eye makeup, simply hold the pads over your closed eyes, letting them sit for a few seconds. And then gently clean it to remove it. If you are going to remove make-up from the lips or face, you only have to apply the pad on the area, until the skin is completely clean. Finally, there is no need to rinse your skin afterwards.
Opt for a homemade olive or coconut oil makeup remover
Another excellent way to remove waterproof makeup is to use a little olive oil or coconut oil. How? Very simple: soak a cotton ball with your favorite vegetable oil, and gently spread it over your face, carefully. It is important to leave it current for a few seconds.
Then, after a few seconds, remove it with warm water.
Remove waterproof mascara with the help of Vaseline
Vaseline becomes the cheapest, most cost-effective and easiest way to remove waterproof makeup or mascara. In addition, the way to use and apply it is as simple as it is easy.
To achieve this, it is only necessary to take a little Vaseline with your fingers and cover the eyelashes with it, leaving it to act for approximately five minutes. Later, once this time has passed, remove it with the help of a pad or a cotton ball moistened with warm water, applying it gently, without allowing it to reach the eyes.
With the help of baby oil
As we have told you on occasion, oil-based makeup removers are especially useful when removing waterproof makeup. And baby oil is a useful option for a variety of situations, including removing waterproof mascara.
Although this is an effective way to remove waterproof mascara and makeup, some care is needed as some baby oils contain petroleum, which can be harmful to the eyes.
How to use it. Soak a cotton ball in some baby oil, and place it on the underside of your lashes. Gently cleanse lashes in one direction only.
Alternatively, you can use baby shampoo instead of oil, but make sure it's an eye-safe formula first.
How to remove waterproof mascara from eyelashes?
When you have applied a little waterproof mascara to your eyelashes, it is extremely common that, once you want to remove it, it is not enough to wash your face and use a jet of cold water. And we must not forget something fundamental: regardless of whether it is makeup itself for the face, or for the eyelashes, if it is waterproof it means that it is perfectly resistant to water.
Moreover, it is essential to know how to do it correctly to avoid unnecessary problems, such as exerting too much friction on the skin around the eyes, which is characterized by being quite sensitive. In addition, eyelashes can be seriously affected, becoming weak and falling out too easily.
Start with an oil-based eye make-up remover.
Since we are talking about waterproof mascara, starting with an oil-based eye makeup remover is a must. It becomes the best option when it comes to removing mascara as quickly as possible.
However, in the opinion of many experts, in reality any substance with an oily texture, such as olive oil or almond oil, or even Vaseline (due to its greasy texture) can work perfectly.
To get the makeup remover to do its job properly, it is essential to thoroughly soak two cotton pads. The way to apply the make-up remover is very simple: hold one pad under the lashes, and the other on top, creating a kind of 'sandwich' effect. Let it act between 10 to 15 seconds (although on some occasions it may be necessary to leave it for at least 30 seconds). Then, after this time, remove the cotton pads, and brush your lashes down to remove the mascara.
If there is any make-up remover left, remove the excess with the help of a clean cotton pad and/or water.
It is essential to thoroughly soak the cotton pads in your make-up remover of choice, as one or two drops will not be enough.
Clean with cotton swabs
If despite following the steps indicated in the previous section, you still have a little resistant mascara in the corner of the eye, or at the base of the lash line, with the help of a cotton swab you could easily remove it.
How? It's very simple: you just have to soak it with a little make-up remover, and apply it -carefully- on the most difficult to reach areas.
The last step: cleanse, tone and moisturize
After removing every last bit of mascara from your lashes, don't forget another essential step, which basically becomes the last: cleanse, tone and moisturize the rest of your facial skin before going to bed.
You must not forget to do so, since if you do not remove the rest of the makeup that may have remained on your face, you could run the risk of going to bed with it on, which can end up affecting the health of the skin in general, even when not be so conspicuous.
Mistakes to avoid
Although the launch of waterproof makeup was a huge advance in the cosmetics sector, and a great relief for most women when they saw that rain, sweat or tears were wreaking havoc on their makeup, when it came to removing it or removing it may not be as easy as applying it. Why? Fundamentally because, in order to achieve this, it is vitally important to learn how to do it well, especially correctly, removing all makeup completely, and without leaving any residue.
Precisely in this sense, most professionals agree in pointing out the same thing: the make-up remover is not given adequate time to take off or "break" the make-up. In this sense, if you start rubbing the skin immediately (just a few seconds after applying it), the result could be the least expected, and can damage or even break the eyelashes.
To get it right, below we have made a compilation of some of the main mistakes that are usually made, so that you always avoid them. Take note:
Remove your makeup poorly, leaving traces on your face. As we have already told you in some moments, it is not entirely appropriate to leave your makeup on all night.  Although at specific times nothing may happen, the reality is that leaving makeup on your skin for several hours (particularly at night, when in theory the skin should be renewed), can cause the pores to become clogged, inflaming it, reddening it and drying it out and not only that, since it also increases the risk of an acne breakout. So the next morning, you might be surprised to see your face (and not exactly in a positive way). Hence, it is essential to remove makeup completely. Especially if it is waterproof makeup, it is convenient to do it well, correctly, and above all to do it with some patience, in a timely manner. In the case of thicker or heavier mascara, the problem may be greater, since cases have been reported in which symptoms such as discharge, swelling and painful irritation have arisen. The reason? The clumps of makeup had become embedded so deeply that the particles eventually accumulated on top of each other, so every time you blink, they pose a serious risk for infection, since if a scratch on your eye becomes infected, the infection could cause blindness. Therefore, leaving your makeup on overnight before going to your face, especially mascara, is dangerous and not recommended to say the least. The reason? The clumps of makeup had become embedded so deeply that the particles eventually accumulated on top of each other, so every time you blink, they pose a serious risk for infection, since if a scratch on your eye becomes infected, the infection could cause blindness. Therefore, leaving your makeup on overnight before going to your face, especially mascara, is dangerous and not recommended to say the least. The reason? The clumps of makeup had become embedded so deeply that the particles eventually accumulated on top of each other, so every time you blink, they pose a serious risk for infection, since if a scratch on your eye becomes infected, the infection could cause blindness. Therefore, leaving your makeup on overnight before going to your face, especially mascara, is dangerous and not recommended to say the least.
Try to take it off quickly. Especially when you're in a hurry, it's very common not to spend the time you need on your skin, especially when it comes to taking care of it. The problem can be even greater when you do it with makeup, particularly when it comes to removing it. Why? If you don't let the makeup remover act until it breaks or peels off the makeup, especially when it comes to waterproof mascara, you could end up seriously damaging your eyelashes, causing them to weaken and fall out. Therefore, it is best to apply the make-up remover following the instructions on the package, as we have recommended, or as you usually do, and leave it on for a few minutes. Remember: never remove it immediately, within seconds of applying it.
What are the risks of not taking it off properly?
Although on other occasions, as specifically in this note, we have already talked to you about what the main problems are every time you leave makeup on your face for too long, especially if you do it at night, and especially if -besides – makeup is a waterproof type, we believe that it is as necessary as essential to emphasize it again, since the consequences of maintaining this habit with some regularity, even when you remove it but not in the most appropriate way (with the risk of leaving you traces of the cosmetic product on the skin), it can end up being extremely dangerous for the skin.
When you leave makeup on your face, either completely or incompletely (because, for example, you haven't been able to remove it properly at all), it means that you most likely haven't followed a proper skincare routine, or that you even simply even when you have done it, it has been practically useless.
The reason? If you don't cleanse your face properly, both the dead cells and the dirt that have been accumulating on the skin throughout the day will not be removed. They will basically stay on the skin longer, which could end up clogging the pores and causing chronic inflammation in the form of acne breakouts.
In fact, the problem may be greater if you already suffer from acne problems, whether it is the acne that typically appears in adolescence, or adult acne, which can appear due to different problems or hormonal fluctuations (among other related causes). We cannot forget that although cleansing becomes an essential step in any beauty regimen, regardless of the type of skin we have, it is even more important for those who suffer from acne problems. For those with oily skin, sleeping with makeup on can make symptoms worse, as well as cause other conditions and skin conditions.
This lack of cleansing, especially if you do it before you go to bed, will result in your skin looking dull the next day instead of bright and lit. The dead skin cells, together with the oils that have accumulated in the outermost layers, in turn impinge on the pillow throughout the night, so that the rotation of this epidermal layer, which is completely natural, decreases.
We must keep in mind that both daily cleansing and regular exfoliation are essential processes to allow new healthy skin cells to come to light. And, in turn, provide the possibility for the different natural processes of skin repair to take place. For this reason, especially after wearing makeup during the day, or even at night for even a few hours, once a proper skin routine is established, the complexion will become dramatically brighter, especially at night. The next morning.
On the other hand, did you know that both makeup trapped against the skin, and dirt, cause oxidative damage mainly induced by the environment? This causes a breakdown of the skin barrier that helps protect the skin naturally, aging the skin of the face prematurely.
It also increases the risk of suffering or contracting an infection, not because of the fact of leaving makeup on the skin for long hours, or at night, but it can occur especially when you have an inflamed acne pimple on your face., being able to produce it because the skin barrier is compromised. Basically we must not forget that, in reality, our skin is the first line of defense against infections. So leaving makeup on will only weaken this natural barrier.
Makeup often also contains a number of irritating substances or compounds, which can cause inflammation when left on the skin for long periods of time. This is even more evident in those people who have sensitive skin, or problems such as rosacea. It therefore increases the risk of developing an annoying skin rash.
At this point, you might be wondering: when I leave my makeup on for one night, can it also clog my pores or cause breakouts? As many dermatologists believe, most of the related problems occur when this practice is maintained regularly over time. In other words, experts consider it unlikely that one or two nights sleeping in makeup will cause lasting damage to the skin.
This means that when you sleep each night with makeup or poorly removed makeup on your face, your pores become more and more clogged. Eventually, this can lead to the formation of a microcomedone (or microdomedones), which is basically the beginning of an acne lesion, and occurs when the sebaceous duct, and the opening of the pores, is blocked as a result of the excess of dead skin cells and sebum. This microcomedone, in fact, also tends to attract acne-causing bacteria, increasing the problem.
Does the same thing happen when you only sleep with eye makeup?
When it comes to waterproof eye makeup, such as waterproof mascara, obviously sleeping in it won't cause skin breakouts or fine lines. But it can still end up causing problems.
For example, both eyeliner and mascara (regardless of whether or not it's waterproof) can be rubbed off on the pillow as the night wears on. Because of this, it can end up in the eyes, causing significant eye irritation.
The same would happen with the rest of the makeup applied to the face. When it is done on time, nothing may happen. But when you sleep in eye makeup repeatedly, it can lead to clogging of the tiny hair follicles and oil glands found on your eyelids.
When these delicate areas become clogged, bacteria can build up, causing inflammation.  Hence, the risk of style formation is very high. Even though these small and uncomfortable bumps usually resolve spontaneously, medical treatment is often necessary to avoid major problems.
What exactly is waterproof makeup?
Waterproof makeup, popularly known also under the name of waterproof cosmetics, consist of some extremely special cosmetic products because, as its name suggests, they do not come off, stain or disappear even if they are in contact with water, sweat or moisture. humidity.
It is a useful type of makeup, especially when it is used in those extremely humid areas, precisely where the makeup tends to disappear too easily. Thus, not only is it useful for practically any woman in her day-to-day life, but they are also extremely useful for female athletes and sportswomen, whose perspiration can affect their makeup (when they obviously wear it). All in all, it's an excellent choice for anyone who wants their makeup to look and feel like it's just been applied, regardless of sweat, water, or rain.
They are ideal, for example, for holidays by the pool or on the beach, when women want to look their best, but without sacrificing time in the water.
As you might imagine at first, for the product or formula in question to be truly waterproof, it is not possible to make it water-based. And why is a type of makeup so effective against water? Most of these cosmetics contain an ingredient, known by the name of dimethazone, which is a silicone-based oil.
This compound helps not only provide a much smoother application of the product, but also allows the skin to feel smoother. Specifically, they contain dimethicone copolyol, a special form of dimethicone, which consists of a version of the same oil, but one hundred percent waterproof, formulated to adhere more easily not only to the skin, but also to the hair. In this way, when it comes into contact with water, it will not disappear immediately.
In the case of a waterproof lipstick, for example, it will most often contain some oils, since as you probably know, this natural substance does not mix with water. The same goes for the presence of wax, which is even added to certain gels, brow pencils, eyeliner, and lip liner.
Let's take Vaseline as an example: if you apply it to your skin, or lips, and immediately take a dip in the water, you'll probably be surprised to discover that when you come out, you can still feel it. In this sense, and according to experts, the more matte or waxy a lipstick is, the more waterproof and effective it will be. Although, yes, they do not tend to be as resistant to stains. They may also contain certain copolymers/acrylates or silicones.
Zinc oxide is also another common ingredient, as it provides a kind of barrier against certain pollutants, and also provides skin protection from ultraviolet rays (both UVA and UVB). In fact, it works phenomenally well as a moisturizer. The same goes for polypropylene, a polymer used in a wide variety of products, as it is resistant to water, promoting long-lasting results.