Although putting on eye makeup can be enormously fun, the truth is that when it comes time to remove it, and eliminate it completely, it can end up not being so much. What's more, if at any time you went to bed without properly removing it, and you went to bed with some traces of makeup on your eyes or face, quite possibly the next morning you discovered some of its most uncomfortable side effects.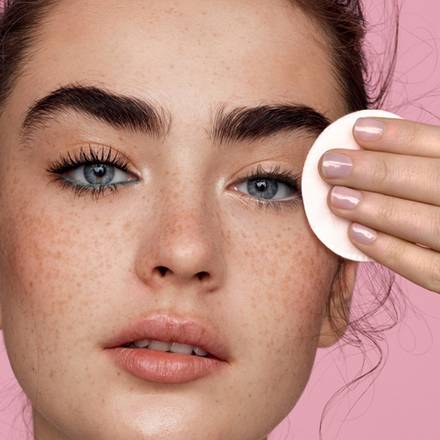 And it is that poorly removed makeup, along with the rest of the dirt and environmental pollution, which tends to accumulate on the skin throughout the day, can end up clogging the pores, causing acne problems, inflammation and redness. And not only that: sleeping with makeup on your face also produces dry skin and even wrinkles as a result of collagen breakdown.
If you want to wake up with perfectly clean and glowing skin, then removing absolutely all your makeup at night is a must. Leaving makeup on your eyes could also end up causing its own set of problems, including eye infections, styes, eye irritation, and an increased risk of your lashes breaking much more easily.
Hence, removing makeup every night becomes one more necessity for skin care, which you should always include in your daily routine (provided, of course, that you have put on makeup on your face).
How to remove eye makeup easily?
The routine you must follow, step by step
You may be in the habit of removing your eye makeup at the end of the facial makeup cleansing process. That is, some people tend to wash their face first, and leave makeup until the last step, before proceeding to apply moisturizer. But the reality is very different: you are not doing it the right way.
Fortunately, there is a recommended order to remove makeup, as well as cleanse the skin in the simplest and easiest way possible, in order to keep it healthy:
Take off the lipstick. If you remove your eye makeup first, you will most likely end up smearing the lipstick with your wrist, hand or arm, rubbing the cosmetic product into your skin. This can make it even more difficult to remove. Therefore, opt to remove your lipstick first.
Follow with eye makeup. After you have removed your lipstick, it is time to clean the makeup present in the eyes. Now is the ideal time also to remove any residual product present on the surface of the skin around the eyes.
Clean your face. With the help of a deep cleanser, cleanse the skin on your face.
How to use micellar water as an eye make-up remover?
When it comes to removing eye makeup, it is essential to try to do it gently, and never rub the skin or use products that are not suitable for this delicate part of the face, since there is a risk of dryness and irritation. much ease.
Micellar water becomes an excellent option, whether it is waterproof makeup (water resistant), or not. It stands out, in fact, for being one of the favorite cleansers of many women, thanks to the fact that it is also gaining popularity around the world, and for an excellent reason.
Micellar water contains small micelles (oil molecules), which are suspended in water. These molecules are the main protagonists of its cleaning qualities. And it is that they act in the same way that a magnet would, trapping dirt, oil and makeup residue found on the skin.  Plus, you don't need to rinse or rub hard. But how to do it? Take note, below we explain the necessary steps:
Moisten two cotton pads with micellar water. Once the pads are well soaked, gently press them onto your eyelids for a few seconds. This will allow the natural micelles, present in the slightly viscous liquid, to act on the skin.
Then, move the cotton pad along the root of the lashes, all the way to the tips.
For best results, it is best to apply the micellar water with a cotton pad or disc that has enough capacity to adequately absorb the water, and can then be easily applied to the skin. Although the cotton pad is the most used tool, it is also possible to use washable and reusable discs, microfiber wipes, or vegetable sponges.
And waterproof makeup, how to remove eye makeup with waterproof makeup?
Although many women, and also many professionals in the sector, consider the arrival of waterproof makeup as a true gift from heaven, the truth is that removing it from the face can end up becoming a real nightmare. In most cases, make-up remover wipes are absolutely useless, soap can get into the eyes, and regardless of the method chosen, the delicate skin of the eyes can be easily irritated.
The ideal for this type of waterproof makeup is to use a gentle waterproof makeup remover, a biphasic makeup remover (containing one-part oil and one-part water), or micellar water.
Micellar water, for example, becomes an excellent option, since it contains a series of molecules -known by the name of micelles-, which are capable of literally trapping both makeup and dirt that may have remained on the skin. skin, removing it simply and effectively. In fact, it is often so enormously useful that there is no need to rinse your skin afterwards. And what's even better: it's so gentle that it can be used even on the most sensitive skin, hydrating, moisturizing and soothing.
And how to apply waterproof make-up remover? Very simple: soak a cotton pad with your favorite waterproof make-up remover (for example, micellar water), and apply it gently, leaving it on for 30 seconds. Gently cleanse the area.
Some mistakes you could possibly be making (and to avoid)
Use a common facial cleanser
Although the facial cleanser is extremely useful to cleanse the skin on your face, it may not be so useful if you also use it for the eye area (both for the eyelids and for the area around them, which as you probably know, is characterized by being quite delicate).
You must bear in mind that the eye area is the thinnest skin on the face, which also makes it much more sensitive. For this reason, the classic facial rinses in which you use a lot of foam in order to cleanse the skin, may not be very suitable for this area, since they can end up drying the skin around the eyes. In addition, uncomfortable irritations are also very likely to arise, since it is difficult to prevent these types of products from coming into contact with the eye.
It is also not recommended to use a cleaner that is too strong or aggressive. We cannot forget, as we have already indicated, that the skin around the eyes tends to be thinner, which is why it is also more delicate and sensitive. For this reason, very strong chemicals, with preservatives and artificial fragrances, can irritate and dry the skin, increasing puffiness, dark circles and the appearance of wrinkles.
Therefore, opt for specific cleansers for this area, which help nourish the skin and are specially formulated for this complex eye tissue, preserving long-term beauty and helping to show off much healthier and brighter eyes.
There are also some ingredients that can be very helpful in this regard. This is the case, for example, of jojoba esters or natural squalane, which provide soothing and moisturizing properties, and in turn, condition the eyes.
You are rubbing your skin excessively
If your makeup doesn't come off easily, chances are you'll end up rubbing the area too hard. If this happens, the unpleasant effects that can arise are mainly irritation and redness, which can end up causing peeling, increased dryness, and over time, the formation of fine lines. Therefore, contrary to what you may think, it is not a very good idea to use too much force to remove eye makeup. On the contrary, it is essential to do it as smoothly as possible.
To remove make-up quickly, and above all without pain or unwanted side effects, it is extremely useful to soak a cotton pad with a biphasic eye make-up remover (which means that it has a part of water and a part of oil), and then gently cleanse the eyes in one go, without rubbing too hard or applying too much pressure.
The oil is extremely useful in these cases, since it helps the makeup break down more easily, and it is especially useful for removing makeup not only from the skin, but also from the eyelashes.
You apply the same cotton pad several times
You might think that wiping the same cotton pad over and over again might help you remove as much of your makeup as possible, moving it back and forth across your eyelids.  But it is a mistake, since it can end up irritating the skin and weakening the eyelashes.
The most suitable? Gently sweep the pad along your lash line, moving from the inner corner of your eyes outward. Then, go back to the inner corner, and make short downward strokes, always following the lashes across the eye, until you reach the outermost corner.
Another basic recommendation! It is not advisable to slide the same cotton pad under the eyes again. In fact, if you have followed the steps that we have indicated below, it will not be necessary.
You use the same side of the cotton pad or disc, over and over again
After going through it the first time, you may be surprised to find out how grossly dirty the cotton pad is. Thus, if you pass it again over the eyes, you will end up redefining the makeup that you just removed. This doesn't mean you need a huge stack of cotton pads or discs to enjoy a perfectly clean eye; absolutely.
Simply use the full pad or disk to clean your eye, then use the opposite side, but fold it in half. If despite this, the makeup still continues, you can choose to fold the pad into quarters and use both clean sides. You will have gained the power to use four sides in a single pass, and without spending more than one pad.
You don't cleanse your skin thoroughly after using makeup remover wipes
Many women often make the mistake of using only one or two make-up remover wipes, in order to remove make-up from the skin of the face, but they forget something basic: cleaning the skin in depth afterwards, with which it is possible not only to remove the remains of the cosmetic product that have probably remained on the skin (even when they are not completely visible), but remove the dead cells, the oil and the dirt or grime that has accumulated throughout the day.
Although it is true that make-up remover wipes become a very useful tool when it comes to removing make-up from the surface of the skin (even for the skin around the eyes), they do not help much when it comes to eliminating the different residues that have accumulated in the pores.
Also, if you're using oil-based makeup remover wipes, you could end up adding more extra oil to your skin, in turn increasing your risk of breakouts directly related to acne.  Therefore, if you choose to use make-up removal wipes, it is vitally important to follow up with a deep cleanse.
Beware of using a facial scrub on or near the eyes
If you read the instructions that you will find on the exfoliant package, you may distinguish a basic recommendation: avoid contact with the eyes. Despite this, there are people who prefer to use exfoliants around the eye, because they think that this area should also be exfoliated. However, this is a complete mistake.
As we have already mentioned, the skin that we find around the eyes is characterized by being much thinner, so it is also very delicate. For this reason, the use of any type of exfoliant, even when it is soft or light, can cause micro tears or broken blood vessels, and can even end up causing infections.
Don't forget to clean the eyebrows too
Have you forgotten about the eyebrows? The reality is that they become one more part of the eye makeup, so you should not forget to also apply the cotton ball or pad to this area.
Eye pencils tend to have a rather waxy texture, in order to make the product stick more easily to the hair, and not fall out or move. Therefore, the use of an eye make-up remover in this area will help in a very positive way when it comes to removing the product very easily.
You skip double cleaning
We have already talked to you about the qualities that double facial cleansing offers us on occasion. And it is that it becomes an ideal option when it comes to caring for and pampering the skin to the fullest (indeed, also the skin around the eyes, including the eyelids).
The so-called double facial cleansing becomes the key to completely remove makeup, at first, and subsequently to cleanse the skin in depth, while then continuing with your normal skin care routine, including the use of your favorite moisturizer, and also a good moisturizer.
To carry it out, remember that you can start by using a little micellar water, or if you have make-up on, opt for a suitable make-up remover for the eye area. Then, once you have removed this product by rinsing your skin with warm water, use a deep cleanser to wash and purify your skin.
Of course, during the second cleaning, remember that it is essential to massage your skin gently, with which you will be able to increase circulation and, in turn, achieve a much healthier, smoother and more radiant complexion.
What are the risks of leaving your makeup on overnight?
Imagine that you have just spent a night with your partner, family or friends, and after arriving home you discover that you are very tired. What are you doing? You may choose to freshen up a bit, brush your teeth, and go straight to bed. And what about makeup?
The truth is that many women, especially in these situations, choose to use a make-up remover wipe, believing that after applying it to the skin of the face, it will be perfectly clean, precisely because of the multicolored stains they see on the wipe.
However, doing so regularly is a complete mistake, since the regular use of makeup remover wipes may be doing more harm than good to the skin. These types of masks usually contain a series of substances necessary to remove makeup and cleanse the skin.
However, some of these substances can end up being irritating, causing the skin to become more easily irritated and, in addition, to become a little more sensitive. In addition, they are not as suitable as you think when they are used in a unique and individual way, since the most common thing is that they end up leaving traces of makeup on the skin.
As well as staining your pillowcase, this will also wreak havoc on your skin, particularly if you're in the habit of doing it a lot. And what are the most common? Take note:
The complexion may become dull and dull the next morning. The same makeup that helped you hide both wrinkles and fine lines can end up settling in overnight. And what is the result? The skin becomes dull, dull and dry in the morning. And at least there's nothing you can't do to fix it; unless you let the skin recover after a few days.
It can cause premature aging. Perhaps you follow a skin care routine specially designed to prevent – and avoid – premature aging as much as possible. However, did you know that if you are in the habit of leaving your makeup for long hours on your skin, in reality it is not serving you well to continue with that routine? Since good anti-aging products require a significant monthly investment, it is imperative to ensure that you are actually getting your money's worth by properly and thoroughly cleansing your skin, especially before applying the product each night.
It can increase the risk of breakouts. The oil naturally present in the skin acts as a protective layer, in order not only to protect it, but also to retain moisture. When you leave makeup on overnight, the two can mix creating a negative combination that will ultimately result in clogged pores, and thus an increased risk of acne breakouts.
It can clog pores even more. In addition to increasing the risk of acne breakouts as a result of the obstruction of the pores (the result of the accumulation of both the oil naturally present in the skin, and the makeup itself), the truth is that the cosmetic product left for the entire the night can end up embedding itself in the pores, not only clogging them but also stretching them, making them larger and more visible.  Therefore, to enjoy a healthier and happier skin in the morning, it is essential to completely remove make-up and carry out an equally complete night cleansing.
Greater dehydration and dryness. Believe it or not, skin needs to breathe to stay healthy. However, keeping facial skin covered overnight can upset the proper balance of oil and water that is so critical to keeping it fresh and properly hydrated. And what is the result? The skin will not only end up dehydrated, but it will have, as we have indicated, a dull and opaque appearance.
And what happens if you take it off improperly?
There are several experts who, for some years, have been warning about the risks to skin health caused by improper makeup removal, especially when oil-based products are used.
For example, it could promote bacterial overgrowth, one of the recognized causes of  Meibomian gland dysfunction, a serious condition that causes damage, inflammation and atrophy of the sebaceous glands in the eyelid. In fact, when these glands are affected, to the point of reducing their normal function, the eyes can feel continually dry, irritated, gritty and red.
A study published in 2015, for example, already linked these symptoms to oil-based eye makeup removers, even pointing out that this condition tends to be seen more frequently among women who wear eye makeup regularly, for long periods of time. periods of time.
Be careful with micellar water: it could be harmful to the eyes
Although micellar water, as we have mentioned in a previous section, is an excellent product of French origin due to its qualities when it comes to cleaning the skin without even needing to use any type of rinse, it is a useful option for practically any type of skin (which also includes dry or sensitive skin), several experts have warned about the damage it could cause to the skin around the eyes.
One of the biggest problems comes from oil-based make-up removers, since, as we knew in the previous section, they can end up promoting excessive growth of bacteria.
In the case of micellar water, even when you think at first that it is only cleansing water, the reality is that micellar technology is based precisely on the use of oil molecules -with cleansing qualities- suspended in soft or purified water.
On the other hand, some micellar waters may also contain some chemical ingredients (mainly preservatives), which can be tremendously irritating to the surface of the eye.
Thus, and always according to specialists in this regard, the best way to avoid both Meibomian gland dysfunction and any other eye infection -or discomfort such as the continuous sensation of having a foreign body in the eye- is to try to use always a make-up remover formula that has been specially designed for use on the skin around the eyes; or, well, with a formula that has been tested by an ophthalmologist and that, in short, contains a minimum of oils and preservatives.
Thus, waterproof eye makeup (which, as you probably know, does require the use of an oil-based makeup remover) is only recommended for very special occasions.
Is it advisable to use eye make-up remover wipes?
While it's true that makeup remover wipes became a real revolution, especially for many women, when they came out and were sold in beauty stores (and supermarkets), what few people know is that, in reality, they might not be so beneficial for the skin. And basically we could summarize it in a simple sentence: they are not the ideal solution, even when it is possible to resort to them at specific times.
For example, there is no doubt that they are a useful option when you have had a very busy day, or when you have gone out at night and arrive home very late. Since the first thing you have in mind, once you arrive, is not exactly taking care to remove your makeup, the most common thing is that you opt for wipes to remove the cosmetic products that you have applied to the skin of your face.
The experts themselves agree that when they are to get you out of a jam, and are used only very occasionally (for example, when you don't have access to a gentle cleanser), nothing may happen. But if you use them daily you may not be doing it quite right: did you know that makeup wipes don't actually remove all makeup? As we have already told you at some point, they really tend to rub the makeup around the face, which means that, only, what you get with them is a rather partial cleaning.
But the problem is not only that. They also leave behind a residue of chemicals (mainly cleansers and preservatives) that can dry out your skin and cause allergic reactions. In fact, if at any time you have been able to experience a strange irritation, completely random and whose because you could not determine, the main culprit was possibly the makeup remover wipes.
Very few makeup remover wipes contain ingredients that are truly capable of breaking down the large amounts of makeup, oils and dirt that have accumulated on the skin throughout the day. So all you're really doing is rubbing bacteria, debris, and irritants around your skin, and into your pores. If, in addition, you add to that leaving your skin as it is, without rinsing it or cleaning it thoroughly afterwards, you will end up transferring all that dirt to your pillowcase, and later back to your skin. And so the cycle will continue, leading to the formation of acne breakouts, skin irritation, blackheads… and premature wrinkles.
To all this is added the form of application: the most common is to apply a slightly high amount of pressure in order to remove makeup, especially eyeliner and mascara, which will increase irritation. Over time, especially if you use the wipes on a regular basis, that irritation can lead to increased wrinkles, fine lines, and a problem directly related to hyperpigmentation of the skin.
Therefore, do not forget the essentials: the make-up remover wipes were formulated only to be used on very specific occasions. Even if you can, it is always much better to get rid of them, and replace them with a good cleansing oil, a water-based deep cleanser (if you do not use waterproof or water-resistant makeup), or micellar water specially designed for use around of the eyes. Without a doubt, your skin will greatly appreciate it. And, in addition, you will not have to fear the appearance of sensitivity, irritation, acne breakouts or the typical signs directly related to premature aging.