Cacik, Tzatziki or Tarator Recipe: discover how to make a delicious cucumber sauce and creamy yogurt characteristic of Greece, Turkey, India and Bulgaria, Wonderful.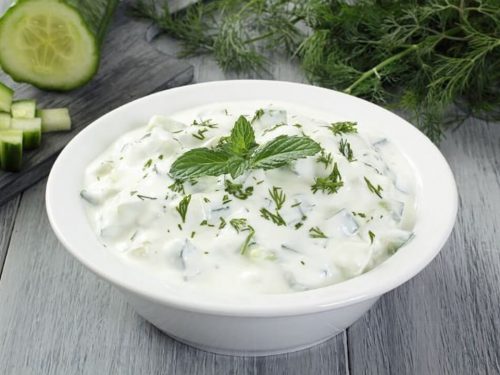 The Tzatziki is a traditional recipe from the kitchen of Greece and Turkey. It is a refreshing recipe that we can take as a starter for a first course or as an aperitif. From the Tzatziki we can find different recipes in which some ingredients coincide and others have been changed.
It basically consists of a kind of sauce that, depending on the chosen ingredients, can be taken in the form of a soup (if water is added), as a sauce (for kebabs) or as dips (for the traditional pita bread).
Its origin is probably found in Mesopotamia, from where it came to reach different cultures and countries also with very different names. For example, in Turkey it is known as cacik, in Greece with the name of tzatziki, in India with the name of kheere ka raita and in Bulgaria with the name of tarator.
The main ingredients of the Tzatziki recipe that cannot be absent are: cucumber and Greek-type yogurt, although it is true that any other creamy yogurt can be used in its preparation. Preparing the Tzatziki recipe is very easy and in no time we have the dish ready to taste.
I have found recipes that for example do not use garlic, others that vary in the herbs choosing between these: dill, parsley or mint. To season the Tzatziki, virgin olive oil, a few drops of lemon, a little garlic, ground black pepper, and a little salt are usually added.
The cucumber can be grated or cut into pieces. The Tzatziki recipe that we have prepared on this occasion does not include garlic, and is ideal to accompany pita bread or any other ideal preparation to dip in the sauce.
Greek and Turkish Tzatziki or Cacik Recipe
Ingredients:
A medium-sized cucumber.
2 Greek type yogurts.
A few sprigs of dill.
The juice of one lemon.
A splash of olive oil.
A pinch of ground black pepper.
A little coarse salt
Elaboration:
We start by washing the cucumber well.
We remove the skin and cut it into small pieces.
We squeeze the lemon to extract its juice.
We wash the dill sprigs and cut them into small pieces.
We put the yogurts in a bowl, and stir.
Add to the yogurt the olive oil, the cucumber pieces, a pinch of
black pepper and a little salt.
We stir everything together until all the ingredients are blended.
We keep the Tzatziki in the fridge until we are ready to serve it.
When we go to take it to the table we can decorate it with a few sprigs of dill.
The Tzatziki goes well with meat dishes, we can also eat kebab, pita bread, to fill tartlets. At serving time can be included on a small wooden bowl and serve with the dish that most prefer.