Alfajores are a typical Christmas sweet, very popular both in Spain and in Latin America.  Discover how to make them at home easily with this recipe.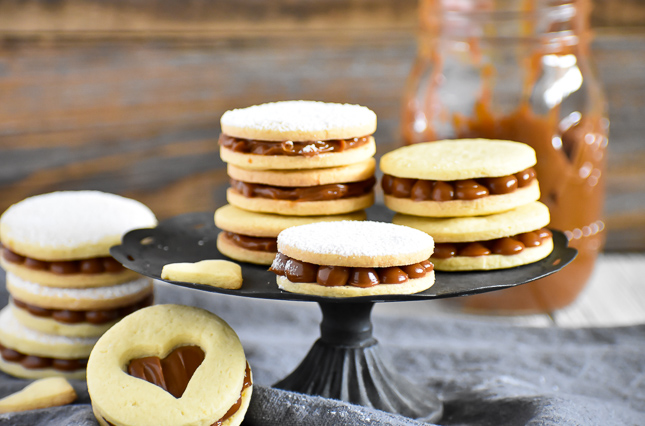 Christmas is a time when everything takes on a very special nuance, with a certain touch of magic and tradition. It is a great time to bet on traditional recipes and surprise guests at Christmas lunches and dinners.
Alfajores are a truly exquisite dessert and, furthermore, very simple to prepare.
A delight for the palate that both adults and children like.
What is alfajor?
The alfajor is a traditional Latin American sweet that became popular in America during the colonial period. The name comes from the Hispano-Arabic al-hasú, which literally means "the stuffing". It is a sweet formed by two cookies, between which there is a sweet filling.
The first writings about the alfajor in history in Spain date back to the time of Al-Andalusia. Since then, alfajores have been made in Andalusia to this day.
Some of the best-known alfajores are those from Valverde, which are made in Huelva in a completely traditional way based on honey, almonds, ground bread, cinnamon, cloves and matalahuva. A true delight for the palate.
As for America, this type of sweet was very common among the Spanish troops on the continent. The first country in which it was adopted was in Argentina; hence the most common filling today is dulce de leche.
Its commercialization in America did not arrive until the 19th century at the hands of a Frenchman who created a small family industry in which jams such as alfajores were made.
Today it is a very popular dessert in Latin America, especially during Christmas. In practically every home in Peru, Mexico, Argentina, and other countries, alfajores are served as a sweet during the Christmas holidays.
Traditional alfajores recipe
Here we propose a traditional recipe for alfajores with dulce de leche, very easy to make, and whose result is simply delicious. Do you dare to make them?
Ingredients:
200 grams of wheat flour
250 grams of vegetable shortening
120 grams of icing sugar
2 egg yolks
1 teaspoon of the zest of a lemon
150 grams of sweet milk
100 grams of grated coconut
200 grams of cornstarch
Step by step recipe:
To make the traditional alfajores, the first step is to mix the wheat flour and cornstarch in a bowl. The ingredients must be well integrated.
Next, in a separate bowl, mix the butter and icing sugar; mix well with the help of a few rods.
Then the egg yolks are added one by one.
The ingredients mixed in the previous step are added together with the zest of a lemon.  So the dough is ready.
Sprinkle flour on the work table so that the dough does not stick and spread it on it.
The dough is stretched with the help of a roller; so that the alfajores are good they must have a thickness of about 5 millimeters.
Next, circles of about 4 centimeters in diameter are cut.
Then they are placed on the oven tray and baked for 15 minutes at a temperature of 180 degrees. The oven should be preheated about 15 minutes before.
Once the time has elapsed, the tray is removed from the oven and the alfajores are formed. To do this, one of the circles is placed as a base, the dulce de leche on it, and another of the circles as a lid. Then, grated coconut is added on top and around the edges.
The traditional recipe indicates that the filling of the alfajores must be dulce de leche.  However, each person can adapt it to their tastes and preferences; there are those who add chocolate, others fruit jam… There are fillings for all tastes.
The ingredients to make traditional alfajores are very easy to find and, in addition, the recipe is extremely simple. A great option to surprise guests with a really delicious and artisan dessert. And it is that, to present a good dessert on the table at Christmas, it is far from necessary to complicate yourself with impossible recipes, too sophisticated. The alfajores are simple to make and, in addition, they are delicious.