Do you want to learn how to make polenta soup easily at home? Discover the ingredients and steps necessary to make this delicious and beneficial soup.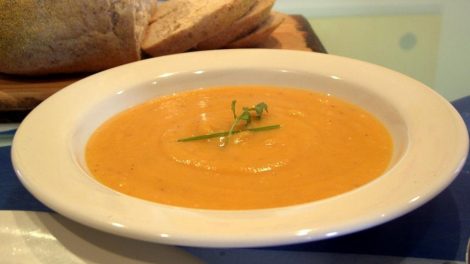 It's quite possible that, at some point, you've already heard of polenta. As you surely know, polenta is an extremely ancient food, which is made from corn flour. However, today we can find other varieties of polenta on the market, such as the one made with rye flour.  Many nutritionists consider it as a cereal, more specifically, as a kind of puche or porridge.
Its origin is found in northern Italy, where it was considered the main dish par excellence of the Roman legions. In fact, the Greeks already prepared a kind of stew from barley flour, which at that time was known by the name of pullmentum (which later became known as pullenta ).
In the market we can currently find 3 types of basic polenta, from which to prepare or prepare the basic recipe: the one known as yellow polenta stands out above all because it is precisely the most popular and common (which is the one made with yellow cornmeal).  We can also mention the white polenta (which is made with chestnut flour) and the dark polenta (which is made with buckwheat flour).
There is an especially useful basic recipe for making polenta. In fact, it becomes an extremely simple dish to make and prepare. This time we are going to explain how to make a delicious polenta soup.
Ingredients needed to make polenta soup:
2 tablespoons of cornmeal for polenta.
1 leek.
1 carrot.
3 zucchini.
4 cups of water.
2 tablespoons corn oil.
Soy sauce.
Steps to make polenta soup:
First wash all the vegetables well. Now cut the leek into slices. Cut the zucchini and carrot into small cubes.
Put the 4 cups of water in a saucepan and cook the vegetables in it, over moderate heat.
In a frying pan add the corn oil and toast the cornmeal for polenta. Then add it to the soup and cook for another 15 to 20 minutes.
After this time, turn off the fire.
When serving, season with soy sauce.