Simple recipe for tiger nut horchata and fartons (fartón): everything you need to make this Valencian drink and the traditional long bun to accompany it. Find out how to do it easily at home.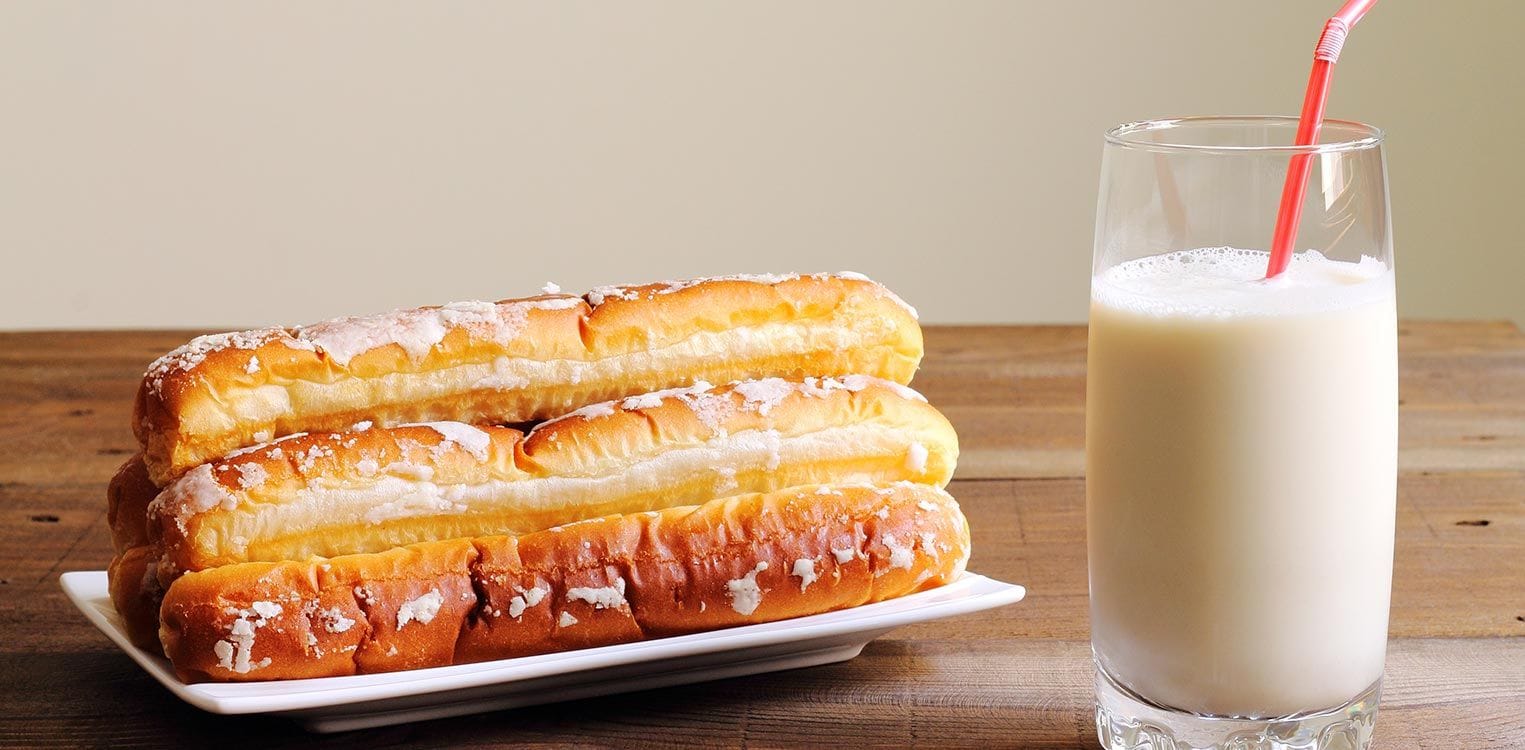 The tiger nut is a tuber that is brown on the outside and yellowish on the inside, which was introduced by the Arabs in our country in the 8th century. It is really known in Valencia, where its cultivation in the region of l'Horta Nord is protected with the denomination of origin Chufa de Valencia.
It is a tuber that is the protagonist of the popular horchata de chufa, since the well-known drink is made with it, ideal during the summer months due to its great refreshing power.
In addition to being ideal for summer, it also provides interesting benefits and properties.  In relation to its nutritional content, it is especially rich in vitamins (vitamin C and E) and minerals (phosphorus, magnesium, iron and calcium).
It helps lower high cholesterol levels, provides enzymes that facilitate digestion, making it ideal for people with a delicate stomach, it is antidiarrheal due to its high starch content and is also useful for people with high blood pressure, since it does not provide sodium.
What is tiger nut milk?
There is no doubt that if there is a star natural drink for summer (or even practically for any time of the year when we want to cool down naturally and mitigate the heat we may feel), it is the delicious tiger nut milk.
It is an extremely healthy drink obtained from tiger nuts, a brown tuber, which has been cultivated in Spain since the 8th century, when it was introduced by the Arabs, who brought it from the distant region of Chuff (in Sudan).
And the fartons? What does it consist on?
The fartons, however, become the traditional elongated bun with which the horchata is accompanied, and which is usually consumed by soaking them in the Valencian drink, by soaking them with the drink.
Specifically, we are faced with a typical sweet from Alboraya (in Valencia, where tiger nut horchata also traditionally comes from). It consists of an elongated, spongy, soft and sweet bun, whose sponginess makes it the ideal sweet as it is capable of absorbing the horchata.
Since the time of Jaime I (king of Aragón and Valencia between 1238-1276), the horchateros of Alboraya tried to find a sweet to accompany the horchata. However, it was not until the 1960s that the Polo family produced a long, sweet and tender bun that became the perfect companion for horchata.
Homemade tiger nut horchata recipe. Find out how to do it.
Although we can find it in many hypermarkets and supermarkets at any time of the year, it is true that it is not the same as enjoying an authentic homemade tiger nut horchata. For this reason, whether you want to enjoy it right now or even want to prepare it at another time, we propose below a simple recipe for tiger nut horchata. Enjoy it!
Ingredients:
250 grams tiger nut
1 liter of water
1 teaspoon of cinnamon
1 Teaspoon vanilla extract
The rind of 1 lemon
Sugar to taste)
Preparation of tiger nut horchata:
First of all, you must wash the tiger nuts well, until the water comes out completely clean.
Let soak for 12 hours.
Once the soaking time has passed, drain them and put them in the blender with the lemon rind, cinnamon, vanilla essence and water.
Crush everything together and pass it through a sieve or strainer to extract the drink.
Put it in the refrigerator until the moment of consuming it.
When we are going to serve it, we put the sugar to taste and more cinnamon if necessary.
How to make delicious fartons (traditional recipe):
Traditionally, horchata de chufa is taken together with a wonderful elongated sweet pastry called fartón, which is soft and fluffy and is usually soaked in the drink. Do you dare to prepare them to accompany your freshly made homemade tiger nut horchata?
Ingredients:
600 g of strong flour
2 medium eggs
100g sugar
50 g fresh baker's yeast
100 ml of sunflower oil
100 ml of water
1/2 teaspoon vanilla
1 pinch of salt
Ingredients for the glaze:
100g icing sugar
Half a glass of water
Preparation of the fartons:
Let's go there. First we are going to dissolve the yeast in the water. Now take a clean container and put the flour inside, forming a kind of volcano in the center. Inside, place the eggs, the dissolved yeast, the pinch of salt and the sugar.
Mix all ingredients well. Then add the sunflower oil and knead it well. Now form a ball with the dough, cover it with the help of a clean cloth and let it rest for 30 minutes.
After this time, divide the dough into different portions (for this amount of dough you can divide between 25 to 30 portions), and leave them to rest for another 10 minutes.
After this time, stretch each portion with the help of a kitchen rolling pin (preferably wooden), until leaving them in rather thin sheets. Then, one by one, roll them up until the dough is shaped like a stick or cigarette.
Place parchment paper on the baking tray and place them on top, leaving some distance between them. Now let them rest covered with a cloth for 1 hour, until they double their volume. Preheat the oven to 180º C.
After this time, put the fartons in the oven and let them cook for 10 or 15 minutes. Then remove the tray from the oven and let them cool on a wire rack.
Meanwhile, we are going to prepare the glaze with which we will paint our wonderful fartons. To do this we heat the glass with water, and when it is very hot, in a small bowl we put the icing sugar and one or two tablespoons of hot water. Mix it well.
Once the glaze is ready, we paint our fartons to taste. And, to finish, sprinkle with a little icing sugar on top.
How to eat fartons with tiger nut milk?
It is usual that, in Valencia, with each glass of refreshing tiger nut horchata -which is served in a long glass- a plate of fartons, is accompanied.
Thanks precisely to its elongated shape, it is common to introduce the farton to the bottom of the glass, and soak it well in the horchata so that it absorbs it. Then, its sponginess and sweet flavor makes it precisely the most traditional and well-known dessert.