Do you want to make delicious nougat at home? Cheer up with this exquisite crunchy homemade chocolate and cereal nougat, with a soft chocolate base.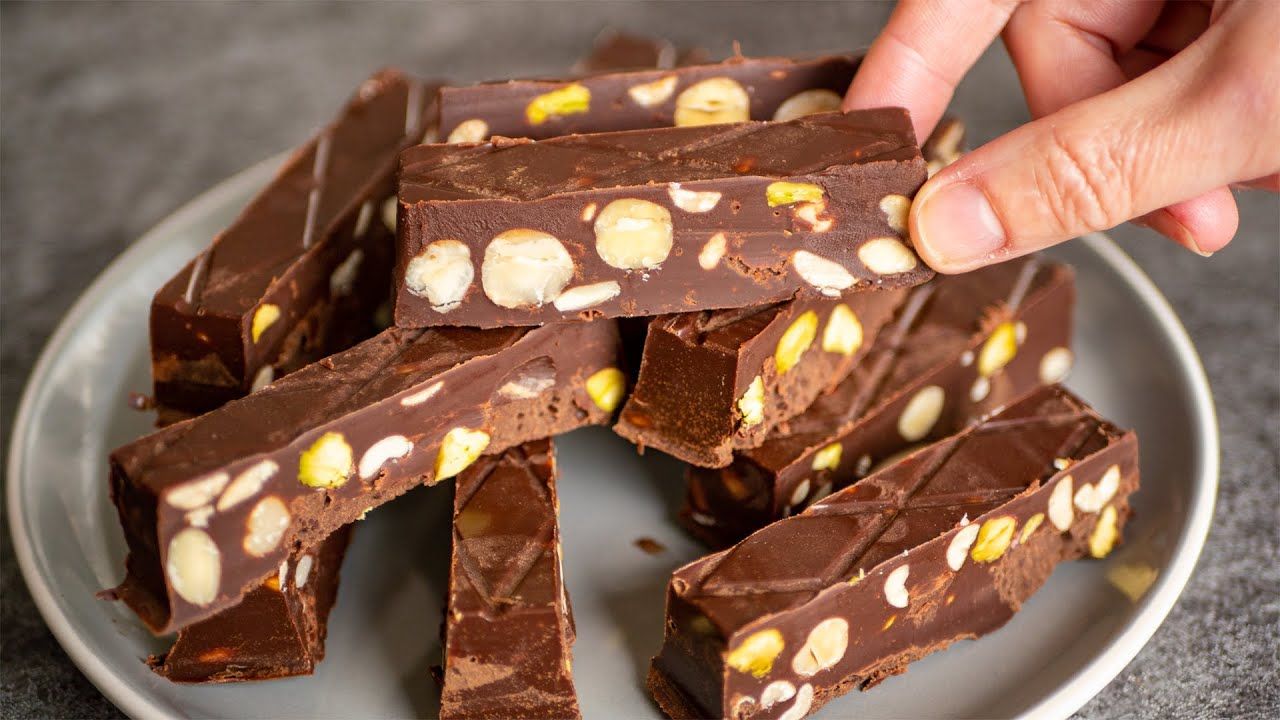 There is no doubt that Christmas stands out for being endearing popular festivals, which we enjoy precisely in the company of our closest family and friends. And they also stand out, on the other hand, for the different typical desserts and sweets that make these days a truly unforgettable time. And what are the most classic Christmas desserts? Without a doubt, we can mention nougat, marzipan, shortbread and sugared almonds.
In the particular case of nougat, just like what happens even with the rest of the typical sweets, we find it going back a long way. In this sense, it is true that we can distinguish different stories about its origin. For some historians, its birth occurred during the reign of Felipe IV, when the Barcelona authorities organized a contest to find a food that did not deteriorate easily. The price was taken by a popular confectioner called Turrons, who presented some kinds of wafers made with almonds and honey.
Although nougats of very different flavors abound in most supermarkets today, it is also possible to find them made at home in traditional markets, or make them at home. If you dare, this time we want to explain how to prepare a delicious homemade chocolate and cereal nougat.
What do you need? Ingredients.
Ingredients for the crispy chocolate base:
100 grams Lind't milk chocolate
150 grams of chocolate cream (Nutella is ideal)
80 grams of cereals (type Corn Flakes)
Ingredients for the top chocolate layer:
90 grams milk chocolate
90 grams milk chocolate
125ml of cream (35% GM)
45 grams of butter
Steps to prepare the chocolate and cereal nougat:
Cut the 100 grams of Lindt milk chocolate into pieces and melt it in a bain-marie. Once melted mix it with the chocolate cream. Now add the cereals.
Distribute this mixture in a mold of 18 × 18 cm. Then store it in the fridge.
Meanwhile, break into pieces the 90 grams of milk chocolate and the 90 grams of non-dairy chocolate in a bowl or bowl.
Put the cream in a saucepan and heat a little until it comes to a boil. When it reaches this point, pour the cream over the chocolate and stir well to mix.
Cut the butter into squares and add it to the saucepan of the chocolate mixed with the cream, stirring well.
Take the base out of the fridge and serve the previous mixture on it.
Reserve in the fridge overnight.