Aloe vera is a tremendously popular plant, which has been used for thousands of years for its different qualities when it comes to treating different skin injuries, especially when it is used in gel form. Moreover, its application is extremely simple, since it is enough to cut the plant and let its gel fall slowly. Then, simply apply it to the skin area you want to treat, leaving it to act for a few minutes. However, did you know that you can also easily prepare a wonderful homemade aloe vera cream at home?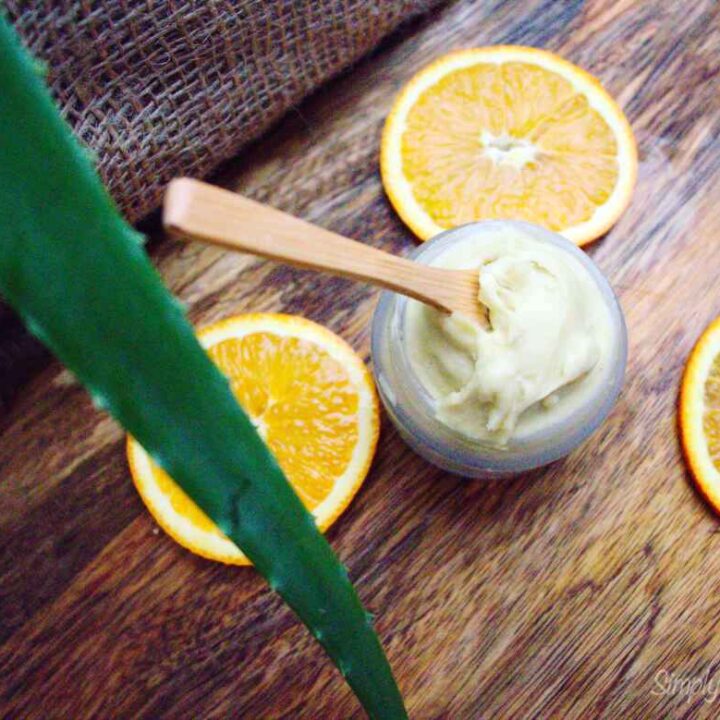 The use of aloe vera, a plant native to North Africa (as well as southern Europe and the Canary Islands) dates back to ancient Egypt. At that time, the ancient Egyptians used it for medicinal purposes, until it spread millennia later and reached our days. Not surprisingly, it is a plant known for its extensive healing properties for at least 6,000 years. And it was considered as a "plant of immortality". Such is its importance that it was presented to the Egyptian pharaohs as a funeral gift.
In fact, it is widely known for its benefits in relieving sunburn, and aiding in the healing of wounds. But its qualities, it is true, do not end here, since it is also characterized by being extremely versatile, so that with the gel that is extracted from the plant it is possible to make the traditional aloe vera juice, or also a wonderful  cream .
How to make aloe vera cream at home? Ingredients and steps to follow:
When making our own aloe vera cream at home, we can follow different formulas, depending on the type of skin we have. However, when it comes to a facial or moisturizing cream (therefore, valid for dry, oily, combination or acne skin), the formulation that we propose below is equally valid, and also easy to follow:
Ingredients
To prepare our cream we need: fresh aloe vera gel, liquid aloe, almond oil and mint essential oil.
Step by step preparation
We need to extract the aloe vera gel, so that it is as fresh as possible. To do this, you can extract it directly by cutting the outer part of the plant with the help of a fine knife.  Then place it on a plate and let the gel come out of the piece that we have cut for a few minutes.
Put a little water in a saucepan and, when it starts to boil, add the aloe vera gel that you have extracted from the plant. With the help of a wooden spoon mix well until it is uniform and homogeneous.
Add a few drops of liquid aloe and stir again to get the ingredients to mix well.
Remove from heat and let cool. Once cold, add the almond oil and then a few drops of mint essential oil. Stir well so that the rest of the ingredients are integrated.
To finish, put the mixture in a glass jar (which we have previously sterilized). Close it and keep it in a cool, dry place until you want to use the cream.
What are the main benefits of aloe vera cream?
There is no doubt that aloe vera stands out as an essential ingredient in a wide variety of treatments in the world of beauty, cosmetics and medical dermatology. In fact, it is possible to find it in a wide variety of products, from moisturizers to toners, through shampoos or deep conditioners.
And it is that aloe vera helps keep the skin hydrated, and is useful for treating different conditions or health disorders directly related to the skin. For example, one study found that combined with tretinoin it was especially suitable in the treatment of acne lesions.
On the other hand, another study found that aloe vera has a potential anti-aging effect. In this research, scientists administered 30 women doses of aloe vera gel twice a day for a period of 3 months. The women saw significant improvements in both their wrinkles and skin elasticity, thanks to the aloe vera gel helping to produce more collagen.
Once you have made your own aloe vera cream at home, you can easily use it when it comes to treating, calming and relieving some of the ailments or conditions that we indicate below:
Sunburn. Aloe vera cream is very interesting when applied to sunburn, thanks to its refreshing power. However, it is not entirely clear whether it is really effective in treating this type of burn and accelerating the healing process, as confirmed by a study published in 2005, which concluded that it was not effective in the treatment of sunburn, compared with placebo. Therefore, a larger number of studies would be needed in this regard.
Healing of wounds. Aloe vera cream helps speed up the healing process of non-sunburns, as well as cuts that have occurred on the skin.
Different skin conditions. In case of acne or psoriasis, aloe vera creams exert a soothing effect on the skin, and have been scientifically proven to be able to reduce not only uncomfortable itching, but also inflammation.
Some natural remedies also advise taking aloe vera from the juice that is extracted from the plant. An equally useful option to enjoy its qualities internally. However, even when it is safe, it is always advisable to consult a doctor first.
Is there any secondary or adverse effect to highlight when using homemade aloe vera cream?
Both the aloe vera gel and the aloe vera cream that we have learned on this occasion to make at home are safe to use and can be useful for soothing or relieving various disorders or skin problems, when applied topically.
Of course, like any other treatment with similar characteristics, its internal use is not recommended at all, deriving only its external use (that is, applying it to the skin, and never to very open wounds), as it contains other ingredients whose consumption is not recommended, as for example could be the case of almond oil or essential oil of mint.