Did you know that dark chocolate and chestnuts can get along very well? Discover how to make wonderful little cubes of dark chocolate and chestnuts, ideal as an autumnal dessert.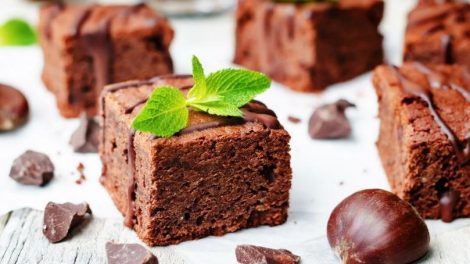 Autumn undoubtedly has many wonderful things. After a few months of extreme heat, the cold arrives, colder temperatures, nature changes in orange and brown colors, and the change of season invites us to internalize and think about ourselves.
We also find wonderful things in food. For example, the most characteristic and popular foods of autumn reach our hands: figs, persimmons, mushrooms, tangerines. And chest nuts.
And the thing is, who hasn't cooked the popular roasted chestnuts at home? We are probably facing one of those typical recipes of this time, especially in the afternoons when it is much colder in the streets.
As you probably know, chestnuts are delicious nuts packed with nutritional benefits. For example, they stand out in particular for their very high content of group B vitamins, which, together with their content of minerals (especially potassium, phosphorus and magnesium) and carbohydrates, give them very interesting energy qualities during these months, becoming thus in an ideal food against autumnal asthenia.
Although they can be eaten alone, the truth is that consumed in excess and also raw they can be very indigestible. So a good option (in addition to not consuming them in excess and always in small quantities), is to use them to make delicious sweet desserts.
A good example is the biscuits that we propose on this occasion, very easy to make, and where we will find an exquisite dark chocolate that combines almost perfectly with them.  Do you dare to prepare them? The process is really simple. So much so that you won't even notice.
Recipe to make biscuits or chocolate and chestnut delights
Ingredients:
400 grams of chestnuts
120 grams dark chocolate
100 grams liquid cream
100 grams icing sugar (powdered)
Orange zest
Preparation:
Wash an orange well, dry it and grate it, reserving the peel. Cut the dark chocolate into several pieces. Now put a saucepan in a bain-marie, add the chopped dark chocolate and the liquid cream. Heat on fire. Stir from time to time until the chocolate has melted, and then continue mixing carefully until you get a smooth cream (it is very important that the water does not boil).
Peel the chestnuts carefully, remove their skin and put them in the blender jar. Then grind them well.
Now add the chocolate and cream, the icing sugar and the orange zest, and mix everything well.
Grease a mold about 15 centimeters in diameter. Pour the paste and let it rest in the fridge for at least 5 hours.
Ready! When serving it, it is advisable to serve it in small cubes, in the same way as if it were a brownie.
With what to accompany these chocolate and chestnut delights:
Although they are delicious meals on their own, you can accompany them with other exquisite ingredients. We suggest some ideas below:
With a little cream: An ideal option to provide a neutral flavor and a slightly softer texture, especially if you do not sweeten it and if you serve it liquid.
With chocolate: If you are passionate about chocolate, there is no doubt that this is your perfect combination. Chocolate on chocolate, isn't there anything better? You can opt for some of the melted chocolate left over from the recipe.
With bitter orange marmalade: The sweetness of these delicious ones also combines very well with bitter flavors, such as bitter orange.