As far as skin care is concerned, there is no doubt that it is essential to keep in mind what type of skin we have in order to provide it with all the care and protection it needs, but paying special and specific attention to its different characteristics. It is true that the same does not happen as, for example, combination skin, which is sometimes tremendously difficult to identify because at times you may think that it is dry skin, and yet, after a short time, it alternates with oily skin. However, when this occurs simultaneously (meaning that there are parts of the face with dry areas or patches, and other areas with a higher amount of oil), then the skin will be combination.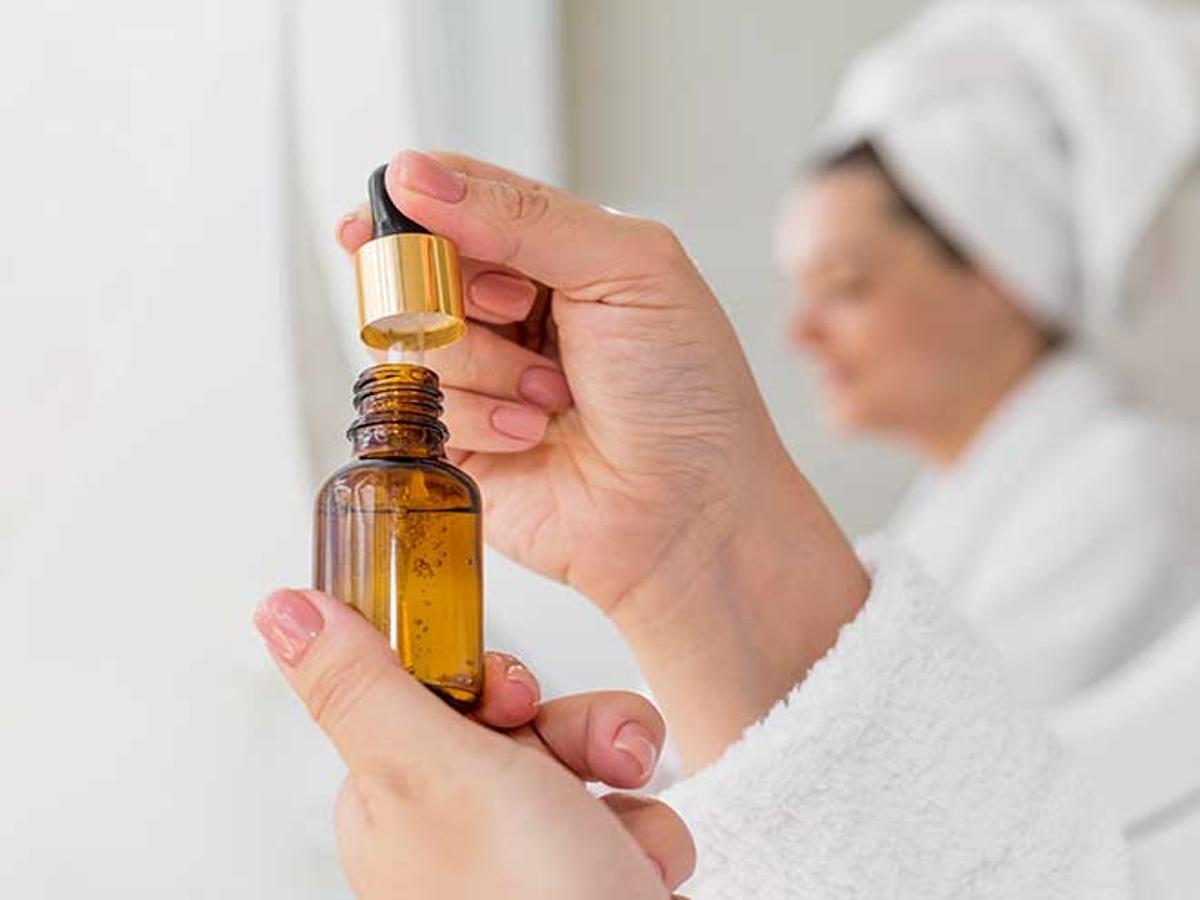 The same does not happen with oily skin, which is usually much more obvious and easy to identify. But if you still doubt, you should know that this type of skin is characterized by emitting a kind of extra shine. That is, it is common for oily skin to look constantly shiny, we can even feel it just a few hours after cleansing. Also, since sebum mixes with accumulated dead skin cells and pores become clogged, acne breakouts tend to be more likely.
And, indeed, it is mainly due to the excessive amount of oil produced by the sebaceous glands. Although it is true that under each pore there is a sebaceous gland that produces sebum (natural oil), it is useful to help the skin to always be properly hydrated, and therefore healthier, and that we all have this oil in the skin, in the in the case of oily skin, the production of this sebum is excessive, which can cause different problems.
Its causes include genetic factors, related to the lifestyle we follow every day, and also environmental. In fact, if one or both of your parents have or had oily skin in their youth, it's highly likely that you also have overactive sebaceous glands.
In any case, although oily skin always has the peculiarity of providing a brighter appearance, and we must treat it properly not only when it comes to eliminating or reducing all that extra sebum, but also to prevent the possible formation of acne breakouts and pimples, we could find an additional benefit for those with this type of skin. And it is that it does not usually show signs of aging so quickly, compared to those people who present, for example, a type of dry skin. Even if we had oily skin when we were teenagers or 20 years old, as we get older it is common that we do not have the same skin composition at 30 or 40 years of age, which makes it necessary to evaluate it when we are turning years old.
A beautician, for example, will be ideal to help us evaluate our skin type every few years, to see if we need to make any changes to the beauty and skin care routine that we might be following every day. Luckily, oily skin is characterized by being a type of skin that is easy to treat, although it is precise and necessary to always keep in mind what products we should always avoid: we should keep those that are comedogenic very far away, since if they have this capacity it means that they tend to block or clog the pores, and as is logical to suppose, this effect is not what we need when our skin is already oily or very oily.
However, it is necessary to treat not only that excess sebum, but also the rough texture that it usually tends to produce, and reduce the pores, which are characterized by being very large and visible. Also, during the summer months (which are definitely the hottest months of the year), some basic care may be required, as most people with oily skin may experience a slight increase in sebum production, which can end up influencing negatively.
Basic homemade facial serum recipe for oily skin
The recipe that we propose on this occasion is characterized above all by being a basic recipe , which means that it becomes one of the first options that we could try when, above all, it is the first time that we are going to prepare our facial serum, and we have no experience preparing beauty recipes, thanks to the fact that practically all the ingredients that we use in its formulation are not only tremendously suitable for treating the problems and symptoms usually associated with this type of skin. They are also characterized by being easy to get, especially in herbalists and beauty stores.
Ingredients
30ml jojoba oil
10 drops of tea tree essential oil
5 drops of lavender essential oil.
Elaboration
With the help of a small funnel, we will start by first pouring the jojoba oil into a dark glass bottle (if possible with a dropper). Then we follow with the tea tree essential oil and the lavender essential oil. We close the bottle with the lid, and shake a little to get the ingredients to mix and combine. Remember that a poorly mixed serum will not work at all.  So continue stirring carefully for a few more seconds. Ready! Now you have your facial serum for oily skin ready to use.
How to keep it:
Although the homemade facial serum, properly preserved, can last for quite a few weeks, to take advantage of all its qualities, it is best to use it within the first 2 weeks. Since it can be used every day, even morning and night to make it even more efficient, it is quite likely that in the course of those two weeks you will have to make a new one. The ideal, in any case, is to keep it in a cool and dark place, away from sunlight. The refrigerator, for example, can become an optimal option, which will also help keep it longer. Otherwise, the bathroom furniture will still be fine.
What benefits does this homemade facial serum provide?
As we have explained in the introductory note of this recipe, the ingredients that we have conveniently used in the preparation of our homemade facial serum are characterized precisely by being ideal for dry skin. In fact, remember that comedogenic ingredients should be avoided above all, so none of them are.
Jojoba oil, for example, which also stands out for being the base of our serum, becomes one of the best natural oils that exist for oily skin, thanks to its texture that is quite similar to the sebum naturally present in our skin. For this reason, it is able to provide light hydration, but without leaving an oily or greasy texture, and can even help fight breakouts and acne.
Lavender essential oil, which we have already used in the preparation of other homemade facial serums, provides a relaxing and calming fragrance, ideal for any beauty product. But this time, it becomes an excellent option because it reduces redness and the signs associated with skin infections, fights acne and promotes healthier and smoother skin.
And what about tea tree essential oil? It is possibly one of the most commonly used ingredients in the treatment of pimples and acne. But this is not the only quality it provides: it also promotes smoother skin by working to redefine and improve texture.
Face toner recipe for oily skin with acne
Oily skin, especially when we are younger, has a special tendency to form pimples, which is why it has a certain propensity to acne. Although most facial serums for oily skin can be useful in these cases (such as the basic recipe that we talked about in the previous section), it is more convenient to add some active ingredients that can provide specific qualities at the time. to fight them. This is the case of apple cider vinegar; about whose benefits we will talk to you soon.
Ingredients
30 ml of purified water
10 drops of organic apple cider vinegar
10 drops of tea tree essential oil.
Elaboration
With the help of a small funnel we will start by pouring the purified water into our dark glass bottle (remember, better with a dropper). Then, follow with apple cider vinegar and follow with tea tree essential oil. Close the bottle and shake vigorously for a few seconds, to get all the ingredients to mix and combine with each other. Ready!
How to keep it:
Always try to store it in a cool and dark place, since sunlight could damage its active ingredients. On the other hand, remember to use it during the first 2 weeks, although you can extend its use until it is finished, as long as you do not overdo it for too long.
What benefits does this homemade facial serum provide?
Without taking into account the water, which becomes the main ingredient to give the optimal consistency to our serum, we actually have two basic ingredients: apple cider vinegar and tea tree oil.
What's more, did you know that apple cider vinegar becomes one of the most powerful active ingredients when it comes to treating both acne and pimple-associated scars? It works by lightening scars, while fighting breakouts and helping to prevent their formation.  It also diminishes enlarged pores by controlling excessive sebum production.
Tea tree oil, as we have already mentioned, is another powerful anti-acne ingredient. It helps remove pimples and acne scars, while also being helpful in unclogging pores, deep cleansing the skin by removing bacteria and microbes.
Another homemade facial serum recipe for oily skin: this time with more ingredients
Starting from the basic recipe that we have proposed to you at the beginning, we can also elaborate an interesting diversity of other facial serums for oily skin, in such a way that you can substitute them for each other to take advantage of the different qualities and benefits that other active ingredients provide us, and not see ourselves in the obligation of always having to use the same one. What's more, not only can we use the same basic ingredients, but we can also substitute or add others. Do you dare to discover another useful recipe in this regard?
Ingredients
1 tablespoon jojoba oil
1 tablespoon grapeseed oil
5 drops of lavender essential oil
4 drops of patchouli essential oil
4 drops of ylang essential oil.
Elaboration
With the help of a small funnel, to ensure that all the ingredients are well introduced into our container (and not spill or waste them), add all the ingredients inside our glass bottle, or in our glass dropper bottle. Close it, and shake it well for at least 1 minute, to get all the ingredients mixed.
How to keep it:
As with the previous facial serums, this time you can use it again for a maximum of 2 weeks, although if you choose to keep it in the fridge, you can extend its use for a few more weeks. Of course, otherwise, always remember to store it in a cool and dark place, away from sunlight.
What benefits does this homemade facial serum provide?
Except for jojoba oil and lavender essential oil, which we have already used in our basic recipe, it is true that the rest of the ingredients are new to us. However, they are also extremely interesting in the care and natural treatment of oily skin.
For example, grape seed oil stands out for its high content of linoleic acid, which works by helping to reduce clogged pores, unclogging them, so that it is useful when it comes to regulating natural oil and treating dry patches that, in Occasionally, they can also arise in oily skin.
Patchouli essential oil has extremely interesting properties for treating acne, and to balance the excessive presence of sebum (oil) on the skin. It also provides anti-inflammatory and healing qualities that it shares perfectly with ylang-ylang oil, which also balances oil production while providing a calming effect.
Facial serum recipe for oily skin with moisturizing and soothing qualities
If you are as passionate as we are about making your own beauty recipes at home, and you want to try different facial serums to treat oily skin, this time we are going to discover how to make a facial serum that, in addition to balancing that excess oil and helping against acne breakouts, provides excellent soothing and moisturizing benefits. Why? Very simple: in its composition we use aloe vera gel, with a recognized moisturizing action.
Ingredients
3 tablespoons of aloe vera gel
8 drops of tea tree essential oil
1 teaspoon of rose water.
Elaboration
With the help of a small funnel (or with some patience and care if you don't have one at the moment), pour all the ingredients into the dark glass dropper bottle, or a small dark glass bottle. Close the lid, and shake well for a few seconds. Ready!
How to keep it:
Always try to keep it in a cool, dark place, away from sunlight. This is essential, as UV rays can damage essential oils, preventing them from providing most of their benefits and properties. Otherwise, you can use it for 2-4 weeks, tops.
What benefits does this facial serum provide?
Aloe vera gel is widely known and recognized for its soothing qualities, thus becoming a tremendously useful natural product for the care of oily skin and acne-prone skin, since it reduces inflammation and redness. On the other hand, it acts in turn by diminishing and reducing the pores.
Rose water, in addition to providing a delicate rose fragrance, is capable of nourishing the skin and softening it, resulting in much softer and more relaxed skin.
We have already told you about the essential oil of the tea tree in the previous recipes; It has useful antiseptic properties to combat skin irritations and inflammations, and is ideal in the treatment of acne.
Facial serum recipe for oily skin with a revitalizing effect
When oily skin sometimes appears slightly dull or opaque, it is necessary to try to revitalize it with ingredients that, combined with each other, offer the possibility of achieving it. On this occasion, we mix in our formulation already known natural active ingredients -and effective for this type of skin- such as tea tree essential oil, rose water or aloe vera gel, but we also add sage essential oil.
Ingredients
3 tablespoons of aloe vera gel
3 teaspoons of rose water
7 drops of clary sage essential oil
7 drops of tea tree essential oil.
Elaboration
In a clean container, pour the rose water and aloe vera gel with the help of a spoon. Then, add the essential oils in the number of drops indicated. Now carefully pour the serum into a dark glass bottle with a dropper. Close it, and shake well for a few seconds, to get the ingredients to combine.
How to keep it:
Store it in a cool, dark place, away from sunlight to prevent ultraviolet rays from damaging essential oils. And try to use it in the next 2 weeks after making it, to ensure that, at least, all its active ingredients remain as fresh as possible.
What benefits does this facial serum provide?
Except for aloe vera gel, rose water and tea tree essential oil, whose properties for oily skin we have already told you about in other recipes, we must add that sage essential oil becomes a wonderful natural option. to keep acne breakouts at bay and under control, thanks to its anti-inflammatory and antifungal benefits.
How should a facial serum be for oily skin? Why is it so important?
Although many experts consider that the use of a serum and its integration into the beauty routine is not essential or indispensable, the truth is that it can help provide a certain number of interesting qualities. Moreover, if we have oily skin, and we have not used it on any occasion yet, then it is extremely likely that our skin is missing out on great benefits.  Why? Very simple: many of the active ingredients present in serums for oily skin are perfect for reducing or lessening its symptoms.
To understand it, we must know that serums are light-textured, water-based products that contain very high concentrated amounts of certain active ingredients. Plus, most of the qualities that set face serums apart from moisturizers make them, in fact, perfect for both oily and combination skin: they're lightweight or light and easily absorbed, can penetrate deeper compared to most moisturizers, and in addition, its formulation is especially focused on hydration.
As we can see, all these benefits coincide exactly with the different needs of oily skin. And since during the summer months the skin tends to produce even more oil, it is highly advisable to integrate our homemade facial serum both in the morning and at night.
Therefore, the ingredients commonly used in its formulation / preparation are characterized not only by helping to reduce excessive sebum production, or reduce enlarged and visible pores. They also help treat acne breakouts, or even prevent them if our oily skin is prone to their formation.
What ingredients should our facial serum for oily skin contain?
When preparing any homemade beauty product, it is essential to take a good look at what ingredients can be recommended to treat certain problems or conditions, and above all -and more especially-, which are the most suitable depending on the type of skin we have.  And it is that if we use any ingredient without paying attention to whether or not it would be advisable, we could end up causing more trouble than good.
Of course, when we talk about making homemade facial serums, it is necessary to pay attention to two basic elements in any recipe of this type: those known as base ingredients and healing ingredients. The base ingredients, as their name suggests, are essential because they form the base of the serum, and provide it with consistency and texture. They are, in short, the base on which the healing ingredients are based, which are the ones that provide most of their qualities and benefits. Of course, we cannot forget that the base ingredients provide properties by themselves, since in most cases they are also moisturizing.
Ideal base ingredients for oily skin
Jojoba oil It becomes a highly recommended vegetable oil for oily skin, thanks to its enormous content of linoleic acid, although it is necessary to use it carefully and never excessively, since it is always best to opt for lighter or lighter options. And why is it so interesting? Basically because it contains a series of compounds similar to the sebum of our own skin, which means that the skin does not have to produce more oil to protect itself.
Rosehip oil. It consists of a facial oil with a very light texture, which also tends to be absorbed quickly. It's non-comedogenic, so there's no risk of it clogging pores, and it doesn't leave an oily residue either. It also contains a series of soothing and healing agents, useful for calming the inflammation that commonly accompanies acne, leaving the skin more hydrated and smooth.
Grape seed oil. It is mainly known for its anti-inflammatory and antimicrobial qualities, and stands out for its high content of healthy fatty acids and vitamin E. It is useful for fighting breakouts, strengthening the skin barrier and helping against acne. In addition, it reduces redness, hydrates, firms and reduces the appearance of scars.
Argan oil. As with the rest of the base ingredients mentioned throughout this section, it is -obviously- characterized by being non-comedogenic, so it is tremendously good for oily skin. It does not clog pores, balances oil production, slowing down the cycle, and contains very interesting nutrients such as omega fatty acids, vitamin E, linoleic acids and sterol ins, which are compounds capable of stimulating a healthier cellular metabolism while retaining humidity.
Hemp oil from inflammation control to hydration, it becomes an equally useful option to treat and alleviate the main symptoms associated with oily skin. Among other interesting benefits, it helps reduce dryness and excess oil, reduces inflammation (therefore useful in acne), is ideal for increasing the natural oxygenation of the skin and is an excellent anti-aging component.
Aloe vera gel. With a recognized moisturizing and soothing action, it also provides astringent qualities, so it is capable of absorbing the excess oil present in oily skin, and extracting the dirt that has been clogged in the pores. In addition, its cooling agents treat skin prone to breakouts and irritation. On the other hand, it moisturizes the skin without clogging the pores.
Ideal healing ingredients for oily skin
Lavender essential oil. We have already talked about this essential oil on other occasions. It provides very interesting anti-inflammatory qualities, helping to fight acne by moisturizing and softening the skin, being non-comedogenic for the pores. It is also antibacterial, so it helps minimize the presence of acne-causing bacteria on the skin, which can end up infiltrating the pores.
Tea tree essential oil. Provides antiseptic qualities, helping to combat some of the main symptoms associated with oily skin. It's also anti-inflammatory, helpful in soothing and soothing irritated skin, redness, and inflammation associated with acne breakouts.
Sage essential oil. Believe it or not, it is a very interesting essential oil in the treatment of oily skin, since it acts as a natural cleanser, while providing antimicrobial properties.
Patchouli essential oil. Like the rest of the essential oils, in the particular case of patchouli essential oil we mainly find that it is a product of plant origin that provides anti-inflammatory, antiseptic and antibacterial qualities. In addition, it is a wonderful astringent, so it is able to absorb excess oil, and an excellent toner.
Eucalyptus essential oil. With a highly characteristic fragrance or aroma, this oil is ideal for softening oily skin, reducing the increased amount of oil associated with oily skin.
Ylang essential oil. This essential oil works wonders to help balance and regulate sebum production, as it works by correcting the amount of oil produced by overactive sebaceous glands. It also has powerful antibacterial properties, also becoming a tremendously useful and effective cleanser.
Rosemary essential oil. It is a unique natural option for those who suffer from pimples or acne, thanks to its antibacterial effect. Among other interesting aspects, it also helps to balance oily skin, preventing the appearance of uncomfortable and unsightly white and blackheads, as well as acne and other problems related to oily skin.
Sandalwood essential oil. It becomes an excellent preventive of acne, while due to its anti-inflammatory action, it helps to calm the inflammation and redness of acne, thanks to its soothing qualities. In addition, it has antiseptic and antibacterial qualities, helping to combat the presence of pimple-causing bacteria, and keeping both the pores and the wounds caused by pimples perfectly clean and free of germs.
Peppermint essential oil. It is a useful oil in case of acne, thanks to the fact that it cleanses the skin naturally, while its antiseptic and antibacterial properties help to reduce the possible risks of infection and breakouts as much as possible. In addition, it provides a cooling effect, ideal for relieving both irritation and inflammation.
Frankincense essential oil. By providing useful anti-aging lipids, it helps soothe oily and acne-prone skin.
Likewise, as with any beauty product that you have bought and that you are going to use for the first time, in the case of recipes that we make ourselves at home, it is also essential to carry out a small test beforehand as a safety measure, which will help us. to know how our skin will react to it, and if it produces -or not- some type of allergic reaction. Remember that although the preparation is homemade, it is also not exempt from possible risks.
To do this test, before applying it directly to your face, you can put a little of the product you have made on a not so visible area of ​​the body, such as the inner area of ​​the wrist or forearm, and wait for at least 12 -24 hours. If any type of redness, rash or irritation occurs, it is possible that you may be allergic to any of the ingredients included in the recipe, so you will have to gently wash the area with a neutral soap and rinse with warm water to remove any remains. that may have been left, and avoid using that particular combination of ingredients, trying to use another. If no related symptoms have arisen, you can rest easy, so you can continue using it on the rest of the face.
What ingredients should we avoid when making our facial serum for oily skin?
Do not forget that, when choosing the necessary ingredients for the preparation of our facial serum, it is not essential to completely ban vegetable oils. On the contrary, the only thing we need to do is avoid those that are comedogenic, to avoid the risk that they can clog the pores and cause more problems. In any case, there are three main families of ingredients that we should avoid if we have oily skin: they are those that strip the skin of its natural oils, occlusive ingredients, and comedogenic ingredients.
Alcohol, obviously, becomes one of the least suitable, since oily skin is characterized not only by being oilier, but it is also often found to be flaky and dehydrated. Alcohol, applied to the skin, can make it even more dehydrated, especially if we use it long-term.
Certain oils may not be so positive because they have a high amount of oleic acid in their composition. While we have seen that fatty acids are essential even for oily skin, when present in fairly high amounts they tend to produce a heavier oil, which settles on the skin. It is what happens with sunflower oil and hazelnut oil. Instead, we can replace them with some of the base ingredients that we talked about in the previous section, in particular grape, hemp or argan seed oil (although evening primrose oil is also interesting).
How should the oily skin care routine be and when should we use our homemade facial serum?
Unless we have normal skin (and it is still recommended), it is always essential to follow a skin care routine, because it is an excellent strategy to deeply cleanse the skin, nourish it, tone it and moisturize it. In short, an optimal beauty routine based on our skin type is irremediably effective when it comes to enjoying much more cared for and healthier skin. And essential when our skin is oily, since with it we help remove all that excess sebum that, in the long run, can end up causing acne breakouts and other related problems or symptoms.
And what is even more important, in the case of oily skin, it is essential to maintain a skin care routine in the morning and also at night. To help you establish the best routine for oily skin, here are some simple and easy examples:
Morning skincare routine
You should start with a cleanser. In fact, unlike dry skin, it is essential to clean oily skin in the morning, since at night it is extremely common and normal for excess oils, dirt and impurities to have accumulated on the skin, and can clog pores if not removed. You should start your morning routine with a gentle, water-based cleanser.
Since oily skin is especially prone to dead skin cells building up on it, and pores eventually becoming clogged, exfoliating 2-3 times a week is quite helpful. You can opt for a gentle exfoliant, as could be the case with chemical exfoliants (such as alpha-hydroxy acids, such as salicylic acid, glycolic acid or lactic acid, among others), useful for adding luminosity to the skin opaque and increase cell turnover.
The exfoliation is followed by the application of the toner, which helps to eliminate residual dirt that may have remained and prepares the skin for what interests us in this case: the appearance of the serum. You should choose a toner that is suitable for oily skin, as it will help treat oiliness and shine, but without drying out the skin. It is also essential that it works by diminishing and minimizing pores, and refining texture while being able to maintain moisture balance.
And now comes the moment we've been waiting for: the application of our homemade facial serum. It is, as we have seen, an extremely light and refreshing natural option, which provides a very high concentration of useful active ingredients when treating oily skin.
Finally, finish with the application of your favorite moisturizer, or your moisturizer, which will help a lot to seal in all the nutrients that we have supplied to the skin in the steps indicated above. The best thing to do in the morning is to apply a moisturizer that is as light as possible, being more interesting those with a gel consistency or texture, since heavier creams, far from moisturizing and nourishing, could end up clogging the pores even more, and make the skin look brighter. Then, continue with the application of your eye contour favorite (useful as you know to reduce the signs of aging that tend to form prematurely in this delicate area of ​​the face). And, if you're going outside, don't forget broad-spectrum sunscreen, with an SPF of at least 30.
Night skincare routine
As you probably know, especially if you already tend to follow it every day on a regular basis, the night skin care routine is characterized by being a little more specific and complete, since we must provide our skin with all the care it needs afterward. of a long day, in which it has possibly suffered the aggression of different external agents (dirt, environmental pollution, sun damage caused by the action of ultraviolet rays), and in which dead cells have been accumulating. In addition, it is very likely that you also have the need to remove your makeup, if at any time during the day you put it on.
Regardless of whether you have used makeup or not, if you have oily skin you can greatly benefit from what is known as a double facial cleansing. Thus, you can start with an oil-based cleanser, capable of dissolving excess sebum and makeup simply and easily, and then follow with a water-based cleanser (in these cases, micellar water can become an excellent option). The cleansing is followed by the appearance of the toner and then, if you wish, you can also re-exfoliate the skin, especially if you did not do it in the morning.  Although, beware, it is not advisable to do it every day, since even if your skin is oily, exfoliating it too much can end up damaging it.
Again, we find the step that interests us the most in this case: we reapply our homemade serum for oily skin. This step is even more important if it fits in your nighttime beauty routine, because since the serum contains a series of active ingredients, with a fairly high concentration, when applied to the skin we will let these compounds work their magic while we sleep. Later, we finish with the application of the moisturizer and with our cream for the contour of the eyes.
As we have seen, in both the morning and night skin care routine, it is essential to always apply our face serum midway, after the application of the facial toner, and immediately before the application of the moisturizer. Or, what is the same, it is essential to apply all the products with a lighter consistency first, until reaching the thickest (moisturizing). Why? Very simple: most products with a liquid or light texture, such as the case of toners, prepare the skin to better receive the rest of the products -serum and moisturizer-, so that while the serum treats certain problems of While lightly nourishing the skin, the moisturizer seals in all the moisture, deeply hydrating it.