We propose 4 creams to make at home, ideal to prevent stretch marks during pregnancy, easy to make and highly nutritious. Find out how to prepare them.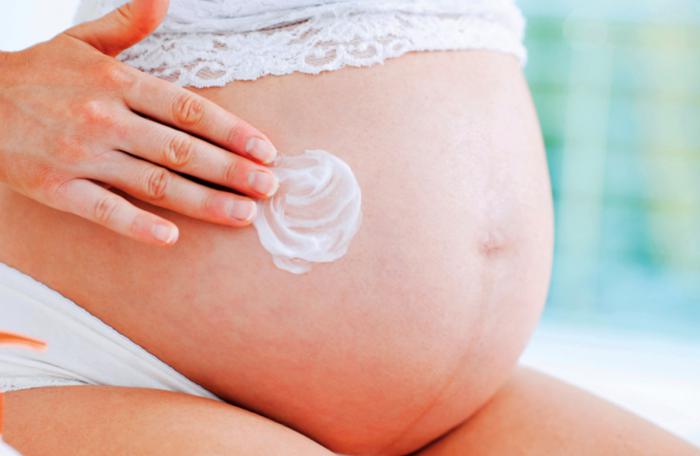 Stretch marks are one of the biggest headaches for any pregnant woman. During the gestation stage, changes in the woman's body significantly affect the skin, since it stretches as the belly grows. Thus, it is common for small breaks in the skin to appear during the first months due to lack of elasticity, especially in the chest, belly and hips, which ultimately become the typical stretch marks of pregnancy.
Prevention is essential. You have to have the skin very well hydrated throughout the pregnancy, so it is advisable to bet on a homemade moisturizer and apply it twice a day. In addition, it is very good to cheer up with anti-stretch mark creams made with natural ingredients.
Homemade creams, as they do not contain any type of chemical component, do not provide immediate results like industrial creams. However, if they are used constantly, they are much more beneficial in the medium and long term to combat stretch marks, but also prevent them from reappearing. And, in addition, being made with 100% natural ingredients, they are super respectful with the skin and the body in general.
Avocado cream to eliminate pregnancy stretch marks
One of the creams that works best and whose preparation is very easy and fast. As an ingredient, you only need an avocado, a lemon and a tablespoon of honey. When preparing it, the avocado pulp should be mixed with a tablespoon of lemon juice and a tablespoon of honey.
It should be applied with the fingertips directly on the area with stretch marks; this must be completely covered by the cream. The massage should be circular. It is left to act for 15 to 20 minutes and is removed with plenty of warm water.
Horsetail cream to eliminate pregnancy stretch marks
One of the oldest and most popular remedies to combat pregnancy stretch marks. Horsetail is a great source of silicon, a natural regenerate. Although it can be used at any stage of pregnancy, it is really beneficial in the first months of pregnancy, when the red marks begin to appear.
To prepare this cream you need 100 grams of horsetail, a liter of white alcohol and a lemon. Add the liter of white alcohol to a bowl along with ten drops of lemon juice and then marinate the 100 grams of horsetail. Macerate for a month at room temperature. When applying it, it is first diluted with water. The ideal is to perform two massages a day.
Cocoa butter cream and wax to eliminate pregnancy stretch marks
One of the best home remedies to say goodbye to pregnancy stretch marks. In addition to being an extremely effective 100% natural homemade cream, it has a very pleasant texture for the skin.
When preparing it, the following ingredients should be mixed: half a cup of cocoa butter, two teaspoons of grated beeswax and a tablespoon of almond oil. Unlike the previous creams, this is applied hot, so it must be heated for 30 seconds in the microwave at medium power. When the cream has warmed up, it is applied directly to the stretch marks area, giving gentle circular massages with the fingertips.
Almond butter cream to eliminate pregnancy stretch marks
A cream that is especially suitable for the first months of pregnancy, when stretch marks begin to appear.
To make this homemade cream you need the following ingredients: 100 grams of peeled hazelnuts, 50 ml of almond oil, a tablespoon of rosehip essential oil and half a lemon. The preparation of this natural remedy is very simple. First the nuts are crushed. They are then placed in a bowl along with the rosehip essential oil. Add a couple of drops of half a lemon and the almond oil. All the ingredients are mixed until obtaining a creamy paste. It is applied directly to the stretch mark area with gentle circular massages.