Fried rods filled with pastry cream are a typical sweet from Galicia, specifically from O Carballiño, where it is usually made for Carnival. Find out how to make them with this delicious recipe.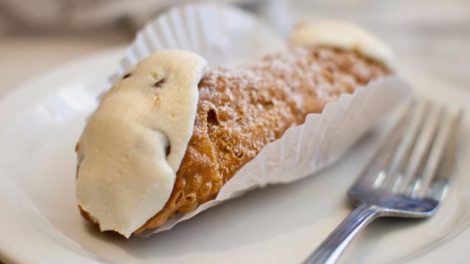 Along with pancakes and orellas (ears), fried stuffed canes are the traditional sweets that are prepared in Galicia to taste while the Carnival Festivities are celebrated.
As we have been able to verify while we have been investigating different points of our geography and as happens with other Festivals, it seems that these Festivals are better spent taking something sweet to the mouth that makes us happy even more these days of celebration.
Both sweets and pastries are a very appetizing delicacy as soon as you see what they look like and if you like to prepare your own recipes for homemade sweets, they are simple recipes to prepare.
The stuffed fried canes are crunchy and golden sweets in the shape of a tube or Canutillo that inside are filled with pastry cream. The dough with which the fried canes are made is prepared with wheat flour, milk, a pinch of salt and oil.
To shape the cane, they used to use canes that they went to look for in the river. It may even be possible that even today, in some Galician towns, this curious method is still used. In other places, such as cities, metal or Teflon tubes are currently used.
To form the canes, it would be ideal to have several metal tubes, Teflon tubes or pieces of cane if they were within your reach, since that way we could go further while we fry them.
Once we have them all fried, they are filled with pastry cream and sprinkled with a mixture of sugar and ground cinnamon.
On this occasion we will tell you what ingredients are necessary and the steps to follow to prepare some delicious stuffed fried canes with which you can surprise family and friends these days of carnival.
Stuffed fried rods recipe
Ingredients to make the dough:
400 grams of plain wheat flour.
100ml whole or skimmed milk.
A pinch of salt.
A glass of mild olive oil or sunflower oil for the dough.
Sunflower oil to fry the canes.
Ingredients for the pastry cream:
Half a liter of whole or skimmed milk.
4 eggs.
40 grams of flour.
75 grams of sugar.
A vanilla pod.
Ingredients to decorate the fried canes:
Preparation of fried canes:
We can make the dough in a bowl by hand or make it in a robot if we have one.
In a bowl or container of the robot we put the flour, the pinch of salt, the milk, the oil and knead. Knead until the dough is well linked. Once the dough has reached the desired point, cover with cling film and let it rest for about 2 hours.
While the dough rests we can prepare the pastry cream. In a cauldron we put the milk to heat together with the seeds of the vanilla pod, cook until it boils. While in a bowl we mix the sugar with the flour and add a little cold milk, stir these ingredients so that they mix well.
Beat the eggs well with a splash of hot milk and add it to the mixture of ingredients that we have in the bowl, stir well and then add it to the vanilla-flavored milk.
We put the cauldron on the fire and without stopping stirring we cook the pastry cream until it thickens. Once it thickens, let it cool.
Uncover the dough and stretch it on the table or countertop with the help of a rolling pin. We cut pieces of dough into squares to roll them in the metal tubes or reeds. We put the oil to heat well in a pan and when it is very hot we fry the reeds.
Once fried, we take them out of the pan, put them on a plate covered with napkins or absorbent paper to drain the oil and let them cool, when they are cold carefully unmold them.
Place the pastry cream in a pastry bag and fill the fried canes. Once we have them all filled, we pass them to coat them with the mixture of sugar and cinnamon.
We already have ready to taste our exquisite fried canes filled with pastry cream, ideal to eat them both for breakfast, as a dessert or as a snack accompanied by coffee, tea or hot chocolate.