Citrus salad recipe with dates and almonds, a different light and refreshing dish, with incredible benefits and very easy to make at home.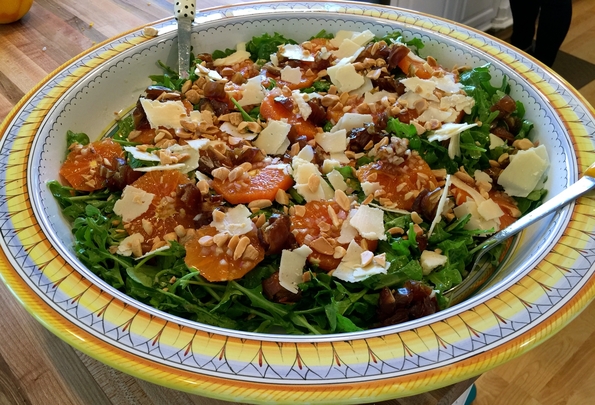 The season of the year has arrived when we all want to look cute, and how not to help us get there with salads. With a lot of imagination we can elaborate them as we like best: with shellfish, nuts, fruits… Favorable for our diet and our body: fiber, vitamins and minerals.
It is not advisable to eat salad at night because lettuce is not a very digestive food due to its high content of insoluble fiber, which can cause gas and abdominal inflammation, discomfort and make digestion difficult during sleeping hours.
Salads are very easy to prepare, they can include vegetables and fruits, vitamins and minerals without fat. Do you know its properties? Due to its high content of water and other nutrients that our body needs, it quenches our hunger and thirst, as well as helping to keep our skin well nourished and hydrated.
Salads hydrate and refresh us, most of the composition of vegetables is water. Vegetables are an excellent supply of vitamins that regulate organic processes such as the proper functioning of the nervous system.
In addition, they have cleansing and antioxidant actions, while their detoxifying power is useful to help detoxify our body and purify it, due to its high water content as we said, potassium and low sodium content.
Vegetables have beta-carotene that is transformed into vitamin A. This renews the skin and mucous membranes, also vitamin C that helps in the production of collagen, a protein that keeps the skin smooth and without wrinkles.
And how can we not forget that they regulate intestinal function. They prevent or improve constipation. The fiber they contain helps us reduce cholesterol and control blood glucose, being beneficial in people who have cardiovascular diseases and diabetes.
For this reason, we send you a recipe for a delicious salad with a mixture of sweet and salty.
Fresh Citrus, Date and Almond Salad Recipe
The salad that we propose is ideal both in summer and at any time of the year, since it perfectly combines the aromatic and refreshing flavor of the different citrus fruits that we use in its preparation as well as the soft and sweet flavor of dates.
Precisely we bring you a very rich recipe, surely it will not take you long to want to make it, fresh, fresh! Its preparation will only take about 15 minutes of our time, it is very easy to prepare and it is extremely delicious.
Ingredients:
Oranges
Tangerines
Lime.
Grapefruit.
Fresh lettuce leaves (you can substitute for arugula).
Peeled almonds
Mint leaves.
Dates
Optional: if you want you can add fresh avocado and beets.
Elaboration:
We will peel the citrus fruits removing their skin and seeds. We will coarsely chop the almonds.
We will take a pan and add the squeezed juice of the oranges to let it reduce by half. Next we will add the previously chopped almonds and brown them.
We will strip the mint, wash it and dry it. We will remove the bone from the dates and cut them in four.
We will add all the ingredients mentioned above to the reduced juice.
To finish, add the lettuces on top after having previously washed them.
The benefits of this fresh salad
Do you know what beneficial contributions this salad has? Take good note:
The citrus fruits that this salad has are citrus fruits that are abundant in vitamin C. This helps us prepare the immune system before changes in season. Accompany this salad with a meal rich in iron.
Dates are sugary and some are usually soft, easy to use in pastry.
Almonds are rich in protein and fatty acids that are beneficial for cardiovascular health.  This salad will have a delicious texture and pleasant taste.