How to prepare Christmas chocolate nougat? We propose 4 wonderful recipes to make easily at home. The best option for chocolate lovers.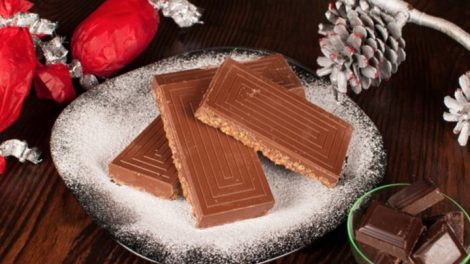 Christmas has become for millions of people around the world a holiday to be especially with their friends and loved ones. However, the great advantages offered by this time of year do not reside solely in the family and emotional aspect. It is also a time to enjoy rich and exquisite sweets that are usually only eaten at Christmas after a very copious meal.
Among all of them, it is worth highlighting above all the marzipan, gingerbread cookies, mantecados and those delicious nougats that have already become a classic throughout Spain. As many of you know, it is a sweet that originated in the Alicante city of Jijona, where the most traditional comes from: the wonderful Jijona nougat. Although its repercussion has been such since then, that thousands of tons of this delicacy are already exported to any corner of the planet.
If you are already beginning to salivate with these first lines and you have the urgent need to whet your appetite with a rich chocolate nougat, we are going to ask you to put your five senses in the following lines since we are going to propose four different recipes with the that you are going to suck your fingers:
Chocolate nougat recipe.  In the purest traditional style
We will start this list with a recipe that is the simplest and most traditional to prepare. To make it a reality, you will need 16 portions of extra-fine chocolate, 200 grams of butter, 200 grams of nuts, 200 grams of ladyfingers together with eight tablespoons of sugar. Once we have everything ready, we will do the following:
Melt the chocolate in a water bath. We will then add the eight tablespoons of sugar and stir everything slowly and carefully.
Mix the butter with more sugar. Until you get a creamy paste. After this we will introduce the nuts and the well-chopped cookies. We add everything to the melted chocolate.
We'll put it all in a mold. To finally put it in the refrigerator where we will leave it for a couple of hours until it solidifies enough.
Chocolate nougat with nuts. For lovers of crunch
What would become of us without our beloved nuts? Well, now we are going to present you a recipe based on this ingredient that will give our nougat a very crunchy texture. Go pointing the same chocolate as before, butter, sugar and 50 grams of any dried fruit such as hazelnuts, walnuts, almonds or pistachios (that are sufficiently toasted). Have you already written everything down? Well now 'to the nougat':
Melt the chocolate in a bain-marie as before. Then it will be necessary to add the sugar and butter to our liking.
We split all the nuts. They can also be left whole but we remind you to cut them in half so that they can be eaten better. Then we will mix them with the melted chocolate.
Pour the mixture into a mould. We can use a spatula to spread the entire mixture and the nougat is more uniform. We put it in the refrigerator and wait a couple of hours until it is completely hard.
Chocolate nougat and baileys.  A sin in the form of liquor
We will close this article to propose a recipe that has also become a classic on Christmas tables. On this occasion we are referring to nougat with chocolate and baileys, a liqueur that can give these Christmas sweets a more sparkling flavor. Although first of all, you are going to need 200 grams of chocolate, 50 ml of baileys liqueur, liquid whipping cream, sugar and butter:
Melt the chocolate in a bain-marie as usual. We add a little sugar to our liking.
We cook the cream with the baileys. Everything over low heat so that it does not evaporate completely. Then add the butter along with the melted chocolate.
Let's pour everything into a mold. Finally we will put the whole mixture in the refrigerator until it solidifies well.
Another traditional chocolate nougat recipe to make at home
The preparation of the chocolate nougat or the way of cooking it itself, as you will see below, is really simple, and it does not have any complications.
Ingredients to prepare the chocolate nougat
16 portions of extra-fine chocolate.
250g of butter.
200g of nuts.
250g of soletilla biscuits.
8 tablespoons of sugar.
Steps to follow to cook the chocolate nougat
First we must melt the chocolate in a water bath, with about 6 tablespoons of water.
Meanwhile we will work the butter with the sugar until it has a creamy consistency, and we will add the chocolate, the walnuts in pieces, and the crumbled biscuits.
We will mix it well and put it in a plum-cake mould, previously spread with butter.
Of course, for it to take consistency, we must leave it in the refrigerator until the right moment to serve it.
Other options in the preparation of this chocolate nougat
If you are as passionate about chocolate nougat as we are, and in particular chocolate nougat with rice, and you would like to make it easily at home, you simply have to replace the sponge cakes with puffed rice (cereal that you will find in any supermarket).