Sweet in taste and very nutritious, 'Kashmiri shufta' is a very popular dessert in India, where it originally comes from. It is made with different fruits and dried fruits, spices and syrup.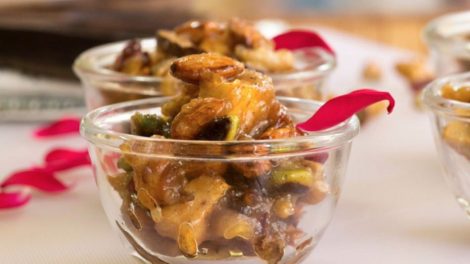 India brings us a wide variety of really wonderful recipes and dishes. Its cuisine is rich in exotic, aromatic and delicious ingredients, including vegetable, meat, cereal and dessert dishes. And one example is the Kashmiri shufta, a traditional dessert that comes from Kashmiri, which is specially made during festivals and weddings (marriages).
And what does this traditional Indian dessert consist of? Basically it is nuts, dried fruits and spices in syrup, which are coated with sugar syrup.
Although it seems like a truly simple recipe (and, in fact, it is tremendously easy to make at home), its flavor is certainly incredible because of the combination of dried fruits, nuts and spices that are used in its preparation, and because of its sweetness.
Kashmiri Shufta – Dried fruits in syrup
Ingredients
250 g of fresh cheese (paneer or panir, Indian cottage cheese)
225g sugar
50 g of crystallized sugar
60 g of peeled almonds
60 g of raisins
60 g coconut filleted
15 g dried dates filleted
Ghee or ghee
1/2 cup walnuts
1/2 cup of pistachio
1 teaspoon black pepper
1 teaspoon ground cinnamon
1 teaspoon ground ginger
6 cardamoms, crushed
A pinch of saffron
1 cup of water
1 teaspoon lemon juice
How to make Kashmiri shufta?
Put the ghee in a wok on the fire, and heat it a little. Once hot, fry the cheese lightly.  Stir and reserve.
In a separate saucepan, heat 2 tablespoons of the ghee. When hot, lightly sauté the peeled almond, pistachios and walnuts, raisins, dates after filleting, coconut and black pepper for 2 minutes.
After this time add the crushed cardamoms, water and sugar. Stir well until the water reaches the boiling point. When it reaches this point, lower the heat and cook for 5 more minutes.
Moisten the saffron in 2 tablespoons of hot water, and then add it to the previous saucepan. Add the crystallized sugar and the freshly squeezed lemon juice. Stir again.
When the syrup begins to thicken, remove it from the heat to prevent it from drying out.
Finally, still hot, serve in cups.
What is panir cheese?
Under the name of panir or paneer we are faced with a very common fresh cheese in Indian cuisine, which unlike the common milk cheese made with animal rennet, it is made with vinegar or lemon juice.
We could even call it a true "vegan cheese", which has the peculiarity of not melting even when we heat it in the oven, hence it is used to consume baked, grilled or roasted.
It is usually served or used cut into cubes, and can be eaten raw or as a side in a wide variety of recipes. In fact, in India it is common to fry it with curry.