Are you passionate about chocolate and also cookies? If so, we have your perfect recipe: double chocolate cookies, ideal for lovers of the best cocoa.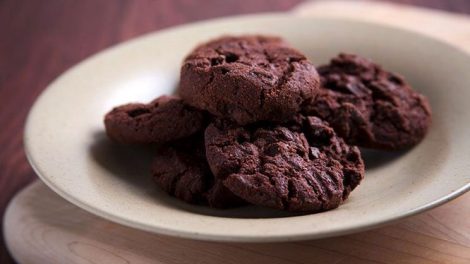 At the beginning of autumn and with a view to winter, we really want to get into the kitchen and prepare warm meals that fill us with energy. Especially when Christmas comes. And there are those who enjoy warm and salty recipes, and authentic gourmands who are passionate about sweets and desserts. Even more so at Christmas parties, where the most typical desserts are common.
Homemade broths, vegetable creams, meats in sauce, baked fish, are options that we can choose to prepare in our kitchen. But today we want to introduce you to a recipe that you can share with your children so that they too will experience how to make delicious double chocolate cookies.
Double chocolate cookies are ideal because, in addition to being crunchy, we make them at home with authentic dark chocolate and cocoa, so they become a wonderful opportunity -and an excuse- for lovers of the purest and truest dark chocolate.
Double Chocolate Cookies Recipe
Ingredients:
350 grams of dark chocolate.
25 grams of cocoa powder.
250 grams of butter.
140 grams of superfine sugar.
250 grams of flour.
1 beaten egg yolk.
2 tablespoons of vanilla extract.
55 grams of dried cherries.
Salt
Preparation of the double chocolate cookies:
As you know when making desserts, we will start by preheating the oven to 190 degrees after having lined two trays with baking paper.
Mix the butter and sugar in a bowl with a wooden spoon. Then add the yolk and vanilla extract while you continue beating.
Sift the flour, cocoa and a pinch of salt over the mixture and add the chocolate pieces and the dried cherries.
Stir gently until everything is well combined.
With a spoon, take a portion of the mixture and form a ball with the help of your hands, do the same with all the dough that remains in the bowl.
Start placing the balls of dough on the baking trays and flatten them a bit.
To bake them well, put them in the oven for 12 to 15 minutes, after removing them from the oven let them rest for 5 to 10 minutes to cool.
To present the cookies, just take them with a spatula and place them as you like, you can also add colored cream and make different shapes that will surely amuse your children.