Coconut kisses are a typical sweet from Venezuela that are made with coconut and cooked in the oven. We reveal how to make it at home with this simple recipe.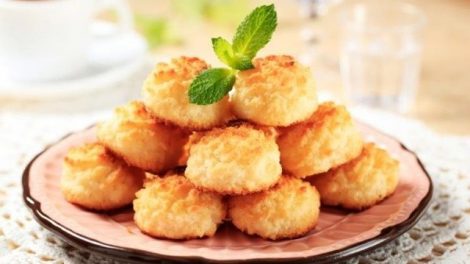 Coconut is a delicious and extremely versatile fruit, ideal either to consume alone for its incredible benefits and nutritional and preventive properties, or as an ingredient in the preparation of delicious and wonderful dessert recipes. Moreover, it becomes a main element in the preparation of many beauty recipes, thanks to its nourishing and firming qualities, in fact becoming a simply excellent natural option when making ski masks.
With it we can make delicious coconut milk, a completely natural drink that is obtained from the crushing of mature coconut meat, which precisely inside accumulates a wonderful oily and very aromatic pulp that can also be consumed whole. Or we can also mention coconut water, which we can find inside and is characterized by being that almost transparent, delicious and sweet liquid that we find in the interior hole of the coconut.
Regarding the use of coconut in pastries and in the preparation of exquisite desserts, if you are passionate about its texture, aroma and flavor, it is quite likely that you have already tried a sweet that also stands out for being typical of Venezuela: we are talking to you of those known as coco kisses (or kisses of coconut), a sweet with a long tradition in this country and that in fact becomes a delicious tropical, which can be enjoyed at snacks or snacks, either accompanied by a cup of coffee with milk or tea.
How to make coconut kisses?
Ingredients you need:
1 large coconut
8 tablespoons of wheat flour
4 tablespoons of butter
4 egg yolks
1 cup brown sugar
A pinch of vanilla essence
the zest of a lemon
Preparation of the coconut kisses:
Being careful not to cut yourself, open the coconut in half. Wash it well and pass it through the grater until you get at least 3 cups of coconut. Now put the butter at room temperature, enough until it is at room temperature.
Then in a large bowl or bowl mix all the ingredients: grated coconut, butter, flour, egg, brown sugar, lemon zest and vanilla essence.
Now preheat the oven to 180ºC and grease the baking tray with a little butter.
Carefully roll into small balls about the size of a golf ball (or the size of a walnut).
Now place the coconut balls on the greased tray. Place in the oven and bake at 180ºC for 30 minutes, until golden brown.