Discover this traditional and delicious recipe to make an exquisite Christmas turkey stuffed with fruit, ideal for both Christmas Eve and Thanksgiving.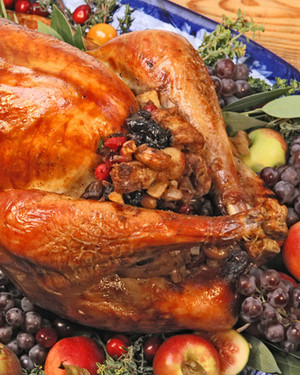 The  turkey stuffed with fruits is an authentic Christmas dish, which is usually made and consumed during the popular and traditional Christmas parties. Its preparation tends to be actually simple, although at first it is true that when you find so many ingredients to make, it can lead you to think otherwise. However, as we indicated in the file of this typical Christmas recipe, its difficulty is 'Medium', precisely because although it is easy, it does require a bit of effort.
However, there is no doubt that it is a deliciously unique option for turkey lovers, as it is a succulent meat with a soft and tender texture, which from a nutritional point of view is extremely rich in good quality protein.
Ingredients:
1 turkey (about 2 kg)
2 kg of fruits assorted to taste (pineapple, grapes, pears, peaches, strawberries …).
1 kg of apples
500 g butter + Butter
700 g sweet potatoes
1 glass of sweet white bermú
1 dl of orange juice
Ground black pepper
Hot paprika
Olive oil
Water
Salt
Preparation of the turkey stuffed with fruits:
Peel the fruit, remove the seeds and cut it into small squares. Place them in a large bowl, pour over the vermouth and let them marinate. Meanwhile, peel the apples and slice them thinly. Put butter in a pan and fry the apple slices. Season with a little ground pepper and salt to taste, remove from heat and set aside.
Now we are going to proceed to clean the turkey. Then cut the orange in half and squeeze it to obtain its juice. Add a little ground black pepper and salt, and brush both the inside and the outside of the turkey meat with this mixture. Fill the inside of the turkey with the fruit marinated with the vermouth. So that the fruit filling is not saved, it is essential to cook it with a kitchen string.
Mix some hot paprika with a little melted butter and, with the help of a kitchen brush, brush the outside of the turkey.
Peel the sweet potato and cut it into slices. Put plenty of olive oil in a pan and fry the sweet potato slices. Then distribute them on a baking sheet and cover with the turkey. Roast the turkey meat for 2 hours at 200ºC. It is essential that, from time to time, you water the turkey with a little water, in this way you will prevent the meat from drying out.
After this time, remove the turkey from the oven, being careful not to burn yourself, and cover with the fried apples with butter. Decorate again with more fruit. To finish, strain the sauce and put it in a sauce boat. At the moment of serving, serve the turkey piping hot with the sauce.
Why is turkey so popular at Christmas?
The turkey is an essential food on the table of many European and American homes, where it is very common to prepare during the course of the holidays, especially Christmas Eve dinner. In the United States, for example, it is also very popular in the celebration of the traditional Thanksgiving Day, mainly as a substitute for the goose.
In addition, depending on the country we are in, we can not only differentiate different recipes and forms of preparation, but also different accompaniments. For example, in the United Kingdom it is common to accompany it with various vegetables such as carrots and Brussels sprouts, as well as roasted potatoes, while in the north of Great Britain it is common to season it with an exquisite cranberry sauce.