If there is an ideal dessert for autumn, it is the chestnut cake, unique for the coldest autumn evenings. How to do it at home? We explain the ingredients and necessary steps.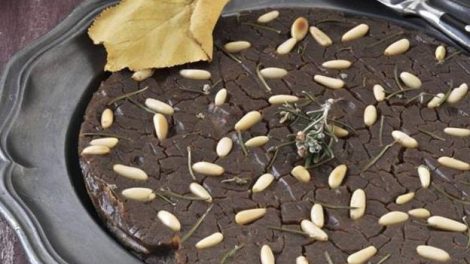 If I were to ask you about a food that is tremendously characteristic of autumn, that we can pick ourselves when we walk through the countryside and that are delicious when roasted over a fire, it is quite likely that chestnuts will be the first that come to mind. And, indeed, we are facing a delicious food that is a hallmark of the autumn months, although it is also very common in many homes to associate it not only with autumn but also with Christmas.
As you surely know, the chestnut consists of the fruit obtained from the common chestnut tree. For months it develops inside a kind of dome of a very characteristic green color as it is covered with long spikes that can puncture when we touch them with our fingers, which is why we must be careful when trying to pick them up. Chestnuts inside. In this sense, the simplest thing is to get hold of a wooden stick to remove the chestnuts from inside the dome or help us with our feet, stepping on them carefully.
From a nutritional point of view, chestnuts stand out for their great nutritional richness, very appropriate during this time of year when it is so common for the symptoms of what is known as autumnal asthenia to appear, as they provide us with excellent amounts of group B vitamins and minerals. such as phosphorus, magnesium and iron.
It stands out for being a tremendously versatile food, which means that they can be eaten alone (either raw or roasted over a fire), or included in a wide variety of recipes, not only sweet but also salty. And with them we can make a drink that becomes a wonderful alternative to milk of animal origin during these months: the delicious chestnut milk.
On this occasion we want to learn how to make a delicious dessert that is ideal for cold autumn evenings, which we can drink hot accompanied by a cup of tea or coffee: an exquisite chestnut cake, which we can make with the chestnuts that we have picked from the field in company of family or friends. You dare? Too easy.
Chestnut cake recipe
Ingredients you need:
1kg of chestnuts
4 egg yolks + 2 whites
70 grams of butter
1/4kg of sugar
60 grams chopped almonds
Preparation of the chestnut cake:
Peel the chestnuts carefully, put water in a large saucepan to cover them and cook them in boiling water for a few minutes, until they are tender and the skin is easily removed. Once they are cooked pass them through the food mill. Reserve the chestnut dough.
Meanwhile, soften the butter a little so that you can beat it well later, either leaving it for a few hours at room temperature or heating it for a few seconds in the microwave. Then cut it into pieces.
Put the pieces of softened butter in a large bowl and beat well with the sugar. Add four egg yolks and the chestnut puree, mixing well again.
Whip four egg whites until stiff, and when they are ready, add them to the previous chestnut mixture.
Grease a cake pan with a little butter. Put the mixture in the mold and place in the oven over moderate heat for approximately three quarters of an hour. Once ready, unmold from the mold when it is cold.
To finish, beat two more egg whites until stiff with a little sugar, and decorate on top with the help of a pastry bag. Ready! If you wish, you can accompany a few pine nuts on top.