Do you like blueberry pie as much as we do? If so, we propose 3 delicious recipes that you can easily make at home. Discover the necessary ingredients and steps.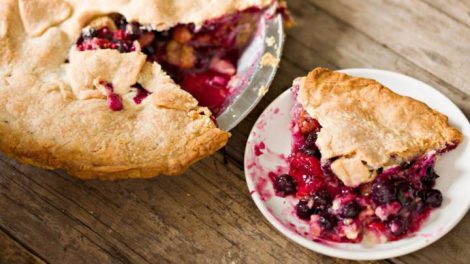 The kitchen is one of those places where we can give free rein to our imagination. And no, this is not a fanciful statement because with the ideal recipe and the perfect ingredients, magical things can be created.
Who doesn't like desserts? And if we talk about this particular, the alternatives are practically endless to taste dishes that both adults and children like, in addition to stimulating our palate.
Preparing a blueberry cake takes time, but we must be very clear about how we want to do it and how willing we are to experiment to obtain varied and fun results. Especially since blueberries become a wonderful and delicious option.
Discover with us some blueberry-based dessert recipes that will make you delirious and will surely make you popular with your children and friends. Grab a pen and paper and go over them with us.
Blueberry Oatmeal Cake
Oatmeal is that cereal we all love. It gives us a lot of energy and is extremely healthy.  Incorporating it into sweets is an option that can be delicious and different. Take note!.
Ingredients:
3/4 cup oatmeal
3/4 cup of wheat flour
Half a cup of vegetable shortening
1 cup of condensed milk
1 cup of sour milk with a teaspoon of vinegar
2 cups of blueberries cut in half
Half a cup of walnuts
1 tablespoon ground cinnamon
1 cup halved seedless grapes
Preparation:
Take a dry container and pour the oatmeal and flour, stir to incorporate the elements into the bowl. Now add the melted butter and mix constantly until a homogeneous mass is formed.
Now place the preparation in a cake pan and distribute it inside the pan with the use of your hands. Press without much force so that the dough does not lose air and rise.
Condensed milk and sour milk are combined and then poured on top. Next, add the blueberries and sprinkle with the nuts and cinnamon. Finally, take it to the oven.
Approximate cooking time is 30 minutes. Once the cake is ready, unmold it and serve it warm or cold. You can eat it alone, or it can also be served with ice cream or whipped cream.
Blueberry and strawberry tart
Strawberries and blueberries make a perfect confinement. A piece of this dessert will make you delirious and leave you wanting more. As a tip, it is necessary that the ingredients are fresh.
The ingredients:
500 grams of self-rising wheat flour
250 grams of vegetable shortening
200 grams of sugar
a whole egg
500 grams of strawberries
200 grams of blueberries
Step by Step:
Clean a counter and pour all the dry ingredients into it. You can form a kind of mini volcano and then place the butter and the egg in the center and then mix with your hands. The dough should be sanded.
Grease and flour a cake pan that is at least 26 by 26 centimeters because this preparation grows in the oven. Half of the dough is first placed in the bottom of the pan.
Take a little sugar to sprinkle the strawberries and blueberries previously chopped in half. Add a little lemon juice to accentuate their flavors within the mix.
Then cover with the rest of the dough and finish the details with the rest of the strawberries and blueberries. It is baked at 160 degrees centigrade for 45 minutes. You won't believe how delicious it is.
Blueberry ice cream cake
Cold desserts have a very particular charm, and we love to prepare them for our family because adults and children can't resist their particular flavors and textures.
Ingredients for the cake base:
A large package of sweet cookies
3 tablespoons vegetable shortening
1 tablespoon cocoa powder
Whipped cream
3 egg yolks
Half a glass of Grenache wine
1 and a half cups of hot milk
4 tablespoons of sugar
1 tablespoon of wheat flour
1 tablespoon cornstarch
1 sachet of unflavored gelatin
Ingredients for the coverage:
7 grams of unflavored gelatin
2 and a half cups of water
3 quarters of a cup of sugar
123 grams of blueberries
This is how it is prepared:
The base: You have to crush the cookies but in thick pieces. That is mixed with cocoa powder and melted butter. This dough is placed in a mold and taken to the refrigerator.
The cream is prepared by mixing the yolks with sugar, wheat flour and corn starch. It ends with the incorporation of flavorless gelatin and hot milk. This should mix very well. Add the wine when this preparation is lukewarm.
Assemble the cake by joining the base of the cookies with the cream on top. It is decorated with the blueberries and the rest of the semi-coagulated gelatin is placed on it. It should be frozen and then served.