Blueberries have benefits and ideal properties for eyesight and cystitis, as well as for cardiovascular diseases due to their antioxidant contribution.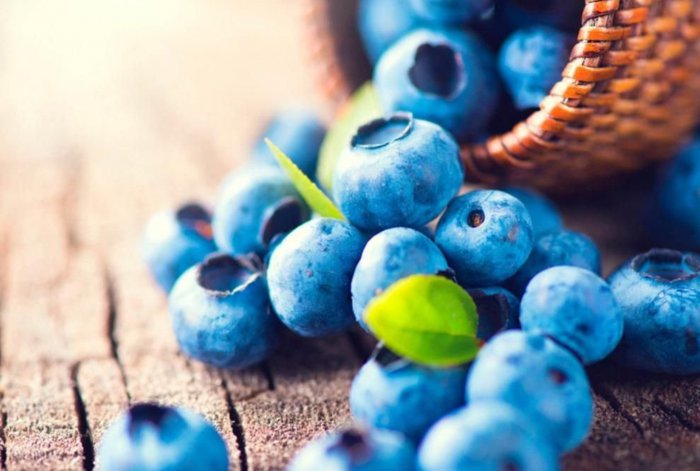 The blueberries are a fruit that besides the food or the daily diet, are widely used in herbal medicine (blueberries in herbal medicine), especially for its benefits and properties.
Explained in a simple way, it is a shrub that grows in the understory of mountainous regions, and that precisely has blue-black berries, which are rich –as we will see throughout this note- in tannins and anthocyanosides.
But what are the benefits and properties of blueberries? Why do they stand out above many other fruits?
What are blueberries?
The cranberries are berries growing from a small shrub belonging to the family of Ericaceae, specifically the genus Vaccinium, which can reach up to 50 centimeters high (although the most common is that it tends to be between 25 at 50 centimeters).
Actually we can find a genus formed by a wide variety of shrubs, which can produce dark, reddish or bluish berries, which stand out for their incredible richness in different plant pigments that are the main culprits of their striking color and characteristic (anthocyanins).
Blueberry varieties
Depending on the bush in front of which we find ourselves, we can fundamentally distinguish two varieties or types of blueberries, which stand out precisely for being the most popular and well-known:
Lingonberries:  They are blueberries that belong to the same family as blueberries, however they tend to be larger in size and their skin is much brighter. In addition, their flavor is more acidic and sour, which is why they are also popularly known by the name of cranberry.
Blueberries:  However, blueberries are also part of the same family as red blueberries, with the particularity that they obviously have a different color (due to the vegetable pigments it contains), a somewhat smaller size and do not tend to be so bright.
In any case, the truth is that  both red and blue cranberries share practically the same benefits and properties, with the difference that blueberries tend to be much more effective than the red variety both in improving blood circulation (due to their antioxidant content) as well as for vision problems (due to its contribution in vitamin A).
Benefits of blueberries
Ideal to enjoy a good vision
The cranberries are given in case of a condition called hemeralopía, and consisting of reduced vision under strong lighting, or to any other I disorder of the arteries of the eyes.
This quality is especially effective thanks to the high content of vitamin A, known precisely as retinol, thanks to the fact that it promotes good vision, especially in dim light.
In addition, it has been found that blueberries are useful in preventing degenerative diseases of the vision, such as, for example, it could be the case of macular degeneration.
This disease occurs as a consequence of the degeneration, damage or deterioration of the yellowish layer of tissue that we find in the back of the eye, known as the macula, which has the ability to provide the perception of small details and fine, providing visual acuity.
They help improve memory
One of the most interesting benefits that we want to take a closer look at is the memory properties of blueberries.
In the composition of blueberries we find photochemicals, which have been shown to be especially effective in reversing disorders or problems related to memory.
In addition, it also provides flavonoids and anthocyanins, which act directly on the brain and, medically believed, have a very interesting and beneficial effect on memory and learning.
How? They appear to improve the connections of existing neurons, improve cellular communications, stimulate neuronal regeneration and induce improvements in memory by activating signaling proteins from a specific pathway found in the hippocampus.
Powerful antioxidants
Recent studies would also indicate that blueberries could be ideal in preventing the onset of cancer, as they have potential anticarcinogenic properties. All this thanks to its high content of natural antioxidants, among which we can mention the presence of carotenoids and anthocyanins.
This means that they are ideal when it comes to reducing the negative action of free radicals, responsible for premature aging of cells (and that they also tend to damage them over time, especially when our body produces them excessively). To deteriorate all our tissues in an accelerated way.
Helpful against high cholesterol
Given the significant amount of antioxidants they have, they are good for protecting the heart, while reducing bad cholesterol and increasing the good (HDL), while preventing the accumulation of fats in the arteries which, as you know, is the leading cause of cardiovascular disease.
Therefore, their regular consumption makes them a very powerful food when it comes to reducing high cholesterol levels, improving blood circulation in a completely and completely natural way.
Ideal antiseptic action against urinary infections
We are probably facing one of the best known and most popular qualities of blueberries.  And it is that they have an antiseptic and antibacterial action that make them a traditionally effective remedy against urinary infections.
What's more, cranberry juice is known to be ideal for people suffering from urinary tract diseases, not only in the prevention of cystitis, but also in the inflammation of the bladder, infections of the kidneys (cleansing of the kidneys), prostate and urethra.
Good skin health
Thanks to its richness in antioxidants and vitamins, blueberries are ideal for maintaining good skin health, thanks to the fact that they improve collagen formation on the one hand, while reducing premature skin aging.
Nutritional properties of blueberries
100 grams of blueberries provide:
| | | | |
| --- | --- | --- | --- |
| | | | |
| Calories | 41.69 kcal | Vitamin B6 | 0.06 mg |
| Carbohydrates | 6.05 g | Vitamin B9 | 10.00 µg |
| Protein | 0.63 g | Match | 2.00 mg |
| Fats | 0.60 g | Sodium | 1.00 mg |
| Vitamin A | 5.70 µg | Iodine | 1.00 mg |
| Carotenoids | 34.20 µg | Calcium | 10.00 mg |
| Vitamin B1 | 0.02 mg | Potassium | 78 mg |
| Vitamin B2 | 0.02 mg | Zinc | 0.13 mg |
| Vitamin B3 | 0.09 mg | Magnesium | 2.40 mg |