When we talk about vitamin C, it is likely that we only think of the vitamin that citrus fruits provide us, and particularly, of the different benefits that it offers to our health internally each time we consume them. However, did you know that it becomes an essential nutrient that is indispensable -also- for the health of the skin, not only when we consume it, but also when we apply it directly topically?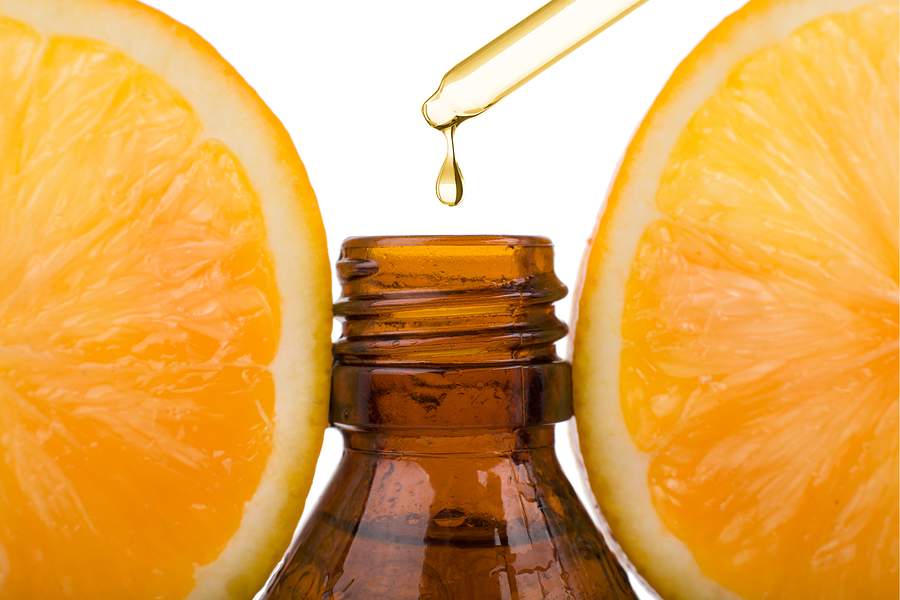 In fact, vitamin C plays a very important role in the health of our skin. And it is that, as we will see in detail at the end of this note (in the section that we will dedicate to it), it is characterized by being a powerful antioxidant of one hundred percent natural origin, which helps protect the skin from harmful free radicals caused by mainly by ultraviolet rays, stress and various environmental factors.
Among other interesting qualities, it is extremely useful in the repair of our skin cells, since it actively participates in wound healing. On the other hand, it fights inflammation and promotes the production and synthesis of collagen, an interesting quality when we want to combat some of the main signs of premature aging, such as fine lines and wrinkles. Thanks to this, vitamin C leads to a much more resistant, elastic and flexible skin, which basically translates into fewer fine lines and wrinkles.
Its benefits, as you can imagine, do not stop here. And it is that it also illuminates the natural tone of our skin, reducing the appearance of spots associated with the action of ultraviolet rays, scars related to acne and the spots that arise as a result of aging (also commonly known as age spots).). In short, it repairs, protects and revitalizes the skin, while fighting some of the main signs of aging.
For all that has been indicated up to now, it is normal that it is extremely important to try to integrate a product that contains vitamin C as one of its most outstanding active ingredients into our skin care routine. And a good example can be found in facial serums with vitamin C, which are usually specially designed to provide an anti-aging and anti-wrinkle effect, since they often contain other interesting active agents in this regard, such as acid hyaluronic.
If you're thinking of adding a vitamin C facial serum to your routine, but you're not quite sure which one to choose or even where to start, here's a helpful guide where we'll uncover some of the best ones you can find right now. in the market.
Nezeni Cosmetics Vitamin C Facial Serum
Looking for a facial serum packed with vitamin C? If so, this face serum from Nezeni Cosmetics will probably become one of your favorites. And it is that it contains stable vitamin C, which, as we will learn in detail in the section dedicated to analyzing the active ingredients that we find in its composition, becomes the best option when it comes to taking advantage of absolutely all its qualities and antioxidant benefits.
But vitamin C is not the only active ingredient that we distinguish in its formulation. In fact, it also contains hyaluronic acid, a very interesting endogenous hyaluronic precursor active  ingredient, organic aloe vera gel and fucogel. And what benefits do each of them provide? Take note:
Main advantages of Nezeni Cosmetics Vitamin C facial serum:
stable vitamin C. It basically consists of Ascorbyl Glucoside, a vitamin C glycoside that is ideal because it provides absolutely all the properties and benefits of this vitamin with interesting antioxidant qualities, which means that it helps prevent oxidative stress on the skin, thereby reducing the negative action of free radicals (associated, by the way, with premature aging when found in high quantities). In addition, this vitamin provides anti-aging, redensifying and illuminating properties.
Hyaluronic acid. Hyaluronic acid becomes one of the most interesting moisturizing ingredients out there. It has been obtained biotechnologically, and provides moisturizing, film-forming and protective qualities. It is ideal for moisturizing the skin because it helps to retain and attract all the moisture present in the environment, to leave it on the skin in order to hydrate it to the maximum. Of course, it is high molecular weight hyaluronic acid, which hydrates the skin externally, forming a highly moisturizing protective film.
Hyaluronic precursor. It is an active endogenous hyaluronic precursor, which has a similar or similar action to hyaluronic acid naturally present in the skin, since it is capable of trapping the water molecules present on the skin's surface. But with an added quality: it is much faster and more effective when it comes to hydrating the skin, providing instant and long-term moisture (even after 2 weeks of daily applications).
Aloe vera. Aloe vera gel consists of a very popular and well-known mucilaginous liquid, which is obtained from the pulp of aloe vera leaves (Aloe barbadensis). It is an ingredient of one hundred percent natural origin, which provides very interesting calming, moisturizing and softening qualities. In fact, it is an ideal natural option for sensitive skin, thanks to its anti-inflammatory and immunomodulatory properties. And, as it could not be less, it also stands out for its properties to calm different skin conditions.
Fucogel. It is a polysaccharide with a high fructose content, which has been obtained biotechnologically by biofermentation. Provides both immediate and long-term hydration, with proven efficacy (specifically, through different in vivo studies). Provides moisturizing qualities.
Mother Nature Cosmetics Vitamin C Hyaluronic Acid & Rhubarb Extract Face Serum
The Mother Nature Cosmetics brand is characterized by being a company of beauty products specially designed for skin care, which among other interesting aspects, stands out mainly because its formulation only contains one hundred percent natural ingredients, and they are totally and completely suitable for vegans, in addition to not being tested or tested on animals.
On this occasion we find a facial serum with vitamin C (specifically it contains 20% of this vitamin), which actively helps to combat premature aging of the skin, attenuating the marks caused by acne -pimples- and the spots associated with problems related to pigmentation.
It also has hyaluronic acid -of 100% natural origin-, which provides the skin with deep and long-lasting hydration, and different extracts of natural origin, among which the presence of rhubarb extract stands out.
According to the brand, it has a charming aroma, thanks to the different components that its formulation contains, providing a wonderful sweet fragrance like honey, caressing each and every one of our senses every time we apply it to the skin.
As with all the products developed by this brand, it does not contain parabens, paraffins, microplastics or synthetic fragrances. In addition, all of their natural cosmetics have been produced in Germany and Austria.
Key Benefits of Mother Nature Cosmetics Vitamin C Facial Serum:
One hundred percent natural ingredients.
Rich in vitamin C, hyaluronic acid and rhubarb extract.
It has a lovely aroma, very sweet.
Fights premature aging of the skin.
Reduces marks caused by acne.
Suitable for vegans. Free of experiments and tests on animals.
Without parabens, silicones, paraffins, microplastics or synthetic fragrances.
Florence Organic Vitamin C Hyaluronic Acid Face Serum
This facial serum with vitamin C developed by the Florence brand is fundamentally characterized by being, until now, one of the best sellers in well-known and popular stores such as Amazon. Specifically, it is also characterized by being one of the most valued by the more than 10,000 customers who have used it on occasion.
It is a serum in whose formulation we find only ingredients derived from organic farming. It contains a highly moisturizing formula, which has been specially enriched with vitamin E (with a well-known antioxidant action, therefore useful for reducing and preventing the damaging action of free radicals, which in turn accelerates cell regeneration), aloe vera and jojoba oil, which combine with each other to penetrate deep into the subcutaneous layers of the skin, thereby providing much more intense hydration.
Thanks precisely to its vitamin C content, it is capable of stimulating the natural production of collagen, actively influencing its synthesis. While its hyaluronic acid content makes it an ideal serum to combat fine lines and wrinkles caused by aging, acting actively, for example, when it comes to reducing those known as "crow's feet", helping the skin looks much younger. Due to this, it tones and moisturizes the skin, while the natural antioxidants of vitamin C and vitamin E protect and rejuvenate it.
Regarding its ingredients themselves, according to the manufacturer, 98% of its ingredients are of natural origin (and what is even better, organic).
Eclat Facial Serum– For face, neck and eyes
If you are looking for a good facial serum with vitamin C that is characterized by having a wide variety of positive opinions, and that contains a series of active ingredients useful when it comes to combating wrinkles and fine lines of expression, as well as other signs of its own of aging, there is no doubt that you will love this Eclat serum.
And it is one of the best vitamin C serums that you can find on the market right now, whose formulation has been developed by dermatologists using a patented vitamin C  booster complex, which provides a 207% increase in hydration. of the skin after 2 weeks of application. After 10 days of daily use, 94% of users said their skin looked dramatically softer, more radiant, healthier and smoother.
In fact, and unlike other facial serums, this Eclat serum has an optimal concentration of 20% vitamin C, to which is added the presence of hyaluronic acid (in a concentration equivalent to 5%), ferulic acid (1 %), jojoba oil, retinol, aloe vera and vitamin E. Specifically, it has more than 5 natural ingredients with antioxidant qualities, therefore useful for protecting the skin against the action of free radicals, among others.
Its formula is mainly characterized by being non-comedogenic, which means that it is suitable for practically any skin type, including oily, combination and acne-prone skin, since there is no risk that it can clog pores and increase – with it – the risk of outbreaks. It is also suitable for sensitive skin, and because it has been formulated at an optimal pH level, it can be more easily absorbed.
Since it contains only naturally-derived ingredients, and is perfectly cruelty-free, it is suitable for those who follow a vegan lifestyle. In short, it becomes a simple but excellent option to enjoy softer, radiant, hydrated, healthy and rejuvenated skin, allowing constant hydration.
Main advantages of Eclat facial serum with vitamin C:
High concentration of vitamin C.
It also contains hyaluronic acid, ferulic acid, jojoba oil, retinol, vitamin E, and aloe vera.
Formula developed by dermatologists.
In just 2 weeks of use, it allows for a 207% increase in skin hydration.
Nutreplus facial serum with hyaluronic acid and vitamin E
Are you looking for a facial serum that has been specially recommended by laboratories and specialists in both beauty and health? If so, we advise you to discover the Nutreplus facial serum, which in addition to vitamin C with moisturizing and protective qualities against free radicals, also contains extremely interesting active ingredients in its formulation, such as hyaluronic acid and vitamin E.
It becomes a serum suitable for any skin type, including not only oily and combination skin (since it is non-comedogenic, so there is no risk that it could clog pores and increase the risk of breakouts), but also sensitive or ultra-sensitive skin. In fact, its use in the treatment of sensitive skin is interesting, as well as in certain skin diseases, such as psoriasis and rosacea.
Helps rejuvenate the skin with an extremely complete anti-aging serum, useful for reducing fine lines, wrinkles, age spots and problems directly related to skin discoloration. It is interesting especially when it comes to achieving softer, smoother and younger skin, by helping the skin not only hydrate but also regenerate, all with one hundred percent natural ingredients.
In fact, in its formulation -in addition to the active agents already mentioned- we also find aloe vera, a quite interesting natural ingredient in this regard thanks to the fact that it hydrates, calms the skin and protects it against sun damage. In fact, it becomes one of the best natural ingredients that exist when it comes to treating skin damaged by the action of ultraviolet rays.
On the other hand, it is an excellent option not only to be used on the skin of the face, but also on the delicate skin around the eyes, thanks to the fact that it is revitalizing and energizing, also helping to reduce fatigue and tiredness of the skin, delaying the formation / appearance of wrinkles in these areas of the face, where in fact it tends to be very common for the first fine lines of expression to form.
In addition, we must indicate that the hyaluronic acid contained in its formulation is mainly characterized by being one hundred percent organic and completely natural. It is also free of parabens, harmful chemicals and dyes. Hence, it is also excellent for sensitive skin.
Main advantages of the Nutreplus facial serum:
Facial serum with vitamin C, hyaluronic acid, vitamin E and aloe vera.
Ideal for women and men who want to enjoy a smoother and more perfect skin.
Helps reduce small wrinkles, fine lines of expression and skin blemishes.
It is useful to protect and restore the different cells of the skin.
Can be used around the eyes.
Iduncare facial serum: with an anti-aging effect
As we are seeing, it is true that most facial serums with vitamin C tend to be characterized mainly because in their formulation, in addition -as is logical to suppose- of containing a  high concentration of this vitamin, they also contain other active ingredients that complete the action of this and that combine and reinforce its moisturizing, anti-wrinkle and anti-aging qualities. As for example is the case of hyaluronic acid and vitamin E, to give just a few simple examples.
It is, again, what we find with another of the best facial serums with vitamin C that you can buy right now: The Iduncare facial serum, with obvious anti-aging qualities. Although on this occasion it stands out mainly because it contains a very high concentration of vitamin C, which reaches 20 percent. It also has the purest hyaluronic acid, therefore useful to combat the natural aging process.
All this thanks to a truly complete Iduncare rejuvenating formula, with highly concentrated active ingredients, which help to maintain the firmness and flexibility of the skin, regenerate the skin almost immediately, minimize fine lines of expression and wrinkles, and the time -also- to reduce dark spots on the skin, which may have formed as a result of the action of ultraviolet rays (sun damage, also known as photoaging, which is a cause directly related to premature aging of the skin).
At the same time, it offers pure hydration, thanks to the careful selection of ingredients with moisturizing qualities, which provide optimal hydration throughout the day, especially if we integrate it into our morning skin care routine. Remember that skin hydration is very important when it comes to contributing to the anti-aging process.
Thanks precisely to the high concentration of the active ingredients mentioned above, it provides an instant effect, which means (always according to the brand) that the results are visible from practically the first day of use, mainly due to the combination -high and active- of vitamin C, hyaluronic acid and other antioxidant agents.
It is suitable for all skin types, thanks mainly to the fact that it is surprisingly gentle on the skin. On the other hand, its composition has been dermatologically tested, and it has been designed for any type of skin, including sensitive and ultra-sensitive skin.
Main advantages of Iduncare facial serum:
High concentration of vitamin C (20%).
It also contains hyaluronic acid and antioxidants in its formulation.
Provides optimal hydration throughout the day.
Almost instantaneous effect, with visible results from the first day.
Helps regenerate the skin.
It works by minimizing expression lines, wrinkles and skin blemishes.
In short, it leaves the skin perfectly radiant and young, and above all, much healthier.
Suitable for any type of skin.
Remember that to enjoy the different qualities and benefits provided by the facial serums that we have analyzed throughout this guide, it is necessary to integrate it into our skin care routine and use it regularly, which means that it is essential to apply it every day.  Depending on the manufacturer, for example, it could be important to apply it twice a day (morning and night), or simply at night, doing it in the night beauty routine.
And in the case of the beauty routine, regardless of whether we are facing the morning routine (in the morning) or night, the order of the factors does alter the product, which means that it is of vital importance to maintain the correct order to time to apply each of them. This means that it is essential to apply the products starting from the lightest or lightest, until reaching the heaviest (which in most cases is the moisturizer).
Therefore, we must start with the cleanser, which we must later remove with the help of a cotton pad or disc, especially if you have makeup on. In the case of micellar water, remember that it is not necessary to do any kind of rinsing or rinsing. Then we continue with the facial toner, which becomes an excellent option to provide the skin with high concentrations of certain active ingredients. And now it's the turn of our vitamin C facial serum. You only have to apply a very small amount of product, by gently tapping, and then spread it with the help of a gentle massage, until it is completely absorbed by the skin.
Then, if you use an eye cream, this is the best time to apply it. And finally, we'll finish off the skincare routine with your favorite moisturizer.