Do you have dandruff and don't know how to remove it? We propose 3 home remedies that will be of great help to you, useful to remove dandruff from the root in a completely natural way.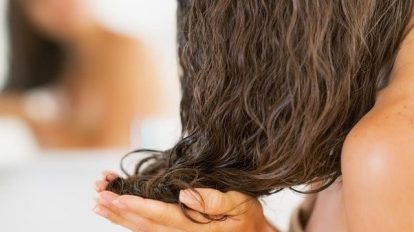 Dandruff occurs when the skin of the superficial cells of the scalp flakes as a result of a shortening in the process of renewal of the cells of the scalp.
It appears as tiny flakes with a rounded shape, and depending on the type, we can find two different types: dry dandruff and oily dandruff.
Dry dandruff is generally loose, as it does not adhere to the scalp and falls easily when we comb our hair. On the other hand, oily dandruff or seborrheic dermatitis are yellowish flakes or scales that are attached to the scalp as well as to the hair.
Both one type of dandruff and another present symptom such as itching and redness of the scalp. Some factors or causes can predispose us to suffer from dandruff at some point in our lives.
Factors such as those detailed below:
Genetic inheritance, dandruff usually appears in more than one member of the same family.
Hormonal changes.
Psoriasis.
The aggressions to which we expose the scalp, (dyes, shampoo, highlights, colorations
Having oily hair.
Excessive sweating.
Environmental factors (sun, heat, cold).
Stress.
The emotional states.
Unbalanced diet.
To eliminate dandruff there are many cosmetic products on the market, even so we recommend going to the dermatologist to do the appropriate review, especially when it comes to oily dandruff or seborrheic dermatitis, since these cases are more delicate and require a lot of attention. more meticulous as well as professional.
However, for cases of dry dandruff, if you like to prepare your own home remedies instead of resorting to those that are already made with chemical products, there are home remedies to eliminate dandruff in a totally natural way.
They are easy to prepare and also to obtain, we can buy them in natural product stores, in parapharmacies, herbalists, online.
3 Natural Remedies to Help You Get Rid of Dry Dandruff
Nettle lotion to oxygenate the scalp
Nettle is a medicinal plant that has many beneficial properties for our body, also for the skin and hair.
This homemade nettle lotion will help us oxygenate the scalp.
To prepare this lotion we only need 4 handfuls of fresh nettle leaves and a liter of mineral water.
Preparation:
Before chopping the nettle leaves, we must protect our hands with gloves so that they do not itch.
Bring the water to a boil, when it begins to boil, turn off the heat and add the nettle leaves.
Cover and let rest for 25 minutes.
When the lotion is cold, strain it.
Application:
To apply the nettle lotion, we must do it with dry hair.
We put the lotion on the scalp and hair massaging the scalp to oxygenate it.
We can apply this lotion 3 times a week.
Yogurt, rosemary and lemon mask
This homemade mask is very easy to prepare and gives excellent results.
The ingredients that make up this mask help to regulate the sebum or fat of the scalp as well as to restore the PH of the scalp.
To prepare this mask we need:
A plain yoghurt.
3 drops of rosemary essential oil.
3 drops of lemon essential oil.
We mix the ingredients well.
Application:
We moisten the hair and dry with a towel.
Then we apply the mask on the entire scalp and hair.
We keep for 15 minutes.
Once the time has elapsed, we rinse the hair with warm water and proceed to wash our hair with our usual shampoo.
We can apply this mask 2 times a week.
Honey to massage the scalp
Gently massaging the scalp is good for keeping it oxygenated, thus preventing the appearance of dandruff.
Honey has beneficial properties for our body and also for the skin and scalp.
To prepare and apply this massage with honey we only need:
A cup of hot water.
A teaspoon of honey.
Mix and when the mixture is cold, put a little on the scalp and apply a gentle massage.
Massage with honey should be applied before washing our hair.
Then we rinse our hair with warm water and proceed to wash our hair with our usual shampoo.
The frequency with which we will apply this massage will correspond to the times a week that we usually wash our hair.